A Quiet Vacuum! Electrolux UltraSilencer Vacuum Review
|
Are you sick and tired of the noisy roar of your old vacuum? If the household chore of vacuuming makes babies cry and sends pets running, then it may be time you upgrade that old beast of a vacuum.  With over a decade of experience testing and rating vacuum cleaners, AllergyBuyersClub has the expertise to truthfully dub a vacuum quiet or not. Along with a sealed HEPA filtration system and excellent suction, quietness is a feature that ranks high on our scale of vacuum requirements.
To date, Miele has always had the quietest vacuums on the market; however the new Electrolux UltraSilencer EL7063A Canister Vacuum gives Miele a run for their money!
Is it true or just another marketing ploy?
The name "UltraSilencer" hints at the vacuum's ultra quiet performance but in this case it is not misleading. AllergyBuyerClub's testing team gave this little vacuum 5-Stars for filtration, 5-Stars for cleaning power and effectiveness AND 5-Stars for noise level!! Pretty impressive.
Too good to be true you say? We paired up with one of our mommy blogger friends to see what she had to say:
See the in depth review of the Electrolux UltraSilencer DeepClean EL7063A Vacuum by Mom's Living Thrifty, a friendly place to find ways to save money, live healthier and be happier.
Excerpt from Mom's Living Thrifty's review:
"There are three things that I really, really want to highlight in this review and the first is the sound. NEVER have I EVER used a vacuum that was so remarkably quiet. I know it probably sounds funny, but I actually called my hubby to make him listen to it while I talked to him on the phone and even he was amazed. The second thing I want to highlight is the suction. The Electrolux UltraSilencer DeepClean vacuum might be small, but it packs POWERFUL suction! Finally, I want to highlight the filtration system. The totally closed HEPA filtration system on this vacuum is, by far, better than the filtration on any other vacuum I've ever used.
Overall, I have to give the Electrolux UltraSilencer DeepClean Canister Vacuum a rating of 9.5 out of 10 stars. It meets or exceeds every statement I've seen in its marketing, which I find impressive. It also offers the ability to clean a wide array of surfaces. From thick, heavy weight carpets to thinner, low-pile carpets the Power Brush cleans them with ease. You'll also find that it easily tackles hardwood floors, linoleum, tile, drapery, ceilings and upholstery. I'm very pleased with the overall operation, the amazingly quiet sound, the filtration and the adjustable suction. It's rare to find such a workhorse in such a small, lightweight vacuum.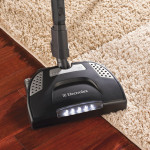 The Electrolux is, at the very least, comparable to what you can expect in terms of quality in higher cost models of vacuums. However, I personally feel that it may exceed some of the similarly priced vacuums in its class simply because of its versatility and quiet operation. After researching the average length of time that Electrolux owners have had and used their vacuums, I'm confident that this vacuum offers great value for its price. I would highly recommend it to anyone that's looking for a versatile vacuum that can get the job done quietly, no matter how big or small."
There you have it friends. The Electrolux UltraSilencer DeepClean canister vacuum is quiet, powerful and healthy to use inside you home. Find some peace and quiet while creating yourself a healthy home.  Last minute Mother's Day Gift? I think so!!!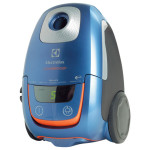 You can purchase the Electrolux UltraSilencer DeepClean EL7063A Vacuum from AllergyBuyersClub and enjoy fast, free shipping.
OR … Enter to win one!
This contest has ended. 
Congratulations Gretchen M. Enjoy your new vacuum!