Celebrating Allergy Buyers Club Team Members This Labor Day
|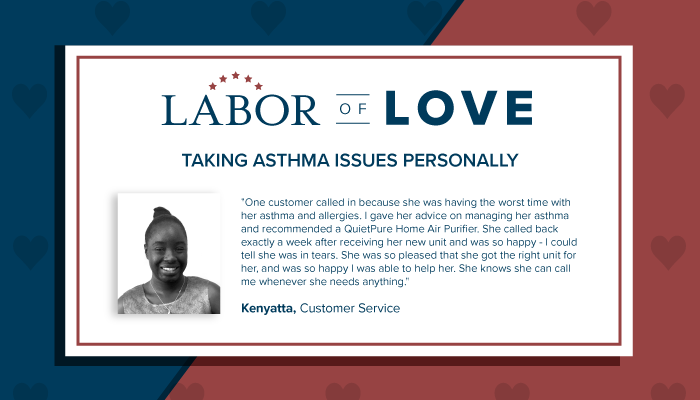 Labor Day is not just the end of everyone's summer or the last day you can wear white. It's a holiday that celebrates the people that work hard and make our nation prosperous. We work closely with Allergy Buyers Club and see first-hand how hard their team works to deliver great customer service to people like you. We're highlighting team members like Kenyatta in customer service and sharing what makes their team so great.
Expert Knowledge in Products
Understanding how different products work and what makes them different isn't easy. Being able to provide accurate information and help customers find products that might help them is even more difficult. Working for Allergy Buyers Club means knowing a lot about many products and instantly recalling their features and other information.
Empathy for Customers
Helping customers is sometimes a labor of love. Not every customer is going to know the right questions to ask or even what product they're looking for. Some may even be frustrated with their allergy or asthma symptoms and need someone who can empathize. Team members like Kenyatta do their best to understand customer concerns and be there to make sure the customer knows they aren't alone in what they're experiencing.
For example, Kenyatta is an asthma sufferer and knows how difficult living with the condition can be. When a customer called in trying to find a product that would help her asthma, Kenyatta knew exactly what the customer needed. She suggested the QuietPure Home Air Purifier. One week later, the customer called back in tears to tell Kenyatta thank you.
Getting Customers Great Deals
Finding a good deal on a healthy home product is something to get excited about. Customer service team members uphold Allergy Buyers Club's price match guarantee promise to ensure customers are getting the best deal on a product.
They also make sure customers can use online promo codes to take advantage of sales like our Labor of Love sale. Using promo code LABORLOVE20 from August 31 until September 3, you'll get 20% off sitewide* and free shipping over $75.
Celebrating the Team
We want to say a special thank you to the hard workers on Allergy Buyers Club's customer service team that make running a business possible. Without them, being a customer wouldn't be easy and there would be a warehouse full of orders waiting to ship. Happy Labor Day!
Shop Air Purifiers