The Best Vacuums for Pet Hair
|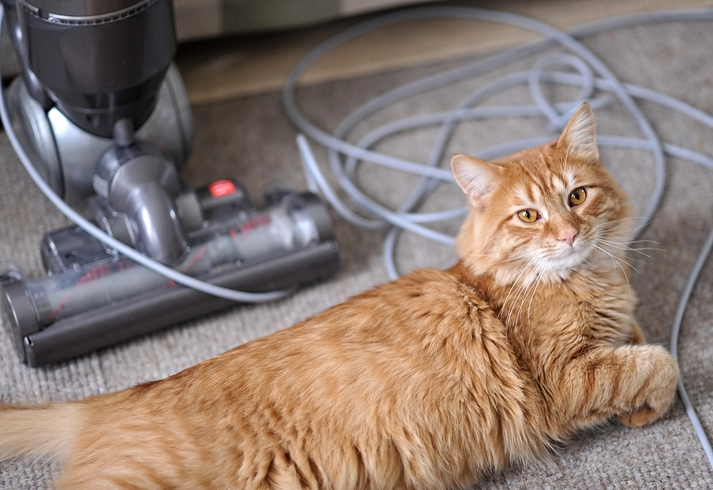 If you're a pet parent, you know two things to be true: your pet is your best friend and their fur gets everywhere. As much as you love your dog or cat, seeing furry tumble weeds roll through your house isn't your favorite thing about them. Vacuuming doesn't always get all the fur up and your left with a layer of fur stuck on your carpet. Before breaking out the vacuum and vacuuming again, consider these vacuums specifically made for pet hair.
Miele Complete C3 Cat & Dog Vacuum Cleaner
This top selling vacuum is loaded with features pet parents will love. The Miele Complete C3 includes an Active AirClean filter that absorbs pet odors as the vacuum sucks up fur and a mini turbo brush that works well for cleaning stairs and furniture. It has a 33-foot operating radius, making it easier to go all around a room without having to unplug a cord several times. It works on carpet, hardwood floors, staircases, and upholstered furniture.
Veridian DeepClean Pet Vacuum Cleaner
Similar to the Miele Complete C3 but a fraction of the price, the Veridian DeepClean works on a variety of surfaces and features sealed HEPA filtration to capture 99.97% of airborne dust and allergens. For getting into tight corners where fur tends to accumulate, the vacuum cleaner comes with several tools designed to easily grab the fur and suck it up. This vacuum is an option if you're more budget-conscious.
Veridian by Aerus X310 Robot Vacuum Cleaner
If you're a pet parent without much free time, the Veridian X310 Robot Vacuum Cleaner does the work for you. This small but powerful robot vacuum cleaner automatically cleans your hard surfaces, area rugs, and carpeting. Its low 3-inch profile allows it to glide underneath furniture to get the tough spots so you don't have to. When it's done cleaning, the vacuum goes back to its charging station to recharge for the next day's cleaning.
Dyson Cinetic Big Ball Animal Upright Vacuum
Dyson is one of the more recognizable vacuum brands on the market and their product stands up to the hype. The Dyson Cinetic Big Ball Animal Upright Vacuum features a self-adjusting cleaner head that automatically adjusts its position as you vacuum. It works on a variety of surfaces to remove not only pet hair but also dust and allergens from your home's floor. The vacuum has a 50-foot cleaning radius and is easy to maneuver thanks to its ball technology. If sleek design and powerful features are important items on your must-have pet vacuum cleaner list, then this might be a good choice.
Pet Vacuum Cleaners for Pet Owners
Most people will do anything for their pet. Simply dealing with fur shouldn't be the solution to excessive fur in your home. Using the right vacuum cleaner can take the aggravation out of vacuuming and leave you with the clean home you've always wanted. Allergy Buyers Club has a variety of pet vacuums to choose from based on your needs and budget.