Winter Allergies or A Cold?
|
Most people associate spring and fall with typical allergy seasons, winter is often relegated to the time of year everyone seems to be sick — whether it's a cold, the flu or some awful combination thereof. But winter allergies are a real issue for many people — and they can put a damper on winter holiday festivities. So don't sit out your ski trip or call it early on New Year's Eve — tackle those allergies with some smart technology designed to keep your home's air and surfaces cleaner.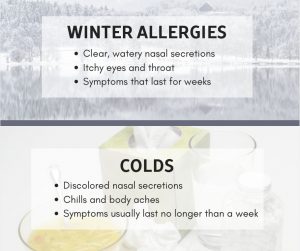 First, it's important to determine whether what you're experiencing is allergies or an actual cold.
Winter allergies can start when it gets cold and it becomes time to turn on your furnace. Doing so can send dust, mold spores, and insect parts into your indoor environment. These allergens can then be breathed in through your nose, causing an allergic reaction.
According to the Washington Post, some people "react to dust mites or mold spores as if it they were a pathogen. There's an antibody response and an inflammatory cascade of events that leads to the classic symptoms — itchy eyes, runny nose and sneezing."
The three biggest causes of winter allergies are dust mites, mold and animals.
Dust mites are tiny bugs that thrive in mattresses and bedding. When their fecal matter becomes airborne, it can cause an allergic and/or asthmatic reaction in people who are allergic.
Mold loves damp, humid areas like basements, piles of leaves, laundry rooms and bathrooms. If mold spores become airborne and are inhaled, they can cause allergy symptoms.
And Pets! Oh — we love our four legged friends, but when it's cold outside, they're often inside with us (as they should be!) — which means we're exposed to a little more of them then we should; their dander.
How do you know if your symptoms are winter allergies…or really a cold?
The Washington Post reports that "…while they are caused by different things, both a virus and an allergen set off your body's immune responses. That's why symptoms overlap — a runny or stuffy nose, a cough and sore throat, and fatigue. Some symptoms are more likely to occur with allergies, such as itchiness of the eyes, ears and back of the throat. Other symptoms, such as aches and fever, indicate a viral infection."
Allergies are also longer-lasting. A cold should come and go within a week; allergies can linger an entire season.
Besides your usual run of antihistamines and a costly trip to your primary care physician, there are some other steps you can take to help keep your home free from offending allergens that can trigger winter
allergy symptoms.
1. Invest in a high quality HEPA air purifier to remove particulates from the indoor air that you breathe.
2. Use a humidifier to help alleviate dry air and relieve your sinuses
3. Try a steam cleaner or steam mop to help sanitize floors from dust and allergens.
Allergy Buyers Club offers a large variety of products designed to eliminate as many allergy and asthma triggers as possible in your indoor space.
Our Top Picks: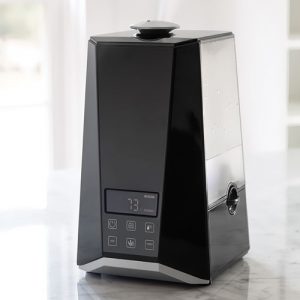 The PowerPure 5000 humidifier is our best new humidifier for 2016 and has been awarded our esteemed Category Winner award. Not only is this the best looking humidifier in our portfolio, it also outperforms and offers the highest quality components in the market.
Humidifies up to 700 square feet

Ultrasonic technology offers near silent operation

Permanent ceramic filter softens and cleans water in the holding tank

Optional Negative Ion generator improves air quality and has a positive effect on mood

Intuitive LCD control panel

Soft touch buttons

Remote control

12 hour timer function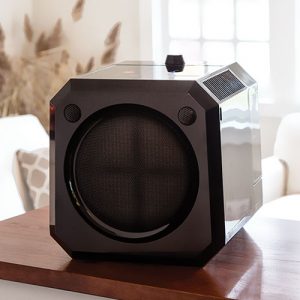 The PowerPure AP03 provides both air purification and humidification for you to enjoy more comfortable and healthy air. The two primary functions operate independently from one another so that you can purify the air all year and then humidify only when needed in the dry months or when suffering from a respiratory illness.
Features a true HEPA filter for removal of microscopic sized airborne particles

Utilizes a robust, granulated honeycomb designed carbon filter for the removal of odor, VOCs and chemicals

Includes a 1.05 gallon water tank and ultrasonic humidifier to ensure the air is moist and healthy

Air purifier will always be running for proper circulation while and humidifier can be turned on or off when humidity is needed.

The ultimate germ destroying steam mop from PowerSteam; the XR500 heats up faster and provides more consistent steam for cleaning virtually any surface. This 2-in-1 steam mop uses powerful steam to pull dirt and grime up and away from the pours of hard surfaces such as hardwood floors, tile, marble and grout.
2-in-1 steamer: converts from a steam mop to a handheld steam cleaner

Lightweight, ergonomic design

Adjustable steam control 

Low profile cleaning head with 180 degree swivel action

12 inch wide cleaning path

Removable water tank

Up to 20 minutes run time per fill

30 second heat-up time

Lighter than full-size vacuum cleaners, easier to maneuver and less bulky for convenient storage, the Veridian Endeavor cordless stick vacuum makes quick work of everyday messes. With all the power of a high-performance stick vac and the versatility of a hand vac, the Endeavor is a top choice for cleaning multiple floor types plus above floor surfaces.
Improved Cyclonic Technology 

Constant powerful suction without losing power 

22.2 Volt Lithium Ion Battery provides 20+ minutes of no-fade power

Battery Charging time of just 4-5 hrs 

Electrical power nozzle for carpets and hard floors

Soft anti-static fiber bristles

2-in-1 dusting tool with velour floor strip or soft dusting brush

Long crevice tool for hard to reach areas
Read the reviews here!