Steps to an Allergy Free Dorm Room
|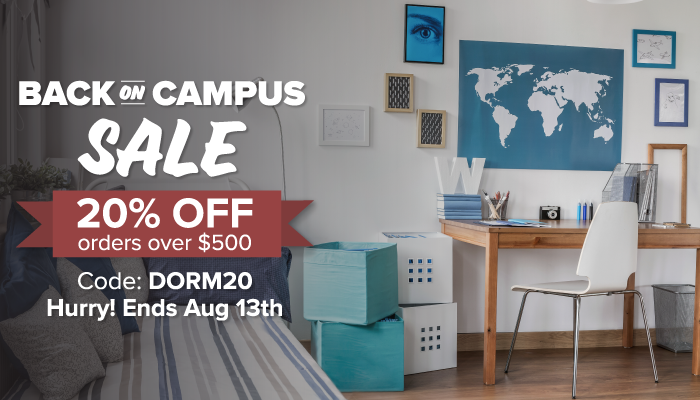 Dorm rooms aren't exactly known for their cleanliness. Instead they're synonymous with unmade beds, left over microwave noodle cups, and hampers full of clothing waiting to be washed. The right conditions make it easy for allergens to move in for the semester and bother college students when they're trying to cram for exams or getting much needed sleep. We've outlined a few simple steps to creating an allergy-free dorm room.
Choose the Right Hypo-Allergenic Bedding
Bedding can make all the difference for someone with allergies. Dust mites, air particles, and other airborne allergens end up settling on pillows and comforters ready for you to breathe in when you lay down for a good night's rest. Dormitories can be even worse for this as many people are living close quarters bringing in additional allergens.
Hypo-allergenic comforters are a good way to keep bedding fresh and free of allergens- and they even come in Twin XL. Many even feature hypo-allergenic down feathers that provide the luxury feel of a traditional down comforter without causing an allergic reaction.
If dust mites are a concern, consider a dust mite cover for your pillows or comforter. Dust mites are microscopic bugs that live and thrive in dust. Many people have allergic reactions to both dust and the mites living in it, which is what warrants special bedding.
Get an Air Purifier
College students living in dorms probably aren't breathing the cleanest air. To combat many of the airborne allergens floating around, plug in a small air purifier. An air purifier sucks in the allergen-filled air around it before cleaning it and pushing it back out. Some air purifiers even come with an aromatherapy feature that diffuses essential oils while cleaning the air.
Purchase a Dehumidifier
Humidity is a breeding ground for bacteria. Allergens like mold and mildew tend to set up camp for the school year when the conditions are just right. To prevent this from happening, a bedroom dehumidifier might be important to have in a dorm room. The dehumidifier will remove the dampness from the air by sucking it in, drying it, and then releasing the dried air back into the room.
Find a Cordless Vacuum
College students don't need big, heavy duty vacuums to clean their floors. Small cordless vacuums that are easy to store work just as well at removing dirt, dust, and other allergens from the floor. Many work on multiple surfaces like wood floors, carpet, rugs, or tile.
Be Allergy-Free This Semester
Allergies can suck the energy right out of anyone suffering from them, making it harder to perform well in classes or at work. Creating an allergy-free dorm room is easier when the environment doesn't allow allergens to thrive. Prepare for the semester ahead with the right dorm room must-haves.