What are the Best Humidifiers of 2017?
|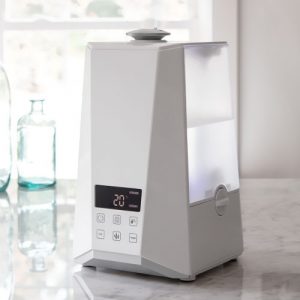 I get quite a few emails, asking me the same thing; which are better warm or cool mist humidifiers? What is the difference between cool and warm mist, or whether our cool mist humidifiers disperse mineral dust? In addition, some people just wish to know which is the best humidifier and want to drill down deeper beyond the comparison charts and our detailed product write ups. Others are asking about air washers which are combination humidifiers and air purifiers. So here goes…here are some quick answers to help you choose the best humidifier.
What's the difference between Warm and Cool Mist?
At the risk of being facetious, a humidifier can emit either a warm most or cool mist. It really depends on preference. People who prefer a warm mists generally live in colder parts of the country or like to put a warm mist humidifier into a baby's room. Conversely, people who like cool mist humidifiers live in warmer climates, because the last thing they want is to warm the place up a few degrees. However, many models such as the PowerPure humidifiers and Air O Swiss humidifiers now have both features built into the same unit so at a push of the button you can either choose a warm or cool mist.
What Are The Most Important Humidifier Features?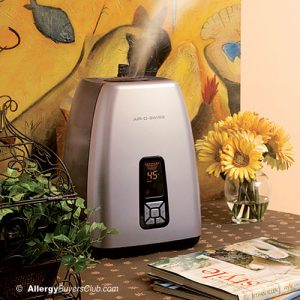 Ease of Cleaning
Here the Boneco Air O Swiss humidifier is very self cleaning with their hydro cell and demineralization cartridge patented system. You will only need to change the cartridge every 3 months or so depending on the hardness of your water. Definitely, the humidifier of choice for people on the run or who hate extra cleaning chores. The PowerPure humidifiers also require no weekly cleanings because of a permanent filter that softens and cleans the water in the tank.
Built-in Humidistat
I think this is a great feature to have on a humidifier. Why? Because the tendency is to over-humidify a room and then cause mold and dust mite problems. I used the PowerPure 5000 humidifier all last season, and was amazed when I set my humidity level at 45%-50%, well below mold or dust mite causing levels, how often the machine turned itself off, and the water tank lasted anywhere from 2 to 3 times as long as my previous machine. In fact, the water lasted about 6 days in our very dry condo.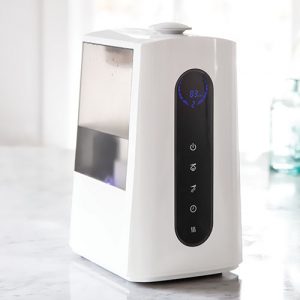 Noise level
This is a matter of personal choice, but everyone dislikes very noisy appliances. Be very clear about one thing, all appliances of this kind have SOME degree of noise attached to them. Some people are very noise sensitive. For those people I recommend a ultrasonic humidifiers which we have tested to be almost virtually silent. The PowerPure 4000 ultrasonic warm cool mist humidifiers are quiet and provide exceptional humidification.
No Mineral Dust
None of our humidifiers, cool or warm disperse mineral dust.
Automatic Shut Off
When empty or humidity level reached. I think this is an important feature but some people who are noise sensitive do not like any sound of an appliance going on or off which is audible in most humidifier models. Those noise sensitive people who just want to set a continuous humidity level and never have the machine turn on and off might like the Air O Swiss 7135 humidifier models. However the other Air O Swiss models and many of the Stadler Form humidifiers are so quiet that you have to strain to hear them click off.
Bacteria Free & Maintenance Free
Unfortunately, there is no such thing as a maintenance free humidifier. There are some relatively low maintenance humidifier options like the PureGuardian, Boneco (Air-O-Swiss), and PowerPure models. For these models all you really have to do is wash out the humidifiers at the very minimum on a weekly basis, or every time you refill the water tank. Otherwise the water tank can start looking gross and the rest of your humidifier can become unhygienic. During the winter I run them all the time, because without them my sinuses are killing me. The Air-O-Swiss machines are the most maintenance free of all.
What About Combination Air Purifiers and Humidifiers?
The
PowerPure by Aerus AP03 air purifier and humidifier
 all-in-one is a standout performer because unlike an airwasher, it has HEPA air purification with humidification. The two functions operate independently so that you can purify when you want and then switch to the humidifier only when needed. The Venta Airwashers are very good airwashers but don't have a HEPA filter like the PowerPure so it only filters out large dust and pet hair.  The Stadler Form Robert is another combination air washer that covers an area up to 800 square feet and very quiet.
What is my Designated Humidifier Winner for this Season?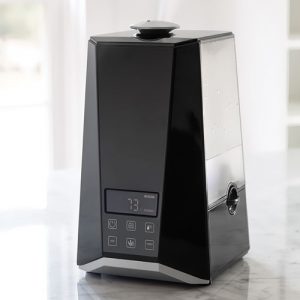 Personally, my top choice humidifier is the PowerPure 5000 Warm & Cool Mist Humidifier. This humidifier has sleek styling and does a great job for a variety of purposes.
I feel the second best option after that, is the  Boneco Air O Swiss 7142 humidifier which scores well since it covers a larger area than the 7144 and has a larger 2-gallon tank.