Well-Ventilated Indoor Spaces
Admittedly ventilation, or room air-flow, is probably not something most people think about a lot when they think about home maintenance — but it does play a huge role in things we notice every day: how room smells, how comfortable a room feels, and how much money we're shelling out to deal with mold- or mildew-related issues.
The National Center for Healthy Housing (NCHH) asserts that good ventilation means protection from unpleasant odors at the minimum and worst indoor air pollution and potentially dangerous gases like carbon monoxide and radon. Well-planned ventilation also prevents the growth of mold and mildew, which can cause or aggravate allergic reactions and lung problems like asthma.
The Definition of Ventilation
It's the amount of fresh air to a room or space. Typically, ventilation moves outdoor air into a building or a room, and then distributes the air within that space.
Ventilation helps remove stagnant, stuffy, warm air from an indoor space. When this happens, many particles and pollutants like dust, mold and pollen are naturally reduced or eliminated. The increased airflow also helps stave off the growth of mold and mildew, as more air dries conditions inside the home.
According to the World Health Organization, building ventilation has three basic elements:
Ventilation rate is the amount of outdoor air that is provided into the space, and the quality of the outdoor air
Airflow direction refers to the overall airflow direction in a building, which should be from clean zones to dirty zones
Air distribution or airflow pattern is the external air should be delivered to each part of the space in an efficient manner and the airborne pollutants generated in each part of the space should also be removed in an efficient manner.
Types of Ventilation
Ventilation is a big factor when it comes to maintaining a healthy indoor air quality. The EPA notes that one way of  lowering the concentrations of indoor air pollutants in your home is to increase the amount of outdoor air coming indoors — in other words, ventilation.
So what are the main types of ventilation?
Natural ventilation means that outdoor air is forced through purpose-built openings, such as windows, doors, solar chimneys, wind towers and trickle ventilators
Mechanical ventilation, like exhaust fans
Hybrid or mixed-mode ventilation, which relies on natural driving forces to provide the desired (design) flow rate; uses mechanical ventilation when the natural ventilation flow rate is too low
According to the NCHH, two types of ventilation that can help reduce health risks are spot ventilation and dilution ventilation. Spot ventilation refers to exterior exhaust fans should be installed in all bathrooms and kitchens. These fans remove humidity and carbon monoxide. Dilution ventilation addresses the entire living space. Air changes (exchanging indoor air with outdoor air) and air cleaning help determine the effectiveness of dilution. Air changes occur when there's a combination of natural ventilation (infiltration; leakage; windows) and mechanical (controlled) ventilation. Air cleaning occurs when particulates are filtered and humidity/moisture are removed from the air.
Places Where Ventilation is Important
You might notice that certain places in your home get stuffy or warm quicker than others, or are most likely to have a certain odor when you walk in. More than likely, these are the places where ventilation is most important. Places like
bathrooms (especially ones without windows)
kitchens
utility rooms
offices
basements
The EPA states that "most home heating and cooling systems, including forced air heating systems, do not mechanically bring fresh air into the house. Opening windows and doors, operating window or attic fans, when the weather permits, or running a window air conditioner with the vent control open increases the outdoor ventilation rate."
Offices and the Rise of Sick Building Syndrome
Homes aren't the only indoor spaces that bring up ventilation and air quality concerns. Many people spend a majority of their day at an office; in fact, many office workers are affected by Sick Building Syndrome (SBS), a condition found in office workers that is typically marked by headaches and respiratory issues that can be attributed to unhealthy workplace factors like poor ventilation. A feeling of ill health can increase sickness absenteeism and causes a decrease in productivity of workers.
What contributes to the increase in SBS? Most newer office buildings are constructed without operable windows, and mechanical ventilation systems are used to exchange indoor air with a supply of relatively cleaner outdoor air.
In an article about SBS, the EPA points out that "HVAC systems that are improperly operated or maintained can contribute to SBS, which generates physical symptoms without clearly identifiable causes. Some of these symptoms include dry mucous membranes, and eye, nose, and throat irritation. These disorders lead to increased employee sick days and reduced work efficiency."
Does Increasing Air Flow Decrease Air Quality?
Increasing the volume of air though your home will definitely make it fresher, but will also decrease your air quality, because with that volume comes contaminants and pollutants.  Opening a window or outside door to bring fresh air indoors and sending the stuffy, damp air outside is a great idea for bringing in fresh air. Opening windows and doors, however, also brings in air pollution, so it's a good idea to check that the Air Quality Index (AQI) is in a healthy range (check www.airnow.gov) before ushering outdoor air inside. Running a great quality air purifier can decrease the levels of pollution in your home. If opening the windows is not an option — due to allergic reactions, living in apartment with windows that don't open, or have interior room or basement with small or no windows —  consistent air quality can be harder to maintain. This is when it's a smart idea to rely on a high-powered air purifier. Here are some our top picks!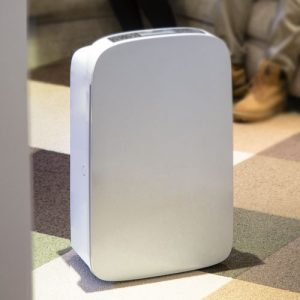 Pure & Dry HEPA70 Dehumidifier and HEPA Air Purifier
Great for: Places where air quality and excess moisture are a problem
The Pure & Dry Dehumidifier and HEPA Air Purifier is the first portable dehumidifier in America that has incorporated a HEPA air filter for the driest and cleanest air possible.
Dries areas up to 1400 sq. feet 

America's first 2-in-1 dehumidifier and HEPA air purifier in one

Features a sealed HEPA filter

Adjustable humidity setting between 30% and 85% in 5% increments

Auto defrost system prevents ice build-up on coils

Removable, cleanable pre-filter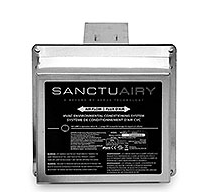 Sanctuairy by Aerus In-Duct Whole House Air Purifier
Great for: Whole home, killing airborne pathogens
The Sanctuairy by Aerus utilizes ActivePure Technology, which was developed by NASA and is the only certified air purification Space Technology.
Destroys up to 99% of surface and airborne contaminants

Significantly reduces dust, pet dander and odors in the home

Destroys viruses, bacteria, allergens and other organic compounds throughout your whole home

Protects heating and cooling system from dust buildup

Ozone-free operation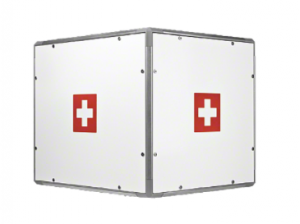 IQ Air Perfect 16 Whole House Air Purifier
Great for: Anyone who wants to drastically reduce allergens, particulates and toxins throughout their entire home, and has an existing forced air HVAC system 
The IQAir Perfect 16 Whole House Air Purifier provides whole house micro purification, so you can create a super-clean home environment.
Virtually eliminates allergens, bacteria, dust and smoke by as much as 100 times more effectively than conventional furnace filter systems

Designed for up to 1200 – 2000 cfm airflow

No filter change and no cleaning for 18 months to 3 years,  depending on daily usage

No electrical or motorized parts makes the unit 100% silent and less complicated to install

Special double V-filtration design does not reduce the efficiency of your HVAC system

Achieves air cleaning rates of up to 95%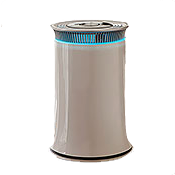 Great for: Offices, small spaces
The QuietPure Whisper air purifier offers air quality monitoring, smart automatic operation and an air quality display for real time feedback. Features an air quality display that appears as a lit ring around the top of the air purifier, indicating the quality of your air.
Quiet, whisper-like noise levels

Purifies up to 350 square feet

HEPA filter contains carbon for improved removal of VOCs, chemicals and gases

5 stage filtration: HEPA, activated carbon, nano-silver, Vitamin A and negative ionizer