Natural Home Cleaning for Allergy Sufferers
We have compiled some of our best cleaning tips for allergy sufferers. These easy and natural methods are for people with multiple chemical sensitivities, those allergic to dust mites, pollen, cat dander or mold, or anyone interested in a healthy, chemical-free lifestyle.
The appliances and supplies we recommend are a HEPA vacuum cleaner, a vapor steam cleaner, a good non-toxic stain remover, a microfiber cleaning cloth, lemon juice and oil soap.
For the Living Room:
· Carpet cleaning for allergy sufferers: To kill bacteria and control dust mites, or to just make your carpets smell fresh, try these natural, chemical-free methods
First, vacuum up any loose dirt, dander or dust with a HEPA vacuum cleaner which will trap even the smallest allergen particles and prevent them from returning to your environment. This great device will definitely reduce the amount of allergen causing particles in your home.
Next, gently go over the carpet with a vapor steam cleaner, which will kill dust mites and disinfect using high temperature steam. Gently steam clean using the floor brush accessory wrapped in a towel to allow the carpet fibers to spring back to life.
Finally, after the carpet has dried, vacuum it again to suck up all the dirt which may have been trapped by matted down carpet fibers. If your carpet is very dirty, we recommend you clean it first with a hot water extraction carpet cleaner.
· Hardwood, Marble and Tile Floors: First, use the floor brush accessory on a HEPA vacuum cleaner to suck up large dirt particles. Then, use a vapor steam cleaner with the rectangular floor brush wrapped in a towel to effortlessly remove all the ground-in dirt. Quick floor pickups can be done with a garden-variety electrostatic disposable cloth broom. If the floor is exceptionally dirty and has caked on particles, try pre-spraying the area with oil soap.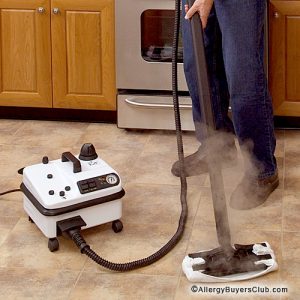 · Upholstery: For dust mite control, try using a small turbo brush accessory with a HEPA vacuum cleaner. To revitalize old upholstery fabric, use a steam cleaner.
· Windows: No need for chemicals! Instead, use the squeegee attachment on a steam cleaner, followed by a towel to wipe the windows completely dry, to get your windows to sparkle!
· Dust on Furniture & Surfaces: The dusting brush attachment of your HEPA vacuum cleaner is the best tool for dusting. You can also do quick dusting with a slightly damp micro fiber cloth.
For the Bathroom
· Grout & Tile: It's easy to clean the surface dirt and mold, which has been ground into your grout & tile. Just use a brass nozzle brush on a vapor steam cleaner and then wipe up the residue with a towel.
· Shower Doors: Mineral deposits on shower doors are sometimes difficult to remove because they have penetrated the pores of the glass. To start, try wiping the doors with lemon juice, followed by a steam cleaner with a large triangle brush and a towel for the difficult areas.
· Visible Mold: Visible mold patches can be removed with a solution of warm water and 10% non-chlorine bleach. Then, use a steam cleaner to kill the remaining mold.
· Overall Bathroom Sanitization: A steam cleaner will effectively sanitize without chemicals and is particularly useful for cleaning around the outside and inside rim of the toilet bowl.
For the Kitchen
· Ovens: Grease on stove-tops (and barbecue grills) can be removed easily with a small triangular brush on a steam cleaner immediately followed by wiping with a towel.
· Refrigerator: Mold and caked on food and beverage spills can be removed with lightning speed with a steam cleaner and a towel attached to a large triangular brush.
· Stains: Spraying the stained area with a high performance non-toxic cleaner and then using a steam cleaner right away can enhance the stain removal process.
· Counter-tops: Use microfiber towels for quick wipe downs, and use a steam cleaner to clean deep into the pores of a counter-top.
For the Bedroom & Clothing
· Bedding: Use a HEPA vacuum cleaner in conjunction with a steam cleaner every eight weeks, to keep your mattress dust mite free. Also be sure to wash your linens weekly in 140° F water.
· Clothing: We prefer wet, environmentally friendly cleaning for your clothes. To remove smoke odor, dander or dust mites, (and wrinkles) from your clothes, go over them quickly with the clothes brush accessory from a steam cleaner.