Best Air Purifiers of 2017
|


If you've ever wondered, what is the best air purifier that can make a difference in your home, you're not alone and why we put together our list of the Best Air Purifiers of 2017. You can't visibly see an air purifier working, which makes it harder to believe in the value of placing one in your home. However, for people adversely affected by allergies and asthma who've taken the plunge and invested in a high-quality air purifier, seeing isn't believing – feeling is!
At Allergy Buyers Club, we've received hundreds of first-hand reviews that attest to what a difference having an air purifier can make in people's lives and part of what we consider when  we made our Best Air Purifiers list. We're constantly seeking out new, cutting-edge technologies that not only clean and purify the air in your indoor space, but fit in with your busy lifestyle, price points, and address your most important needs. Here is our picks for the best air purifiers of 2017.
To improve your indoor air quality, there are 3 crucial points that must be addressed:  enhanced ventilation, better moisture control, and the reduction of source contaminants in your home. The EPA says that "the best way to address this risk is to control or eliminate the sources of pollutants, and to ventilate a home with clean outdoor air. The ventilation method can be limited by weather conditions or undesirable levels of contaminants contained in outdoor air. If these measures are insufficient a way to remove the contaminants like an [air purifier] may be useful. Air cleaning devices are intended to remove pollutants from indoor air."
Generally, the best air purifiers can be evaluated by their effectiveness in reducing airborne pollutants, the EPA reports. This effectiveness is measured by the clean air delivery rate, or CADR, developed by the Association of Home Appliance Manufacturers, or AHAM. The CADR is a measure of a portable air cleaner's delivery of contaminant-free air, expressed in cubic feet per minute.
Here's our list of our Best Air purifiers of 2017:
They have been generating a lot of excitement from our customers.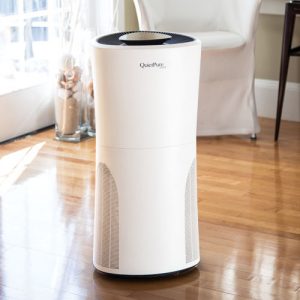 We believe the QuietPure HEPA air purifier is quieter, cleans more air and is easier to use than other leading brands. This purifier monitors particle count, VOC levels, relative humidity and temperature. The QuietPure Home HEPA air purifier quietly and quickly reacts to changes in your air quality, ensuring your home or office is always a healthy sanctuary.
Key features: 
Purifies the air in rooms up to 880 square feet

Measures air quality in your home down to PM2.5

Captures 99.97% of all particles down to 0.1 microns

Optional WIFI & App enabled

Measures and displays: particle and VOC levels, relative humidity and temperature

3 Airflow speeds plus Turbo and Night Mode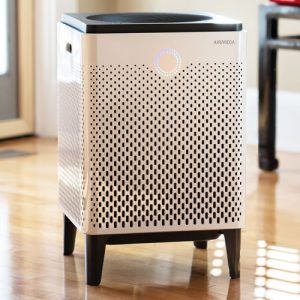 Airmega by Coway is a new, contemporary compact air purifier that features top-of-the-line HEPA filtration as well as the latest technology for smart living. Airmega offers many Smart Mode features to save you time, money, and energy, as well as offering the option of WiFi connectivity with the 400S model.
Key features: 
Green True HEPA removes up to 99.97% of pollutants down to 0.3 microns from the air

Activated carbon removes up to 99% of VOCs and odor

Multi-stage filtration system includes washable pre-filter and 2 Green True HEPA filters with activated carbon

Cleans large areas up to 1560 square feet

Air quality sensor tells you the quality of the air in the room in real time

Smart Mode allows Airmega to automatically adjust its fan speed based on the room's air quality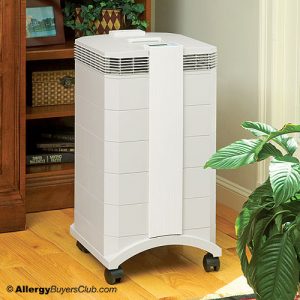 The new editions of the IQAir Healthpro Plus HEPA air purifiers are now 32% quieter, deliver 25% more clean air and have 38% longer filter life. While most HEPA air purifiers claim to be effective at capturing particles down to 0.3 microns, IQAir's revolutionary HyperHEPA filtration system is proven to capture particles 100 times smaller, down to 0.003 microns.
Key features:
PreMax™ large capacity pre-filter, 99.5% efficient at 5 microns (55% at 0.3 microns and larger)

V-5 Cell™ chemical & odor filter contains 5 lbs of coal-based activated carbon and potassium permanganate impregnated alumina

Triple seal design prevents air leakage

6 fan speeds

Intelligent filter life monitor bases on actual use, speed setting and air quality conditions

Covers between 1125 -1238 square feet (depending on model)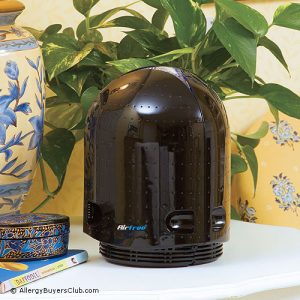 The Airfree Onix 3000 air sterilizer uses heat to incinerate mold spores, bacteria, fungi, and viruses. It's totally silent, produces no ozone and is maintenance free.
Key features:
Kills 99.99% of all airborne micro-organisms

Airfree Onix 3000 covers up to 650 sq. ft

Completely silent

Continuous operation

The Airfree air sterilizers energy-efficient, using the same wattage as a small light bulb

Requires no maintenance and no expensive filters to replace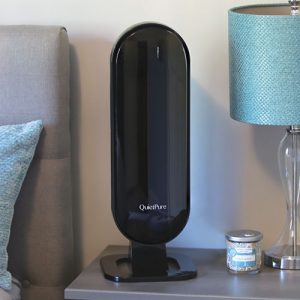 The QuietPure Whisper Tower by Aerus offers a simple and sleek design. Compact with a small footprint it will fit almost anywhere, like a night stand. This whisper quiet air purifier has a medical grade HEPA filter. It eliminates smoke, odors, and contaminants up to 325 sq. ft.
Key features: 
Uses exclusive HEPA and carbon filter to remove 99.7% of dust, pet dander and pollen

Cleans up to 325 square feet

Contemporary and design fits in any room

Honeycomb carbon filter removes odors, gases and light chemical smells

Small almost sqaure foot print of 8″ by 9″ inch allow it to fit almost anywhere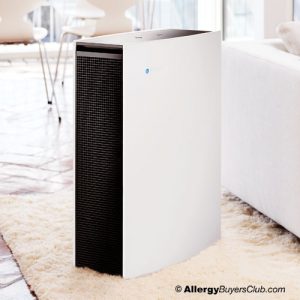 The Blueair PRO L air purifier can handle a high volume and stellar performance to complement top performing Blueair HEPASilent Technology. Optional filters for gas and odor reduction are available. The Blueair PRO L cleans the air fast with a total of 5 air exchanges per hour.
Key features:
High-efficiency particle removal and odor control

Recommended room coverage: 780 sq. ft (5 air changes/hr)

Captures 99.97% of all particles down to 0.1 microns

Internal ionizer produces zero ozone

Near silent operation: 32-55 dB(A

)

EnergyStar Rated