It's certainly felt like winter in many parts of the country, although it only officially arrived last week — along with some colder-than-usual temperatures. When the thermometer dips, it's tempting to turn on the heat — but if you've got a houseful of family members, then you know that it's nearly impossible to agree on room temperature! Blasting the heat can also drive up heating costs and dry out skin. So what's the solution? Snuggle up with the MySnuggle!
If conventional blankets have left you out in the cold — or contained materials that send your allergies haywire — then MySnuggle is your perfect solution. Very similar to a blanket with sleeves, MySnuggle has a top and bottom that can keep you warm and cozy while you sit,  read or watch TV on cold nights. Like a blanket with sleeves it is designed to be worn over your regular clothing, and will stay on if you need to stand up and move around. Unlike a blanket it MySnuggle will keep you warm as you move from room to room throughout your home.
One size is designed to fit most, and it comes in two great colors. The MySnuggle is a perfect gift for the person who's "always cold" — and every family seems to have one! The MySnuggle contains a microfiber shell and is a polyester fill. It's also easy to care for, since it's machine washable in cool water – – so you won't need to worry if you need to launder it for any reason. We have a feeling once you've wrapped up in your MySnuggle…you won't want to take it off until Spring!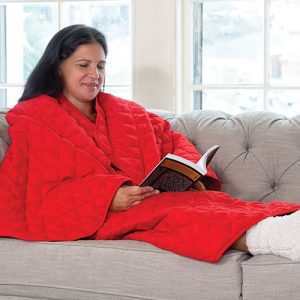 Stay snuggly warm as the weather gets colder outside while you feel nice and toasty inside the MySnuggle. This blanket with sleeves hybrid and appeals to all members of the family: teenagers can lounge as they play with their phones, and adults — especially the elderly who are sensitive to the cold — will keep toasty and warm in luxurious comfort under this snuggle blanket. Exclusive to AllergyBuyersClub.com.
Two-piece design: main body piece and cape

Snuggly and cozy quilted finish

Polyester fill

Microfiber shell

Large patch pockets

Colors: blue and red

One size fits most

Available for shipping 01.02.17