Best New Crawl Space Dehumidifiers of 2019
|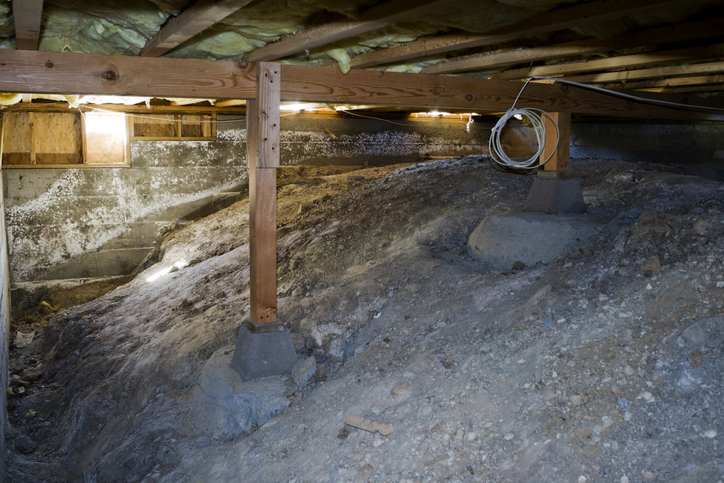 Crawl spaces often provide the ideal environment for humidity to set up camp and stay awhile. Mold growth, odor, and other problems commonly seen in crawl spaces usually occur because there's too much moisture in the air and it has no where to go. In many of these cases, crawl space dehumidifiers are the best way to remove excessive moisture.
What to Consider When Buying a Crawl Space Dehumidifier
Crawl spaces vary in height, square footage, and even amount of ventilation.  When choosing a dehumidifier, make sure it won't be too tall to fit underneath your home. Some crawl spaces are tall enough to walk into while others you must crawl through. Check the measurements of the unit you're considering.
You'll also want to know the square footage of your crawl space. Dehumidifiers vary in strength and reach. If you're crawl space is 3000 sq.ft. and you buy a dehumidifier that can only reach 1500 sq.ft., you aren't going to get satisfactory results.
Best Dehumidifiers for Crawl Spaces
WhiteWing SuperDry 90 Pint Dehumidifier
If you plan on moving your dehumidifier around a lot, the SuperDry is very mobile with durable wheels and easy handling. This dehumidifier is great for crawlspaces that are 3000 sq.ft. or less. It uses a smart, self-monitoring system that monitors real time performance data and then adjusts its fan speed and defrost cycle duration to match the conditions in your crawl space as they change.
The WhiteWing SuperDry 90 Pint can remove up to 15 gallons of water per day, which ensures a healthy relative humidity for your crawl space area. The built-in pump makes moisture removal easy and hassle-free.
WhiteWing SuperDry 125 Pint Dehumidifier
Similar to the 90 pint dehumidifier, the WhiteWing SuperDry 125 Pint Dehumidifier packs a punch with its 19 gallon water removal capacity. It works in crawl spaces up to 4000 sq.ft. and comes with a built-in pump to easily drain moisture away from your home. It's ideal for homes that are in particularly wet, humid areas or are built near lakes and other bodies of water.
WhiteWing Defender Dehumidifier
Less mobile than the SuperDry series, WhiteWing Defender Dehumidifiers are great for homes with smaller crawl spaces up to 2500 sq.ft. that need a more permanent dehumidifier solution. This energy-efficient dehumidifier can remove up to 110 pints of moisture per day using less energy than any other Energy Star rated dehumidifier. It's also ideal for crawl spaces with temperatures that drop as low as 45 degrees.
Unlike the WhiteWing Super Dry, this unit can be ducted to accommodate multiple rooms in your home while staying hidden away in your crawlspace. It also features caster wheels, a gravity drainage hose, and MERV-11 plus carbon air filtration.
Expert Dehumidifier Help
If you aren't sure which dehumidifier is right for your home and needs, chat with one of the experts at Allergy Buyers Club. They'll be able to provide information and suggestions that could help your crawl space humidity problem.