Best HEPA Air Purifiers
|
The best HEPA air purifiers should be your first look if you're shopping for a portable air purifier to use throughout your home, getting one with a HEPA (High Efficiency Particulate Air) filter is definitely the way to go. According to Wikipedia, HEPA filters are composed of a mat of randomly arranged fibers. The fibers are typically composed of fiberglass and possess diameters between 0.5 and 2.0 micrometers. HEPA filters, as defined by the US Department of Energy standard adopted by most American industries, remove at least 99.97% of airborne particles 0.3 micrometers (µm) in diameter. Keep in mind: products that claim to be "HEPA-type", "HEPA-like", "HEPA-style" or "99% HEPA" do not satisfy these requirements and may not have been tested in independent laboratories.
Opting for a HEPA air purifier is a smart idea because HEPA filters are time-tested and extremely effective at trapping small particles that are drawn into an air purifier. The best HEPA air purifiers have filters that are finely pleated meaning they works by forcing air through a fine mesh that traps harmful particles like pollen, dander, dust mites, and smoke. According to WebMD, using a HEPA filter in your home can remove most airborne particles that might make allergies worse.
The best HEPA air purifiers will be quiet, easily portable, energy-efficient and have customizable features (like fan speed, air quality sensors and indicator lights) that help you utilize it to the best of its ability and your needs. Take into consideration your indoor and regional specifications, which can then help you easily select the best HEPA air purifier for your home. At AllergyBuyersClub, we offer a wide variety of HEPA air purifiers that suit a range of budgets, room sizes and gadget-lovers.

The IQAir HealthPro air purifiers rule supreme as the top rated air purifier in the industry. IQAir's revolutionary HyperHEPA filtration system is proven to capture particles 100 times smaller than most HEPA air purifiers: down to 0.003 microns; the smallest particle that exists.If you want proven protection against the smallest and most dangerous particles in the air, IQAir is the only choice. Made from the safest materials, using only healthy filtration technologies, IQAir air purifiers are the best investment in your health you can make. IQAir air purifiers also add no ozone, ions, UV or chemicals into the air you breathe.
IQAir New Edition HealthPro Series offers up to 25% more clean air, 32% less noise and 38% longer filter life

Residential, large room air purifiers

Certified HyperHEPA filtration efficiency proven to remove at least 99.5% of all particles 0.003 microns and larger (100 times more efficient than standard HEPA filtration)

Triple seal design prevents air leakage

6 fan speeds

Fan motor: 2750 rpm, centrifugal, backward curved fan

4-key touch-pad with 16 character 2-line LCD display

Free Lifetime Warranty

Simply stated, we believe the QuietPure HEPA air purifier is quieter, cleans more air and is easier to use than other leading brands. Intelligent monitoring of actual particle count, VOC levels, relative humidity and even temperature. The QuietPure Home HEPA air purifier quietly and quickly reacts to changes in your air quality, ensuring your home or office is always a healthy sanctuary. Removes dust, allergens, pet dander, mold spores, viruses, smoke, odors and general gaseous VOCs.
Purifies the air in rooms up to 880 square feet

6-foot decibel reading of just 32 on low speed 

Intuitive LCD display and soft touch controls

Patented, quiet turbo-charged airflow

Measures air quality in your home down to PM2.5

Captures 99.97% of all particles down to 0.1 microns

Unique, attractive design

Optional WIFI & App enabled

Measures and displays: particle and VOC levels, relative humidity and temperature

Free Lifetime Warranty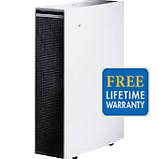 The Blueair PRO L air purifier is well suited for almost any room in the home or at work. Good looks, stellar performance and whisper quiet operation make this air purifier highly desirable. The PRO L's high volume of air flow is perfectly paired with Blueair's proprietary HEPASilent and electrostatic air filtration technology which surpass HEPA standards with a removal efficiency of 99.97% of particles down to 0.1 micron in size.
Room coverage: 1,837 sq. ft (2 air changes/hr) 

Recommended room coverage: 780 sq. ft (5 air changes/hr)

Optional Air Intelligence Module for auto mode

Filter replacement indicator

V-shaped HEPASilent™ filtration technology

Optional carbon-based filter kits allow for easy customization 

Captures 99.97% of all particles down to 0.1 microns

Internal ionizer – zero ozone emission 

3 fan speeds

Ultra quiet operation: 32-55 dB(A)

Free Lifetime Warranty
The following are the best HEPA Air Purifiers for a small room or bedroom: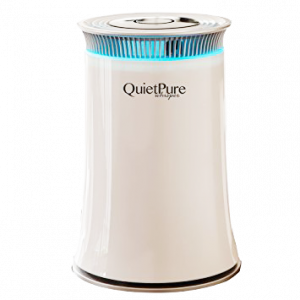 The QuietPure Whisper air purifier will quickly and quietly remove airborne pollutants in any room up to 350 square feet; ideally sized for bedrooms, offices or smaller living rooms. You'll breathe easier thanks to the Whisper's four stages of air quality filtration and appreciate the Auto Mode that automatically adjusts it's air flow based on current air quality.
Purifies the air in rooms up to 350 square feet

Quiet, whisper-like noise levels

Low energy consumption due to the use of a brushless DC fan motor

Easy to read and intuitive control panel

HEPA filter contains carbon for improved removal of VOCs, chemicals and gases

Four filtration stages:

HEPA filtration – removes airborne particles

Activated carbon filtration – removes VOCs, chemicals and odor

Vitamin A for softer skin and reduced stress levels

Negative ionizer – improves your air's sense of freshness
Read the reviews here!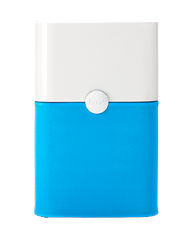 The Blueair Blue Pure 211 makes air purification simple with its one-button activation and it offers the highest filtration capacity of any air purifier in its class. The Blue features a 360-degree air intake on the bottom of the unit, providing efficient air purification wherever you need it. It removes smog, dust, pollen and other particles from the air, leaving the air in your home clean to breathe.
360-degree air intake

Single, push-button control

Cleans rooms up to 540 square feet in size

5 air changes per hour

Delivered airflow: 350 CFM

CADR ratings: 

Smoke = 350

Dust = 350

Pollen = 350

Decibels: 31-56 dBA

Weight: 13 lbs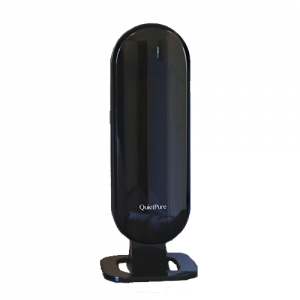 The QuietPure Whisper HEPA Tower air purifier offers a sleek yet simple, contemporary design. This whisper quiet air purifier features a combination true HEPA and carbon filter to offer best-in-class tower air purification performance. Easy-to-use manual controls allow you to set one of three airflow speeds to ensure cleaner, healthier air in any room of the home or office.
Purifies the air in rooms up to 325 square feet

Beautiful, contemporary design looks great in any room

Features a convenient combination HEPA and carbon filter

HEPA filter removes 99.97% of particles down to 0.3 micron

Honeycomb carbon filter removes odors, gases and light chemical smells

Built-in handle for easy transport from room to room

Low energy consumption

Whisper quiet noise levels