What Do I Need to Know About Mold Spores in my Home?
|
Mold is virtually inescapable: it's been on the Earth for millions of years, but active mold growth requires moisture. Mold is everywhere — on the air, in surfaces, and most likely in your home. And when you upset a mold source, you can unwittingly send mold spores into the air, where they circulate throughout your home through your HVAC system. Mold allergies are relatively common, which makes household mold prevention a crucial point in curtailing debilitating allergy symptoms.
If your allergies that occurs over several seasons, there's a good chance you're allergic to mold spores. Mold and mildew are forms of fungi. Mold spores are like seeds, in that they can travel through the air; some travel quickest if the weather is arid and/or windy, while others spread in foggy or other high-humidity atmospheres. If you're one of the millions of Americans with a mold allergy, the best defense is to reduce your exposure to the mold — by either cleaning it or avoiding environments where it's prevalent. If there's a musty or moldy smell in your house, chances are, you have mold problem.
Could I Have a Mold Allergy?
Some symptoms of a mold allergy are:
coughing
itchy eyes
sneezing
postnasal drip
dry, scaly skin
wheezing
itchy nose & throat
skin infections
When Are "Mold" Seasons?
According to The Asthma and Allergy Foundation of America (AAFA)
outdoor molds may cause allergy symptoms in summer and fall (or year-round in some climates), while indoor molds may cause allergy symptoms year-round.
However, being allergic to one type of mold doesn't always mean you'll be allergic to another.  Common molds that commonly cause allergies include Aspergillus, Alternaria, Acremonium, Cladosporum, Dreschslera, Epicoccum, Penicillium, Stachybotrys, and Trichoderma. 
What Are the Risk Factors for Mold Allergies?
The Mayo Clinic outlines some of the most likely factors that cause or contribute to a mold allergy:
a family history of allergies
living in a home that has a high humidity level (over 50% )
working in an occupation where you're exposed to mold (like baking, logging, gardeners & landscapers, carpentry and farming)
living or working somewhere that's had previous moisture exposure
living somewhere with poor ventilation
In 2004 the Institute of Medicine (IOM) found there was sufficient evidence to link indoor mold exposure with upper respiratory tract symptoms, cough, and wheeze in otherwise healthy people. It also declared that "mold spores are found in indoor air and on surfaces and materials….No indoor space is free of them." And in a June 2006 report, the CDC concluded that "excessive exposure to mold-contaminated materials can cause adverse health effects in susceptible persons regardless of the type of mold or the extent of contamination," while also asserting that the main way to control mold growth and mold problems in a house was to control moisture.
While there's not much you can do to change factors like family history, you can take charge of your home environment and get rid of household mold for good!
Here are some key steps for household mold prevention:
If mold is clearly present, it should be removed. Small amounts of mold on hard surfaces can be removed with commercial mold and mildew removers. (Large amounts of mold require specialized removal techniques and personal protective equipment.)
If you suspect you have a water leak (windows, pipes, water heater) repair it immediately.
Use a vent in areas like bathrooms and kitchens where moisture condenses.
Remove anything damp: carpets, piles of clothing, piles of cardboard or paper, or furniture.
Invest in a dehumidifier! Removing moisture from the air means less chances for mold to grow, and a dehumidifier for mold is one of the most efficient ways to control the humidity inside your home and keep it at optimal levels.You'll want to purchase the correct dehumidifier size and type to eliminate your moisture and humidity issues. There are many dehumidifier models on the market and the difference in the price will vary based on the extra features they come with, in addition to their size and capacity. To learn more about how to select the right dehumidifier for your space, check out our blog here.
Our Top Dehumidifier Picks: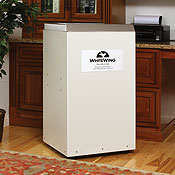 an AllergyBuyersClub.com exclusive!

quiet and energy efficient

dehumidifies an area up to 2500 square feet.

can operate as a standalone unit or may be ducted to efficiently dry multiple rooms

features a MERV-11 air filter for improved air quality

operates in temperatures as low as 40 degrees

includes a digital humidistat that automatically senses moisture levels to maintain optimal humidity
Read the reviews here!
Maintains relative humidity in basements and crawlspaces up to 1600 square feet

Functioning relative humidity range from 35% – 99% relative humidity

Powerful 350 CFM motor for faster air circulation

Offers 30% more coil surface area than competing brands

5 sensors throughout check for ice every 35 minutes

Convenient, washable filter
Read the reviews here!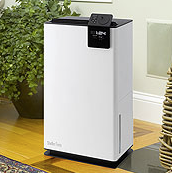 chosen as the best home dehumidifier for smaller areas

top quality with easy-to-use controls

ultra-quiet, making it ideal for bedrooms or living rooms

covers up to 650 square feet

features either a removable bucket or continuous drain hose
Read the reviews here!
our top rated dehumidifier for humidity control in crawl spaces & large basement areas

operates in cold temperatures down to 40 degrees F

can dehumidify areas as large as 2200 square feet

just 15 inches high; fits easily in tight spaces 

features an auto restart and Energy Star rating
Read the reviews here!