Top 10 Air Purifiers for 2018
|
We know choosing an air purifier can be a difficult task for the average person. There are a lot of models and manufacturers, and unfortunately for the unwary consumer, many are all hype and provide the allergy and asthma sufferer with very little benefit. We have complied a list of our Top 10 Air Purifiers of 2018 to help guide you.
Here at AllergyBuyersClub, we have been testing home air purifiers since 1998 and our findings are used as source of material all over the web. The company's philosophy has always been that no product is perfect, even among the best, and that pluses as well as minuses need to be communicated to customers before they purchase. Nevertheless, there are some air purifiers that do an outstanding job and has named it's Top 10 Air Purifiers of 2018 as well as some very commendable runners up.
Our Top Ten Winners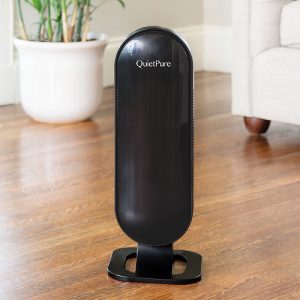 #10 QuietPure Whisper Tower HEPA Air Purifier The QuietPure Whisper Tower  is, in our opinion, one of the most overlooked air purifiers that we offer. This is a manufacturer who does not have a slew of products but what with great HEPA filtration for removing dust, pollen, mold, and light odors. Easily fitting on tabletop the QuietPure Whisper Tower covers a room of 325 square feet.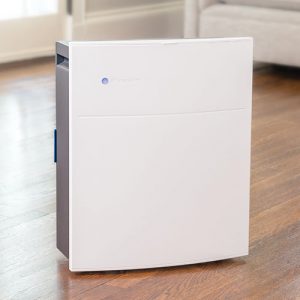 #9 Blueair 205 Air Purifier Is a long time favorite of both our staff and customers, the Blueair 205 combines at a very low noise level, an ionizer, electrostatic, carbon and HEPA type filter technologies which result in a very high filtration effectiveness and no external ozone. They gained very high marks for their ability to deliver large amounts of purified air, as certified by AHAM. This also makes them a top choice for a bedroom air purifier. Filter changes are exceptionally easy and with recent upgrades to include filter life monitoring, this manufacturer is still managing to keep ahead of most other air purifier manufacturers.
#8 Airmega 400 Air Purifer by Coway is part of a line of air purifiers with a modern design. It is compact and features top-of-the-line HEPA filtration as well as the latest technology for smart living. The new Airmega 400 feature multi-stage filtration system that reduces up to 99.97% of pollutants down to 0.3 microns. The Airmega 400 air purifiers can cleans a 780 square foot area every 30 minutes.
#7 Blueair Pro M Air Purifier is designed for high efficiency pollutant and quiet removal . Its small contemporary appearance and whisper quiet operation guarantee an uninterrupted, healthy nights sleep. It has Blueair's HEPASilent and electrostatic air filtration technology. HEPASilent surpasses HEPA standards with a removal efficiency of 99.97% of particles. It effectively cleans the air in 390 square feet rooms.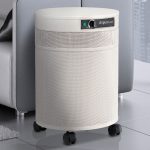 #6 Airpura R600 Air Purifier. This air purifier is a customer favorite in our air purifier category. They have done almost everything perfectly except for making it difficult to change filters and lacking a filter change monitor. Otherwise, Airpura has learned from the mistakes of others and does a first class job at producing air purifiers which are carefully tailored to a variety of special needs, and all for a very fair price. Each of their three filters are of excellent quality and what is unique is the air purifier units are modular and can be rearranged if your needs change.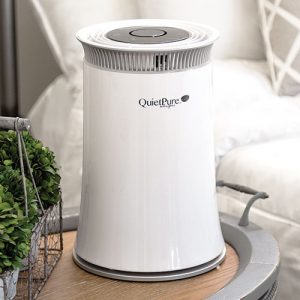 #5 QuietPure Whisper Air Purifier  quickly and quietly removes airborne pollutants in any room up to; ideal for many rooms covering 390 square feet. With Whisper's five stages of filtration and the Auto Mode that automatically adjusts it's air flow based on air quality. The Whisper also features an air quality display that appears as a lit ring around the top of the air purifier. The ring's color indicates the quality of your air at a quick glance. Great usability and filtration.
#4 Airfree Onix Air Purifier  is one of the few air purifier manufacturers that are not based around a HEPA filter and still passed muster with us. In fact, Airfree models have no filters at all, relying instead on a unique patented technology for the sterilization and incineration of allergens. Thus there is no maintenance costs associated with any Airfree model. However, Airfree is not recommend for serious gas and odor removal and household dust is not reduced – but your allergies will subside. For innovative technology, attention to research and cost effectiveness we are giving Airfree Onix our #4 spot.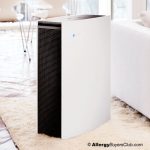 #3 Blueair PRO L Air Purifier is great for any room.  With it's whisper quiet operation, good looks, stellar performance, this is a high performance air purifier. The PRO L's high volume of air flow paired with Blueair's HEPASilent and electrostatic air filtration grabs large particles like dust or pollen and even smaller particles like bacteria and mold are captured. It has a working area of 780 square feet and 5 air exchanges an hour.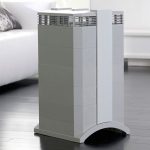 #2 IQAir HealthPro Plus Air Purifier is a king amongst princes and while other air purifier manufacturers may nip at their heels in the end IQAir is one of our top choices. Put simply, this manufacturer has done everything right and when the AllergyBuyersClub.com staff are asked to recommend the best air purifier for someone with serious allergy and asthma problems, it is the IQAir first. When they tested these air purifiers virtually nothing escaped their HyperHEPA filter. This is very important as lung penetrating particles are smaller than even a regular HEPA filter can capture. Packed with superior technological features such as a huge capacity pre-filter, filter change indicator lights, a HEPA filter efficiency rating second to none and six fan-speed settings, IQAir air purifiers are as good as it gets.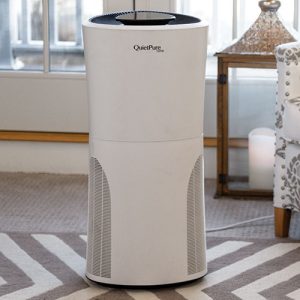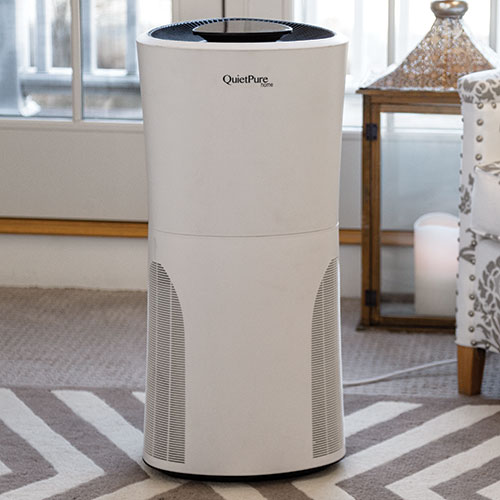 #1 QuietPure Home+ Air Purifier  is the quietest HEPA air purifier, cleans more air and is easier to use than other leading brands. It smartly monitors the temperature, VOC levels, particle count, and relative humidity, and automatically adjusts accordingly. It displays your indoor and outdoor particle count. It quietly and quickly reacts to changes in your air quality. Covering over 880 square feet Even though it is a relative new addition to our air purifier selection, it has made a big impression on us, that is why we have named it our #1 top air purifier of 2018.
Other noteworthy Air Purifiers:
Austin Air Air Purifiers are extremely popular with our customers. They offer a no nonsense, no frills approach to air purification and put their money into what really counts; very good gas and odor filtration and above average particle filtration. They lost points for combining their gas and HEPA filters as these filters degrade at a different pace than each other. Like Airpura, Austin's filters are difficult to change requiring a screwdriver and turning the machine upside down. But none the less, for consumers with serious allergy problems they are high up on our air purifier runners up list. The Austin Air Bedroom is a fairly quiet machine with better filtration than their prior models.
Alen Air Purifiers have been gaining ground very fast with our customers and for good reason. They have wisely positioned themselves as providing a good value air purifier for the consumer. They have neat designs, above average filtration effectiveness, quiet operation, very easy filter changes, low energy consumption and a lifetime warranty. They are not recommend for serious gas and odor removal, Alen air purifiers are well worth a look.
Winx PlasmaWave Air Purifiers. We find these very impressive. Winix air purifiers are well made with a pleasing space saving design, easy filter changes, some nice auto monitoring features, fairly quiet and are Energy Star compliant. Best of all, they offer above average performance in air filtration. These are well worth looking at since the price is a knockout for what is being offered. We would not recommend them for serious gas and odor removal.