Summertime Allergies: Common Causes
|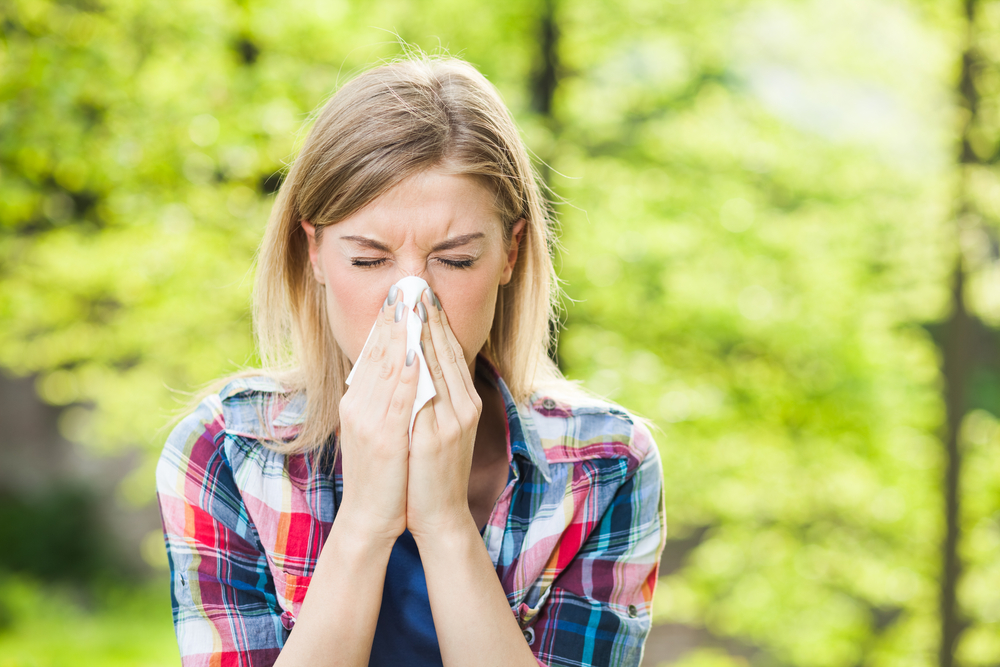 When you think of summertime, a lot of fun things probably come to mind: warm weather, school breaks, vacation, traveling, or BBQ. Summertime allergies are probably one of the last things on your mind, right up there with New Year's Evening plans and Valentine's Day! Most people associate allergies with a particular time of year, with spring and autumn are the two biggest offenders. But for some, summer allergies are just as bad, if not worse in the summer.
Allergist Michael Foggs, MD, president of the American College of Allergy, Asthma and Immunology (ACAAI) told ACAAI.com that "Summertime allergies can cause severe symptoms for some sufferers, and can be just as bad as the spring and fall seasons. Symptoms aren't always limited to the hallmark sneezing, runny nose and watery eyes. Black eyes, lines across the nose and other…symptoms can occur."
Another shocking fact about allergies? Even if you've never had them before, or never been bothered by a particular allergen, that can all change in an instant. According to ACAAI, some of the tell-tale signs of allergies striking include the following symptoms which can coincide with the typical sneezing and sniffles:
Allergy-Related Black Eye: Dark circles under the eyes caused by swelling and discoloration due to the congestion of small blood vessels beneath the skin in the eye area.
Swollen Face: Nasal allergies can promote swelling of the adenoids, causing a tired and droopy appearance.
Nasal Crease: A line appearing across the nose, usually caused from rubbing the nose upward in an attempt to relieve nasal congestion and itching.
Mouth Breathing: Severe nasal congestion can result in chronic mouth breathing.
Dr. Foggs goes onto tell ACAAI.com that summertime allergy symptoms are often mistaken for colds, food intolerances or other ailments. "If your symptoms are persistent and lasting for more than two weeks you should see your allergist for proper testing, diagnosis and treatment," said Dr. Foggs. "Finding and treating the source of your suffering can also clear up other unwanted symptoms."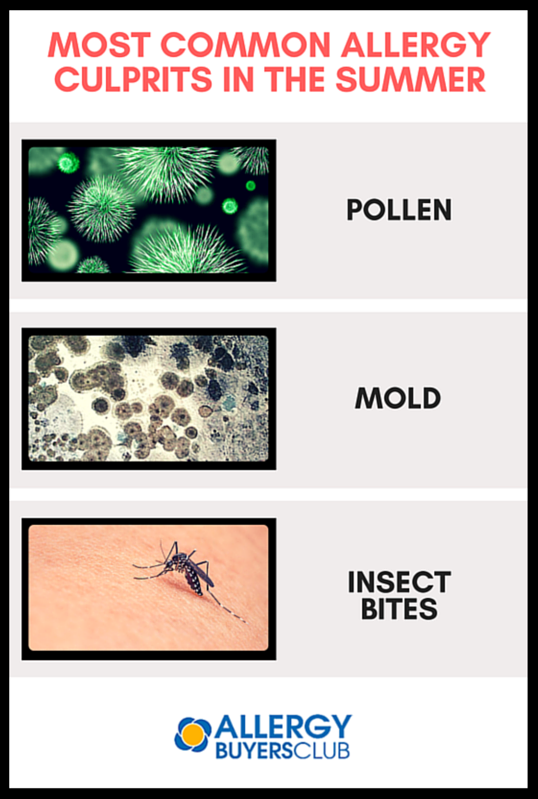 Oftentimes, people spend more time indoors during extreme weather conditions, like heat and cold. Summer sees many people staying in their home or office to escape the heat and humidity. That's a lot of time inside and this is in addition to the fact that people spend 90% of their time indoors. It will protect you from stinging insects and pollen but not from other pollutants inside. And therein is part of the problem: the EPA has established that indoor air levels of many pollutants may be 2-5 times, and occasionally, more than 100 times higher than outdoor levels and that is something that can be controlled.
Mold is a particular issue indoors, especially if a region experiences a wet summer season. Mold and mildew thrive in warm, dark, damp environment that often come along in summer. And if you're cooped up inside to avoid the heat, you might be even more exposed to mold spores circulating through a home or office than you otherwise would be. If you think you have a mold problem in your home, the key is to first determine and remove the source that's helping it grow, and many times that's excess moisture.
If this is caused from a leak, get this fixed immediately. Then you can take steps to go about removing the excess moisture that's accumulated in your home.
At AllergyBuyersClub.com, we have a great range of dehumidifiers for every space. Here are some of our top picks:
The WhiteWing SuperDry 90 Dehumidifier is built tough enough for restoration professionals for use in basements and crawl spaces up to 3,000 square feet. It features large wheels, a sturdy handle, tough rotomoulded housing and an internal pump for water removal.
Removes more moisture per kilowatt hour than any other 90 pint dehumidifier

Dries up to 3,000 square feet

400 CFM

Outstanding low energy consumption of just 6.58Amps

Compact size is lightweight, easy to maneuver and highly versatile

Self monitoring system with built-in sensors monitor performance allowing for automatic fan speed adjustments

Digital humidistat with smart-touch buttons, drain indicator, keylock and timer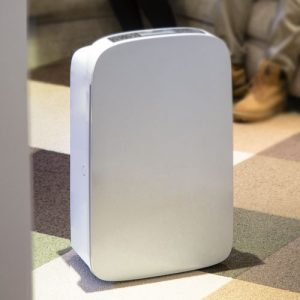 The only dehumidifier and HEPA air purifier all in one! The Pure & Dry dries areas up to 1400 square feet, plus it removes microscopic particles from the air, like mold and mildew.
2-in-1 dehumidifier with HEPA air purifier removes up to 9 gallons of water per day

Quiet operation

Removable, cleanable pre-filter

3 water drainage options

Includes a sealed HEPA filter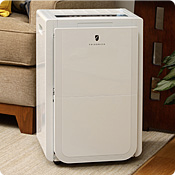 The Friedrich D70BP 70 Pint dehumidifier is extremely efficient in extracting moisture out of damp and musty environments, and a great value! It offers a variety of drainage options, including the ever-so-handy internal condensate pump for automatic water removal.
Automatic defrost cycle

Displays current relative humidity and temperature

3 water removal options

Programmable timer from 1 – 24 hours

Auto shut off and indicator when bucket is full 
Available exclusively at AllergyBuyersClub.com! This commercial-strength Fral FDK54 dehumidifier is built with the best high quality materials and components, so it's designed to stand the test of time. Well suited for use in basements, crawl spaces, building work sites and vacation homes.
Maintains relative humidity in basements and crawlspaces up to 1600 square feet

Functioning relative humidity range from 35% – 99% relative humidity

Quiet operation rated at 43 db(A)Powerful 350 CFM motor for faster air circulation

Low energy consumption of just 510 watts

Convenient, washable filter

5 sensors throughout check for ice every 35 minutes