What are the best HEPA Air filters? Which are the best air purifiers?
|
As far as filters are concerned, HEPA filters are known as the industry gold standard. They're the go-to when it comes to  desirability because they're incredibly effective at what they do, which is to remove 99.97% of air particles that have a size of 0.3 microns or more (as defined by the Department of Energy standards).
What does HEPA mean?
HEPA is an acronym for high-efficiency particulate absorption, and the filters are mats made mainly of fiberglass. Contaminants, allergens and other particles are trapped in the HEPA filter and subsequently removed from the air. As you might imagine, this is highly ideal to asthma and allergy sufferers everywhere, as well as anyone who has an interest in improving their indoor air quality.
What is the history of HEPA?
However, the technology behind HEPA replacement filters isn't what you'd call new. In fact, the original HEPA filter was invented during World War II to prevent the escape of radioactive particles from laboratories.
In 1963, a German mechanical engineer named Klaus Hammes (with his brother, Manfred) pioneered a simple filter system for residential use in Germany. According to AirPuriferGuide.org, the Hammes brothers' system consisted of a filter pad that used magnets to attach it to the air outlet of coal heaters. This filter was designed to trap the dust found in the cold air as it heated and rose through the oven, helping reduce the "black dust build-up" on the ovens' walls. It was the first air filter of its kind capable of being utilized for homes. Over time, consumers began noticing that this filter system also helped reduce asthma and relieved allergy symptoms.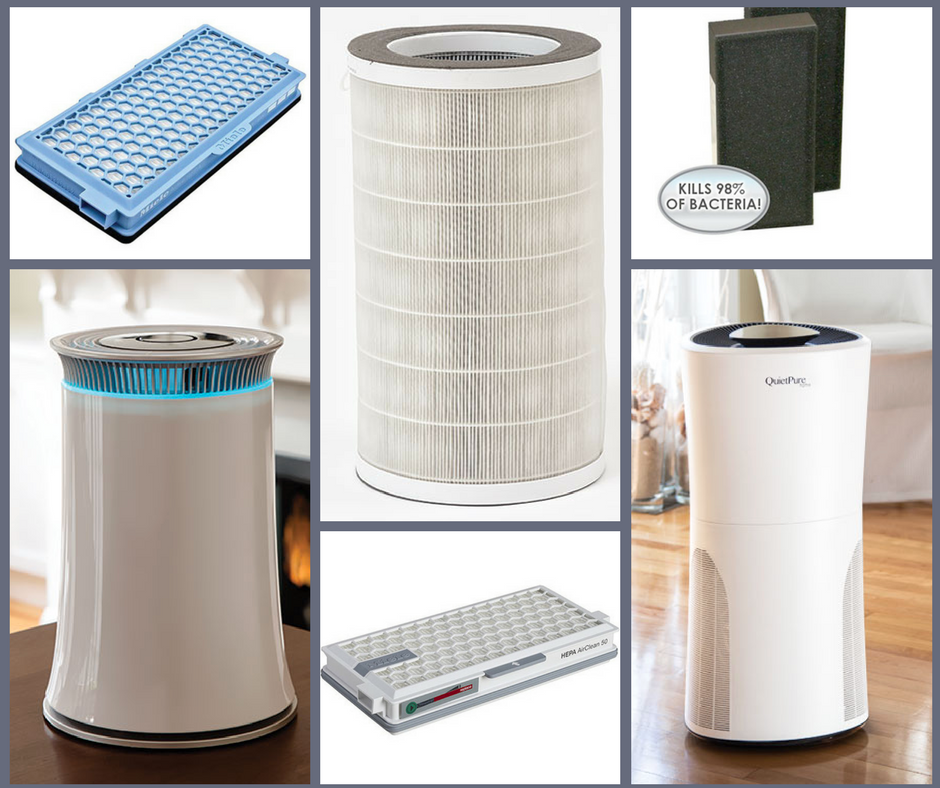 From then into the 1970s, the Hammes brothers continued developing their filter system, adapting it so it worked in conjunction with heating systems, radiators and forced air heating and cooling systems, which we now call HVAC. The Hammes even introduced a cabin air filter to Mercedes-Benz for use in their automobiles.
Since then, HEPA filters have evolved and been used throughout many industries, such as health care, hospitals, aerospace and nuclear power.
Where are replacement HEPA air filters used?
According to the Asthma and Allergy Foundation of America, while many allergens and irritants are suspended in household air, "there are far more resting on surfaces like rugs, furniture and countertops. Keeping these areas clean is an important step in controlling your allergy and asthma triggers. However, the most effective step is to eliminate the source of these allergens and irritants in the first place."
As you might imagine, HEPA filters are particularly useful in medical settings, and dramatically help reduce the spread of airborne bacterial and viral organisms. Some of the best-rated HEPA units have an efficiency rating of 99.995%, which assures a very high level of protection against airborne disease transmission.
As explained by Britannica.com, the installation of HEPA filters in aircraft and in hospitals has successfully helped prevent the spread of airborne fungi, viruses, and bacteria. HEPA filters placed in airplanes have helped slow down the spread of diseases from city to city. In hospital and other medical settings, HEPA filters are typically rated higher than the Department of Energy standard, often at 99.99 percent efficiency (H14 in the European system) and equipped with high-intensity ultraviolet lights that kill any bacteria and viruses trapped by the filter itself.
How do I know my air filter is HEPA?
Of course, there are "HEPA-like" filters on the market that are less costly but not "True HEPA" as certified by the Department of Energy. Oftentimes, they only capture 80-90% of airborne particles. In order to differentiate between the two types, be sure to look for the serial number and test results printed on True (sometimes called Absolute) HEPA filters. You'll want to make sure that the test results at .3 microns are 99.97 percent or above.
In fact, a study published in the August 2014 issue of Journal of Asthma found that using a high-efficiency air filter with a MERV rating of 12 or higher can effectively reduce indoor levels of common airborne asthma and allergy triggers.
Due to their efficiency, HEPA filters are found in more and more places as modern technology advances. Air filtration systems, cars, vacuum cleaners and airplanes have all expanded to include HEPA filtration in their emerging technologies. Atmospheres susceptible to re-circulated air can benefit greatly from the placement of HEPA filters, and help improve the air quality for indoor environments.
Some of our most popular units that feature HEPA filters are the QuietPure Home HEPA Air Purifier and the QuietPure Whisper HEPA Air Purifier.  Visit AllergyBuyersClub for all your HEPA air filter needs!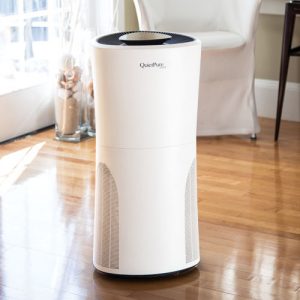 Simply stated, we believe the QuietPure HEPA air purifier is quieter, cleans more air and is easier to use than other leading brands. Intelligent monitoring of actual particle count, VOC levels, relative humidity and even temperature. The QuietPure Home HEPA air purifier quietly and quickly reacts to changes in your air quality, ensuring your home or office is always a healthy sanctuary. Removes dust, allergens, pet dander, mold spores, viruses, smoke, odors and general gaseous VOCs.
Purifies the air in rooms up to 880 square feet

6-foot decibel reading of just 32 on low speed 

Intuitive LCD display and soft touch controls

Patented, quiet turbo-charged airflow

Measures air quality in your home down to PM2.5

Captures 99.97% of all particles down to 0.1 microns

Unique, attractive design

Optional WIFI & App enabled

The QuietPure Whisper air purifier offers air quality monitoring, smart automatic operation and an air quality display for real time feedback. The Whisper air purifier cleans the air in rooms up to 350 square feet; the perfect air quality solution for smaller rooms.
Purifies the air in rooms up to 350 square feet

Quiet, whisper-like noise levels

Low energy consumption due to the use of a brushless DC fan motor

Easy to read and intuitive control panel

HEPA filter contains carbon for improved removal of VOCs, chemicals and gases

Four filtration stages:

HEPA filtration – removes airborne particles

Activated carbon filtration – removes VOCs, chemicals and odor

Vitamin C for softer skin and reduced stress levels

Negative ionizer – improves your air's sense of freshness