Officially Spring Allergy Season
|
Most of us have that one day in the spring when we realize that allergy season has arrived. Maybe it's the day you have a sneezing fit in the middle of a work meeting. Or maybe it's the day your eyes water so much it ruins your mascara. Or maybe it's the day you wake up and breathing through your nose — while possible the night before — is now totally impossible. Allergies mean different things (and seasons!) to different people, but one thing's for certain: no one likes them. And for many parts of the country, it's about to ramp up, thanks in no small part to the warm-ish winter many of us experienced.
Unusual seasons
When a season behaves atypically, it can impact the season that follows it. This year for example, a relatively-short, warm winter means that spring came early for many people. Certain things, like specific kinds of bugs, require sub-zero temperatures to suppress their populations at all. So people aren't the only ones who are confused about seasonal change: according to Popular Science, wildlife is also getting mixed signals—hummingbirds in Colorado are no longer showing up at the proper time to get the best nectar.
Colder winters with heavier snowfall and precipitation can mean longer thaw-outs…and wetter springs. The word season itself can even be a bit of a misnomer, since, as Popular Science points out, seasons are [actually] complex periods triggered by a combination of temperature and sunlight. David W. Wolfe, a Professor of Plant and Soil Ecology at Cornell University, Ithaca, told Popular Science that there's "dramatic evidence of the natural world responding to climate change, and one of those indicators is an earlier spring bloom in the northern hemisphere."
How much pollen can we expect this spring?
However, the amount of spring pollen you can expect isn't always determined solely by the previous winter. The pollen forecast can be more complicated than that…and pollen isn't the only problem for many allergy sufferers. In February of this year, John Bosso of Penn's Medicine told affiliate Philly.com, that "a warm February usually means spring pollen season will come early. But that can be nixed by a cold March or a late snow." It makes sense that moist soil usually encourages plant growth, which leads to more pollen. And tree pollen is the first to come in the Northeast sector of the US, followed by grass pollen.
Even if allergy season pollens arrives early, regional weather can still override its potency. Lots of rain can reduce the pollen count by washing it away, while a dry, windy spring day can lift and spread pollen farther than normal, which can wreak havoc for anyone with allergy sensitivities.
Bear in mind, too, that seasonal allergies may be spurred on by other factors. In an article for the Washington Post, Casey Seidenberg noted that according to the bestselling book The Allergy Solution by Leo and Jonathan Galland, "…factors that contribute to the immune system's sensitivity to allergens can include environmental toxins in the air, the overuse of antibiotics, an overly sterile early childhood and a changing food system that can cause internal inflammation and nutrient deficiencies."
Additionally, the Washington Post uncovered that certain people's immune systems may be triggered more easily because of a genetic predisposition or another factor. According to Kenneth Bock — author of Healing the New Childhood Epidemics,  "…all classic allergies are triggered by the immune system, anything that harms the immune system can contribute to allergies." He explained that an immune system is like a kettle that can hold only a certain amount of water. "If you keep filling it," he noted, "the kettle will eventually overflow."
While no one can entirely solve for seasonal allergies (unless living in a plastic bubble is an option), there are many things you can to do mitigate the symptoms.  Many doctors and immunologists recommend starting a regimen of over-the-counter allergies medications or nasal sprays a few weeks prior to the typical start of whichever allergy season is of concern for you. It can also help to be mindful when you — or anyone in your family, including pets — return from being outdoors. Wiping down pets with a damp cloth, removing your shoes at the door, and even showering (and washing your hair!) after spending time outside can remove a lot of pollen that would otherwise find its way into your home. One look at the roof of your car will tell you what the pollen levels are like outside, or for more precise measurements, you can always type in your zip code at Pollen.com's website, and they will tell you what the outlook is like for today and the upcoming week.


You can also clean the inside of your home well, and with the best tools that are designed to remove as much particulate (like pollen and other allergens) as possible. An air purifier and vacuum cleaner with high-quality HEPA filters will go a long way in removing troublesome debris from your air, carpets and upholstery.
We think that some of our favorite products for dealing with allergy season will definitely help you keep your indoor spaces cleaner and freer of the allergens and pollen that can make this season such a nightmare!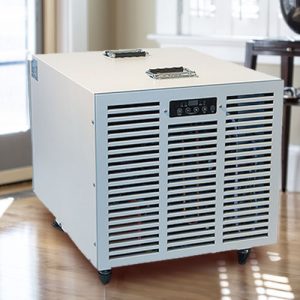 Fral dehumidifiers, Europe's top rated dehumidifier, is now available in the United States and  exclusively available through AllergyBuyersClub. The Fral FDK100 dehumidifier is as versatile as it built to withstand harsh, low temperature environments from basements to crawlspaces to commercial facilities.
Maintains relative humidity in basements and crawlspaces up to 3000 square feet

Functioning relative humidity range from 35% – 99% relative humidity

Amazing 520 CFM motor for faster air circulation

Offers 30% more coil surface area than competing brands

Low energy consumption of just 980 watts

Quiet operation rated at 50 db(A)

Automatic reverse cycle defrost thermostat and hot gas defrost system allows operation in environments with temperatures as low as 33°

5 sensors throughout check for ice every 35 minutes

The QuietPure Whisper HEPA Tower air purifier offers a sleek yet simple, contemporary design. This whisper quiet air purifier features a combination true HEPA and carbon filter to offer best-in-class tower air purification performance. Easy-to-use manual controls allow you to set one of three airflow speeds to ensure cleaner, healthier air in any room of the home or office.
Purifies the air in rooms up to 325 square feet

Beautiful, contemporary design looks great in any room

Features a convenient combination HEPA and carbon filter

HEPA filter removes 99.97% of particles down to 0.3 micron

Honeycomb carbon filter removes odors, gases and light chemical smells


Our White Mountain Textiles Cotton Deluxe dust mite mattress covers offer exceptional protection at a great value. These mattress covers are made of 100% cotton that is naturally soft and breathable creating a comfortable sleeping environment. The 260 thread count fabric features a tight weave and is a certified allergen barrier with an average pore size of 4.39 microns.
Made from 100% pure cotton

Effective natural barrier against pet dander, dust mites and other harmful allergens

Certified dust mite barrier

Tested by Porous Materials Inc. to have a mean pore size of 4.39 microns

Down proof

No added chemicals or harsh fabric treatments

No urethane membrane

Provides a cool, quiet, breathable sleeping environment 

Durable construction: sewn with chain stitching and 9-10 stitches per inch

A prison for contaminants, the Airscreen 1000 furnace filter improves indoor air quality by capturing dust, pollen, mold spores, bacteria, virus and other harmful particulates with exceptional electronic polarization technology. This furnace air filter removes particulates below 1 micron for HEPA class performance. Designed to replace any 1" air filter in a furnace or central air conditioning system in your home, this furnace filter will actually pay for itself by reducing your energy bills and increasing the efficiency of your heating and cooling systems.
Permanent, washable furnace and air conditioner filter

Permanently replaces your 1″ disposable air filter

Electronically charged glass fiber media pads attract and capture particulates below 1 micron on both furnace filters

Safe because it is foamless, non-clogging, and has virtually no detectable ozone emissions 

Low pressure drop: the degree of air flow restriction is measured by "pressure drop." Since this furnace air filter has low pressure drop, it will help you save up to 15% on your energy bills.