Silk Comforter Review – Lightweight and Hypoallergenic
Silk comforters are an important part of our business and I have been doing the 'rough' work of educating myself to the differences between brands and what makes a silk comforter worth using for a summer bedding choice.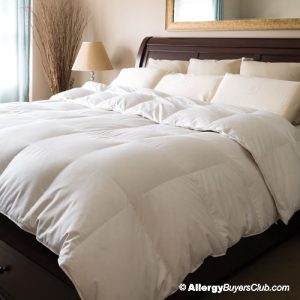 Generally when the weather around Boston gets warmer we reluctantly put away our heavenly Monarch Arctic Hypodown comforter. My husband has previously said he was too cold before we got the Hypodown comforter is now complaining of being too warm. This opened the way for me to turn our bedroom into yet another laboratory – this time a silk comforter and at the mention of silk my husband has now 'reluctantly' become experimental participant.
Pluses
Feeling: the first thing I noticed was how unbelievably luxurious and soft the whole silk comforter felt.
Comfortable Volume: while not as "puffy" as down, it was just dreamy as a fabric. In fact, my husband said he liked being able to easily see the television in bed since he had been mashing down the Hypodown Comforter in order to see over it!
Hypoallergenic: silk is naturally hypoallergenic and inhospitable to dust mites, so no allergic reaction or need for dust-mite encasings.
Physical Weight: The silk comforter was as light as a feather and I did not feel weighed down like the summer cotton blanket and cotton coverlet, I had been using. I sleep in an air-conditioned bedroom in Boston in the summer, and found the silk comforter surprisingly warm, in fact, warmer than I predicted. This is due to the fine thermal properties of Mulberry silk (explained below).
Different silk feels different: I have tried out several silk comforters including those made of Mulberry silk, the best quality silk in the marketplace. The Yala Luxury silk comforter felt softer and smoothest of all the comforters I tried, due to it being made out of long fiber high quality silk. Tussah silk or wild silk is coarser with more impurities than Mulberry silk. Mulberry silk has better thermal properties.
Minuses
Warmth: Whatever silk comforter vendors say about silk, it is NOT as warm as Down even in heavier weights such as found in the Mulberry West Silk Filled Comforters that also I tried out, but it makes it a perfect summer weather candidate. I also found it to be warmer than Cleanrest Micron one blankets or a Hyperclean down blankets.
Initial Smell: I was startled to detect a slight, but not unpleasant odor, to silk comforters when I first unpacked them. Apparently, that is the smell of natural silk intensified by a plastic bag. It dissipated over a couple of days' duration.
Dry Cleaning Required: A good silk comforter will last about 5 and up to 10 years if proper care is taken of it. This includes always having a duvet cover on it and never trying to wash it yourself, which would invalidate the warranty. A silk comforter needs professional cleaning.
Durability: This is not the kind of comforter to have your pets and children hang out on. While the feel is incredibly luxurious, it also feels much more "fragile." At the very least, I felt this was a bedding item to be treated "carefully." I concluded that a duvet cover was absolutely essential and is needed in order not to void the manufacturer's warranty. In the end, my favorite duvet cover was a 400tc cotton sateen; a very silk and supple feeling fabric but had the advantage of being washable – an absolute necessity for those of us who have pets who sneak up on the bed.
Different Design: The "hand tacking" ties on the some comforters and it initially appeared to me, like the finish work was missing, until I learned that hand tacking or hand ties are the traditional Chinese design and are there to keep the hand ties in place. In any case, the ties do not show once the comforter is put into a duvet cover.
Summary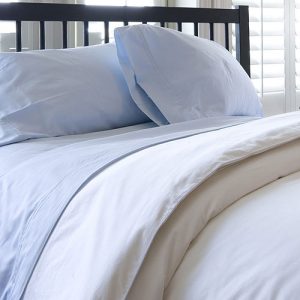 I am thrilled with my Mulberry West Silk Filled Comforters as a summer addition to my bed. It feels extremely luxurious and it has just the right of warmth for the warmer weather.
See all the comforters