Hypoallergenic Bedding Myths
|
What Is Hypoallergenic Bedding?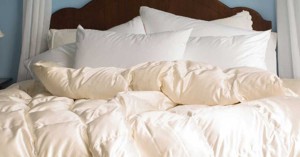 The word hypoallergenic is an unregulated term, but in most instances it means that the substances or fabrication of the product will not cause an allergic reaction for the majority of people. Of course, there are exceptions to every rule. There may be times when someone is more susceptible to heightened sensitivities, such as when going through chemotherapy, when a number of previously tolerated skin products can create a rash. Also, don't think that hypoallergenic bedding is resistant to accumulating allergens, is "allergy proof" or is in any way an allergy cure. Allergens are everywhere – outdoors and indoors, including your bedroom. So given that, you might well ask: what is the hype about hypoallergenic bedding?
The answer is that most people spend at least 8 hours tucked up in bed, so if you can provide some relief to the allergy sufferer who is waking up with sniffles, itching eyes and congestion by simply changing their bedding, you will have done them a great service.
Dust Mite Covers
Allergy Doctors always advise encasing your bedding with dust mite covers . The first thing that they will tell you to do is encase your pillows. The rea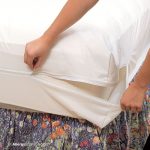 son for this is due to the fact that 10% of the weight of a two year old pillow can be composed of dead mites and their droppings. If you cover your pillows with a very tightly woven encasing or one with an impermeable backing, then you will cut off the dust mites from their food source – your dead skin flakes. Gross but true! The same theory applies to encasing your mattresses and box springs. Specially designed dust mite covers, the pore size of the fabrication needs to be less than 10 microns; all the our dust mite covers are less than 6 microns.
Your mattress dust might cover will probably fit quite tightly which is why I recommend using a mattress pad of some kind to absorb sweat and light spills. That is far more convenient and safer for the cover than taking it on and off the bed.
Hypoallergenic Pillows
Now we come to the actual fabrication of the items on your bed. I actually use latex pillows (I do not have latex allergies) because they are natur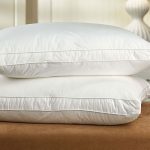 ally dust mite and mold resistant. I have some very nasty childhood memories of sleeping on lumpy dust mite-filled, smelly, moldy pillows on my father's boat, so I'm rather picky about pillows. Latex just naturally wicks away warm moisture, the breeding ground for molds and dust mites. For that same reason, latex pillows are menopausal friendly. Any woman of a certain age will tell you that night sweats around the base of the neck are extremely unpleasant.
Wool pillows or silk filled pillows have the same wicking properties, although I find that silk compresses too quickly and for a soft pillow lover like myself, wool is too hard. There are many synthetic down alternative filled pillows. These are specially for people who want that undeniably soft down like sensation under their heads but are allergic to feathers. Down alternative pillows are the answer.
Allergy free down, which in most cases means that the down has undergone a series of special washings which have washed out the dirt and the allergens. In the case of " Hypodown" Syriaca or milkweed grown in Utah is fused with the down, making it particularly friendly to allergy sufferers. The manufacturer of Hypodown guarantees that you will not have a reaction to their pillows. If you don't want to go to the trouble of buying dust mite covers, some manufacturers have even gone to the smart solution of encasing their pillows with a dust mite impermeable cover. All you then have to do, is use a regular pillow covering for protection.
Hypoallergenic Comforters
If you have been following the above explanation for pillows, you can surmise very quickly that much of it applies to comforters. Or does it? In the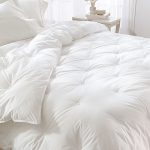 case of a comforter, you are not putting weight on it all night long, except if like me you foolishly allow your pets to sleep with you despite your pet allergies. Here, a wool or silk comforter is a very healthy choice as they wick away moisture. I sleep with an all year around wool comforter and it is beautifully light weight. My guests are treated to a silk comforter filled with the best grade of mulberry silk floss. There is no denying that down comforters keep you ultra warm and toasty, and if that is your pleasure, choose a hypoallergenic down comforter and then put a dust mite cover on it. Personally, I do not like a lot of weight on me and always run warm at night. My late husband on the other hand was always cold and loved the extra warmth of real down.
Hypoallergenic Mattresses
Lastly and not least, what kind of mattress should you be sleeping on? My personal favorite is a latex mattress which has been encased with layers of soft cotton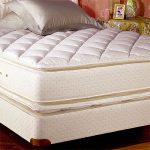 batting or silk. Having tried out numerous beds, a latex bed wins hands down for sheer comfort, contouring to your body instantly. I have tried very expensive memory foam mattresses and hated them because when you turn over, the dent made from your body takes a while to release back flat. Also if you run hot at night, you will quickly grow to despise memory foam and will be desperate to sleep on something else. It is also a common mistake to buy a mattress that is too firm, thinking that this is the healthiest choice available. Even with a good inter spring mattress, it is better to have a medium mattress which will save you from waking up with aching joints, and the reason why I am a devotee of latex mattresses.
I hope that this answers your questions about hypoallergenic bedding and what bedding choices may be best for you, especially if you have allergies. There is nothing like a good night's sleep and waking up in the morning with a clear head, and the right bedding goes a long way to make that possible.
Recommended Hypoallergenic Bedding: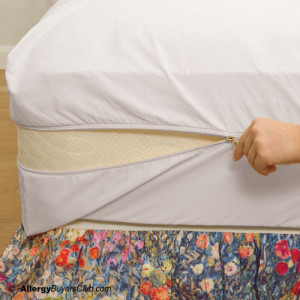 White Mountain Textiles Dust Mite covers
These dust mite covers are great for your mattress, box spring, and pillows. They are 100% natural cotton dust mite covers with a soft 260 thread count. Certified dust mite allergen barrier covers with 4.39 micron average pore size.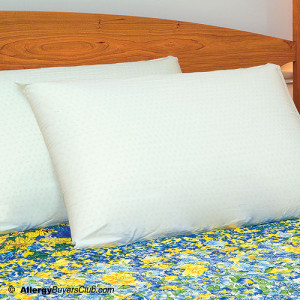 Natural Latex foam pillows
These pillows are hypoallergenic, antimicrobial, mildew proof and dust mite resistant. Talalay latex pillows are the best quality and are offered in soft, medium and firm levels for superior support and comfort.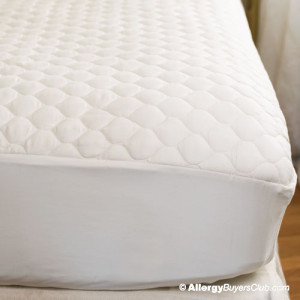 Solus Organic Cotton Mattress Pad
Fitted style mattress pad made from 100% organic cotton. GOTS certified organic mattress pad. Vegan and chemical free. Contains no bleach or dyes. Soft, absorbent, breathable mattress pad for protection and comfort. Expert ratings and reviews.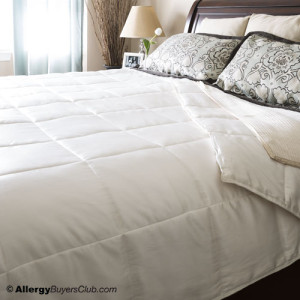 White Mountain Textiles Mulberry Silk Comforter
A silk comforter for lightweight warmth all year long. Safe for allergy sufferers. Naturally hypoallergenic and dust mite resistant.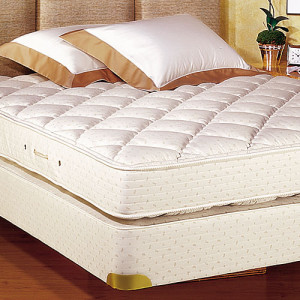 Royal Pedic Mattresses and Beds
Royal Pedic mattress, boxspring, and mattress pads are available as Twin, Twin XL, Full, Queen, Cal King, Est. King, or Crib. Bed Set includes Royal Pedic mattress and boxspring. Frame and mattress pads may be added.