Dust Mite Pillow Covers, Mattress Encasings Review
|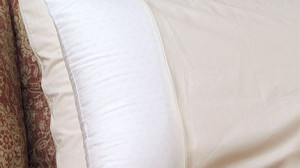 Cottonfresh Pillow and Dustmite Covers
We're pleased to pass on information about the latest developments in dust mite allergy bedding.
Barrier dust mite covers for beds, more specifically pillows, duvets and mattresses have been around for a while now, but usually relying on synthetic fabrics and plastic membranes to keep dust mite allergens under control and not giving you allergies. The materials of a lot of dust mite covers can not work for everyone especially if you have chemical sensitives. Covers can also be really uncomfortable because synthetic covers can too hot and sticky or even loud and noisy to sleep on.
I know from personal experience and hearing from our customers, saying they really don't like the nasty, plastic, crinkly dust mite covers. Finding an alternative that's better helps you both breath and sleep easy something I had trouble trouble finding before I found Cottonfresh.  After putting them on our bed, I noticed how normal the bed felt even with dust mite covers all over my bed! Cottonfresh dust mite covers are soft, smooth, and for example feel way more comfortable than my regular cotton pillow covers.
A few years ago now, we started hearing about a United Kingdom (UK) dust mite cover company, that had made a major breakthrough in quality and comfort. After a lot of investigation, we ended finding Cottonfresh bedding and mattress encasings. We tracked them down and had samples of their dust mite covers sent over to test for our members, and believe me, they were so amazing we didn't really have anything within the category to compare them to. Cottonfresh really is best choice in dust mite covers, it's the "Mercedes-Benz" of allergy bedding!
Cottonfresh dust mite covers are made of 100 percent pure, natural and unbleached cotton. They have been tested by both the University of Cambridge, in the UK and by the British Textiles Technology Group. The tests show that the fabric is impenetrable by the house dust mites allergen. They also carry an Eco-Tex certificate which is a European standard of textile purity, which guarantees the cloth is free of harmful chemicals and of 21 specific allergens. This is excellent news for anyone with asthma, eczema, rhinitis or multiple chemical sensitivities.
But best of all, the dust mite covers are supremely comfortable to sleep on, a benefit particularly welcome to non-sufferers too.
I would like to be frank, the price is higher than our Pristine dust mite covers, also an excellent product, but I really like the feel of Cottonfresh – very soft and silky. These dust mite pillow covers are so nice! I can hardly believe they are dust mite proof.
You can buy Cotton fresh dust mite mattress encasings and pillow covers in our store. We also carry Cottonfresh comforter dust mite covers.