Allergy Free Pillow Buyers Guide – Latex, Hypodown and Down Alternative Pillows
|
Pillows are an individual choice, but I have tried to distinguish the individual characteristics of each type, so you can make more of an informed choice.
Hypodown Pillows
If you have feather allergies but are a fan of down as a fill for pillows, with Hypodown Pillows you can have your cake and eat it too. The infusion of a modest amount of Syriaca into the down causes it to become completely allergy free and the manufacturer guarantees it.
In my opinion, Hypodown is the crème-de-la-crème of pillows. My husband and I tried out all the Hypodown pillows, and both of us had a preference for the Hypodown "soft" as we prefer to scrunch up a pillow underneath us, and we both sleep on our sides. Most people prefer the "medium". Three kinds of firmness are available.
We did a blind test in the office between the Hypodown 600, Hypodown 700 and Hypodown 800-fill pillows. Everyone got it right; there is a noticeable difference between them. The 800 fill is the most lofty and of course the most expensive. If you need to economize, do it on the covering of the pillow but not the inside. After all, you put a pillow case onto the pillow, so it is the fill which you will be noticing, not its cover.
Latex Pillows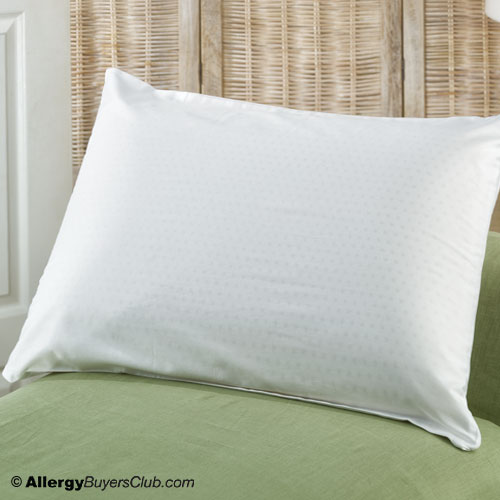 In our personal opinion, the "soft" latex pillows are a good runner up to Hypodown. Although they have an entirely different feel to down, they are more affordable. I have actually standardized these pillows for all my bedrooms in my summer home, and people love them- including my sister and niece who insisted on taking one each back to the UK with them on a visit this last summer.
The most popular is "medium" but the pillow crunchers will like the "soft". Latex is naturally hypoallergenic and wicks away moisture very quickly, so it is inhospitable to dust mites. Besides being reasonable in price and lasting for 10 years, we no longer have to use dust mite encasings on our pillows, which is an added bonus.
Alpaca Pillows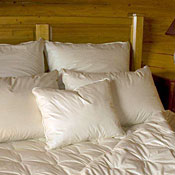 Alpaca pillows are an undiscovered little jewel. As long lasting as our pure wool pillows, these pillows contain 70% alpaca and 30% wool. But given that Alpaca is softer than cashmere, they have all the advantages of a hypoallergenic wool pillow, but are discernibly softer. Alpaca pillows work best for those who like a "flatter feel" and not so much loft to their pillows as they do compress over time.
Down Alternative Pillows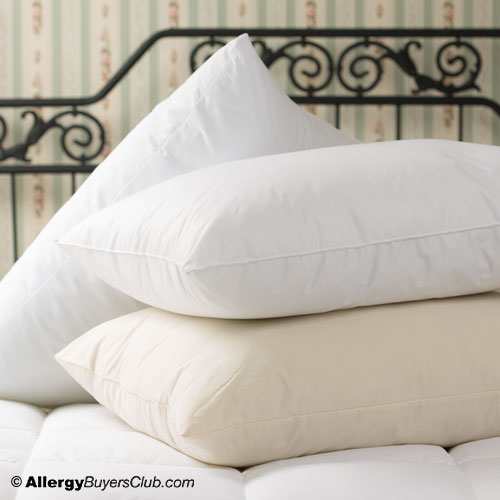 These hypoallergenic down pillows are a great alternative to regular down pillows that sometimes can cause reactions in people.  But they don't give up any softness or comfort and are quickly becoming very popular with those with allergies.  Our Hotel Plush Pillow is the newest made with patented hollow fiber and features a 100% cotton 233 thread count cover. Our White Mountain Down Alternative pillows are also very popular and affordable and come in back, stomach and side sleeper versions.
Primaloft Pillows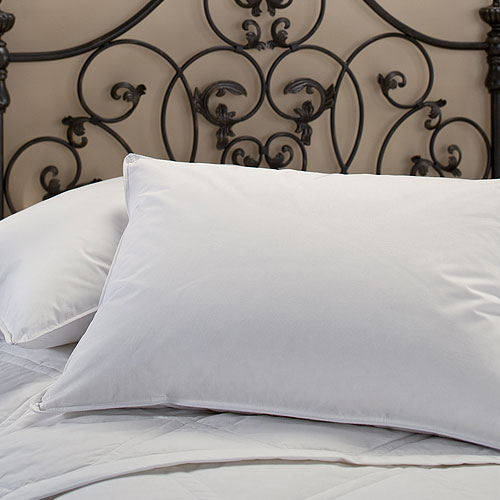 Primaloft Pillows are puffy, squishy and soft when they are new – just the way you like them. Eventually they will start compressing down, but for the price they cannot be beat. So for a soft feeling of synthetic down, the Primaloft are a great value.
Royal Pedic Head and Neck Support Natural Latex Pillows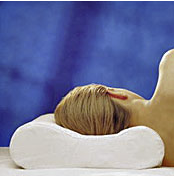 Royal Pedic latex pillows are wonderful especially if you need to align your back and neck. They are best for side and back sleepers but not for those who like to sleep on their stomachs. We were surprised that they were not larger in size, and they are not for those who wriggle around in the night, because you manually need to readjust the pillow when you move, as the latex is rigid in form and also quite firm. Also they are not for people who like myself who want to mash a soft pillow into a ball beneath them. However, some people swear by them especially if they have neck problems.