Down Alternative Comforters
|
In certain parts of the world, down comforters are a way of life. For example, in Scandinavian countries it's traditional for a couple to have two separate down duvets, instead of one large one like Americans are used to. There, cooler year-round climates facilitate the use of naturally insular materials like down and wool. In the US, where temperatures are usually more moderate and a bit more prone to seasonal fluctuations in warmth and humidity, we often need bedding that's a little more versatile. There's also the added factor of Americans who struggle with allergies and asthma — and find natural materials (like wool and down) allergenic. Because of these and other factors (price, ease of cleaning) many people are choosing down alternative bedding for both year-round and seasonal use.
If you've ever slept on a down pillow, you can probably remember what it was like when the tip of a feather would poke through the linen cover and startle you out of a perfectly sound sleep. Down is also usually much denser, heavier and more expensive than similar alternatives. Generally, people have strong opinions about down, they either love or hate down. For those who aren't a fan — but see the value it can bring, especially in colder weather — down alternatives can be a great way to compromise, and Allergy Buyers Club has some great choices.
A lot of down alternative bedding is not only more affordable, but easier to care for as well. Down Comforters must be dry cleaned, which in and of itself can be a pricey venture, depending on how often you have to do it. Many down alternative comforters, like our PrimaLoft Luxury Down Alternative Comforters, are machine washable.
If you've ever had a down duvet or featherbed, you know how the feathers can cluster or wad up, which then requires a good shaking to rearrange the down in an even distribution. With a down alternative, choose one with sewn-in box stitching. It prevents the bunching that's associated with actual down bedding. This can also prevent hot/cold spots as well, since the down fill doesn't shift.
Down alternative bedding is often made with allergy and asthma sufferers in mind — so you'll find that they're more likely to be hypoallergenic and made from allergen-free materials. Being able to launder them more often is also a plus, since regular laundering can help reduce allergens and dust mites that might otherwise collect.
Our Picks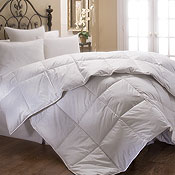 PrimaLoft Luxury Down Alternative Comforters
PrimaLoft luxury down alternative comforters are filled with hypoallergenic, anti-microbial PrimaLoft fiber fill and covered in 100% cotton. PrimaLoft is a unique blend of ultra-fine fibers engineered to mimic all the desirable attributes of down, with none of the allergens
Feature a sewn through box construction

Machine washable

230 thread count

100% cotton cover

Hypoallergenic

Suitable for spring, fall and winter use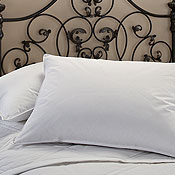 PrimaLoft Luxury Down Alternative Pillow
PrimaLoft Luxury Down Alternative Pillows are ideal for someone who's a sensitive sleeper and is allergic to down, latex or wool. This basic pillow accommodates a variety of sleeping positions, and is soft but still feels full and lofty.
Hypoallergenic

Machine washable 

Full, fluffy and scrunchable

Suitable for stomach, back or side sleepers

Lifetime antimicrobial protection