Improve Your Indoor Air Quality with Air Purifiers
|
When it comes to the environment, doom and gloom is often the news of the day. Recent natural disasters have sparked heated discussions about the effects of climate change, record temperatures, and unseasonably warm or wet seasons. In decades past, the news about air pollution has also been discouraging. Many air pollutants can remain in an environment for long periods of time and actually be carried by the winds hundreds of miles from their origin[1], creating ill effects for huge swaths of people.
But a recent report in the Washington Post provides a silver lining that's worth celebrating: in many parts of the world, air pollution rates are actually decreasing, including in the United States.
The Data on Air Pollution
The World Health Organization declared that air pollution "has a major impact on human health, contributing to lung and heart disease."[2] NASA researchers have also issued warnings for years regarding air pollution levels – and that alarmism seems to have paid off, as scientists have recently concluded that the United States, Europe and Japan have "greatly improved their air quality."[3]
Researchers focused their analysis on concentrations of nitrogen dioxide – which is commonly emitted by cars and industrial plants and is used an indicator of air quality – between 2005 and 2014.[4] Although air pollution levels have indeed fallen, the air quality in many cities – particularly urban areas – is still not nearly as healthy as it could be. Still, it's a step in the right direction.
Oftentimes, the condition of the air outside heavily influences the quality of indoor air. Regional allergens like pollen, as well as one's proximity to busy roadways, industrial operations, and major cities can affect the quality of the air inside homes, schools and businesses. Of these, each indoor environment varies, based on how well the space is sealed and/or ventilated, and specific indoor pollutants (like cigarette smoke, VOCs, pet dander, dust and humidity levels).
Places that experience more extreme weather – anything from heat to cold to rain – also tend to have populations more likely to spend time indoors, even more than the 90% of the time the EPA estimates we spend indoors now. And, despite the harmful conditions that outdoor conditions can bring, indoor air levels of many pollutants may be 2-5 times, and occasionally more than 100 times higher than outdoor levels.[5]
Improving Indoor Air Quality
If you're concerned about your indoor air quality, or have someone with breathing issues or allergy sensitivities, having a high quality HEPA air purifier will help remove allergens and particulates that can trigger and/or exacerbate these conditions.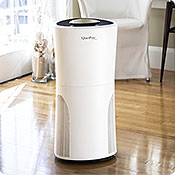 The QuietPure home air purifier provides near-silent purification and a high quality HEPA filter that effectively protects against harmful allergens and contaminants and continually monitors your air quality. With its reasonable price point and 880 square foot coverage, it's easy to see why the QuietPure is our Category Winner for air purifiers!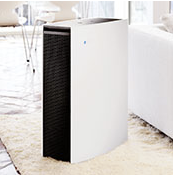 The Blueair PRO L captures 99.97% of all particles down to 0.1 microns and features an internal ionizer with zero ozone emission. The PRO L is capable of co erring up to1837 square feet , and its high volume of air flow is perfectly paired with Blueair's proprietary HEPASilent and electrostatic air filtration technology, which surpass HEPA standards. Large particles such as pollen and dust, and smaller particles such as bacteria and mold, are captured and locked in, preventing their release back into your home or office.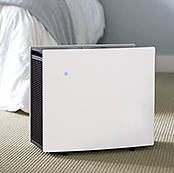 The Blueair PRO M is designed for quiet, high efficiency pollutant removal in medium-sized rooms like nurseries, bedrooms and offices up to 937 square feet. Its small size, contemporary appearance and whisper-quiet operation guarantee an uninterrupted, healthy night's sleep. The PRO M's proprietary HEPASilent and electrostatic air filtration technology surpass HEPA standards with a removal efficiency of 99.97% of particles down to 0.1 micron in size.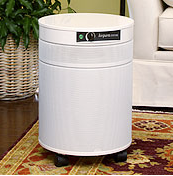 If you're concerned about chemicals, the Airpura R600 air purifier removes chemicals, odors, gaseous contaminants and harmful particles from the indoor air. The R600 is a great all purpose air purifier that features a cleanable pre-filter and true HEPA filtration. Its powerful motor allows the R600 to quickly and quietly clean the air in a room up to 1650 square feet, achieving 2 air changes per hour.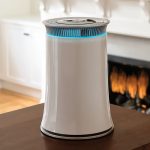 If the air quality in your indoor space changes, the QuietPure Whisper will tell you! The Whisper air purifier offers air quality monitoring, smart automatic operation and an air quality display for real time feedback. The QuietPure Whisper cleans the air in rooms up to 350 square feet – the perfect air quality solution for smaller rooms. It will quickly and quietly remove airborne pollutants in any room up to 350 square feet, making it ideally sized for bedrooms, offices or smaller living rooms. The Whisper has five stages of air quality filtration and an Auto Mode that automatically adjusts it's air flow based on current air quality. It also features an air quality display that appears as a lit ring around the top of the air purifier; the ring's color indicates the quality of your air so a quick glance at the Whisper will provide you with valuable feedback.
Sources:
[1] https://www3.epa.gov/air/basic.html
[2] http://www.who.int/mediacentre/factsheets/fs313/en/
[3] https://www.washingtonpost.com/news/worldviews/wp/2016/02/05/this-world-map-shows-where-pollution-is-getting-worse-theres-good-news-for-the-u-s/
[4] Ibid
[5] https://www3.epa.gov/air/basic.html