Down Comforters – Luxury Hypoallergenic Comforter
|
Luxury Down Comforters – Fine Bedding from Siberian and Eiderdown Feathers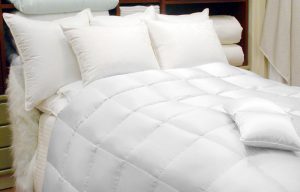 I am tempted to wax poetic as I start to write about Eiderdown comforters, all sorts of eloquent phrases come to mind like "oh joyous rapture", but I am going to try and restrain myself.
The true Eiderdown comforter is a rarity. It is the Faberge egg of comforters, and if you are mainly concerned with luxurious comfort, this is might be the product for you. Let me tell you a little about them.
Eiderdown: where does it come from?
The finest, warmest and most rare down in the world, Eider down is harvested from abandoned nests that the mother duck covers with down she plucks from her own breast to keep her eggs warm.
Eider ducks are protected from the usual commercial type of harvesting, and as you can imagine, hand harvesting after the nests have been abandoned, is very labor intensive and expensive. There is also a very limited world supply of Eider down each year, in the region of 2,000 kilos and it is diminishing yearly. An Eiderdown comforter, therefore is considered to be an heirloom.
Eiderdown is the best insulator for regulating body temperature – no sweating, no freezing. The wild Eider duck is only found in the northernmost regions of the North Atlantic, principally in Iceland. The climatic condition under which these rare birds have survived, has given rise to a kind of down and subsequent insulating power which is off the scale in terms of what we usually think of in terms of "fill power", the usual measure of thermal insulating quality. Fill power is usually determined by the size of the down clusters and the space of the air between them. The eider duck has very sticky and dense down clusters. Hard to describe because it is so different, but the result in a comforter, is no bulk but incredibly warm.
Is Eiderdown as good as everyone says? What could possibly be worth that amount of money?
A true thrifty New Englander on our staff, has been adamant. No comforter is worth that kind of money! She is a fan of silk filled comforters and sleeps under our Mulberry West Silk Comforter. For around the price, she's totally right, it is a bargain. An Eiderdown is not a bargain, but it is something truly special. It is after all, considered to be one of the most sought after luxuries in the world.
The great day came when our first samples arrived from our new supplier, including those of the Eiderdown. Unfortunately, not a whole comforter, just a few squares. But enough to make you fantasize and say to yourself "One day…" and know in your soul that you REALLY want one of these things.
To be honest when I first held Eiderdown in my hand I was astonished. Could anything actually be that light and actually keep you warm? I had a hard time when I closed my eyes feeling any weight at all. When we were comparing the Eiderdown to other top grade, goose down comforters, it was clear that Eiderdown was simply in a class of its own. It seemed disconcertingly light to some of our staff, who are used to having a little more weight on top of them at night.
These incredible Eiderdown down comforters are a custom order, and are covered with a 300 plus thread count silk. This makes them down proof but with a nice luxury feel. Then we would reluctantly put the finest of silk duvet covers on the comforter to prolong the life of the Eiderdown. The manufacturer claims they are Hypoallergenic, but at this price if you have any doubt, ask about our sample program. And if you buy one of these comforters you would be a very bad idea to let your pets near them.
Hypoallergenic, but at this price if you have any doubt, ask about our sample program.
Other options: Siberian Down Comforters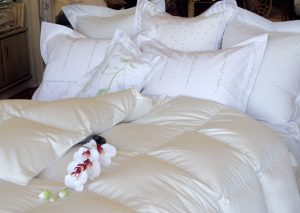 For those who cannot bring themselves ever to even consider an Eiderdown, there is Siberian down and we have located a superb supply of this rare down. It is the top of the ladder for goose down for lightness/warmth ratio. If we had not compared them to the Eider duck, we would have given these comforters the top of the class vote. In fact members of our office fell in love with the Siberian Opulence comforter and said they preferred it to the Eiderdown, the latter being more understated with big puffy down.
When I first saw the samples and felt how divinely light, puffy and luxurious they were, I said to myself, these belong in a starlet's bedroom! There is something about them, which is just reeking of luxury! If you want an impressive gift this Christmas this could be the one for you.
We offer two new kinds of Siberian down comforters. Venus has a very fine high thread cotton covering, the Opulence has silk. I would go for the silk covering myself.
Hypoallergenic and samples are available for testing purposes.
These comforters are custom and made to order, taking about a month to make.  You need to be ordering it now.