Silk Comforter Review – Imperial Delight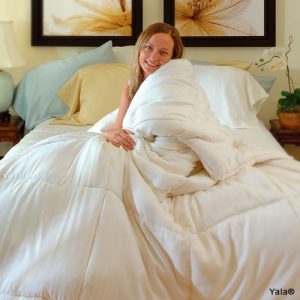 The Kumi Kukoon Silk Comforter  is an alternative to the  Yala Luxury Silk Filled Comforter we have looked at in the past. The essential difference between them is that the Kumi Kukoon is a heavier weight and has a sewn through box construction. So it keeps you warmer through the fall season in the Northeast.
Pluses:
Workmanship: We were impressed by the workmanship and liked the construction into squares. We liked the box construction.
Luxurious fabric: The Kumi Kukoon lives up to its name and delighted us. This silk comforter felt soft, drape-able and unbelievably luxurious.
Naturally hypoallergenic: Silk is naturally hypoallergenic and inhospitable to dust mites, so it does not promote an allergic reaction and there is no need for dust mite encasings.
Weight warmth: The weight of this silk filled comforter will work well for all year round use in moderate climates. We did not think it was warm enough for the depths of a Northeast winter. The silk was much warmer than we expected when we first unpacked the comforter.
Best Value: Given the weight of silk fill, this silk filled comforter got our vote for the best buy for the money.
Quality of Silk Fill: All silk is not the same in quality and we saw less "knots" ( which naturally occur in silk) in this silk comforter than in other silk comforters.
Minuses:
Silk Comforter Care: A good silk comforter will last about 5 and up to 10 years if proper care is taken to treat it right. This includes always having a duvet cover on it and never trying to wash it yourself which would invalidate the warranty. A silk comforter needs professional dry cleaning.
Duvet Cover: We believe that a duvet cover is absolutely essential and is needed in order not to void the manufacturer's warranty.
Warmth: We are fans of down comforters for the depths of winter and it was clear that while surprisingly warm most people would find this comforter a little on the light side for northern winter weather.
Summary: The Kumi Kukoon is the best value for a luxurious silk comforter.