Best Vacuum for Pet Hair and Pet Allergies
|
Do you have a furry friend or pet companion that you can't part with? Despite all the devastation that has been happening from hurricanes in the US, there has been some truly heartwarming pictures this past week, with some of the most endearing being people carrying their pets to safety on their backs or holding them close so they don't fall off the rescue boat as they are all moved to safety. Pets are great!
If you're fortunate to be one of the millions of American pet owners but unfortunate enough to be one of the millions of allergy suffers you know how important it is to clean up after your pet. Finding the right products to clean your home is really important and finding the best pet vacuum cleaner is a great first step to enjoy having your pets around without the mess.
What is the best vacuum cleaner for pet hair? What is the best vacuum cleaner designed specifically for pet dander?
Many vacuum cleaners claim to be designed for pets and in mind but there are only a few that are actually designed with the extra capacity to handle pet messes and pet hair pick up. Great suction is really essential in any pet vacuum cleaner when you're dealing with pet dander or hair. It's also great to have a vacuum cleaner that comes apart and goes back together easily, because you never know whether a wad of hair or something else might get caught in the vacuum.
What is the best vacuum cleaner bagged or bagless?
Bagless Vacuums – leak a lot – I totally understand the appeal of a bagless vacuums, they're seen as more convenient, all you have to do is remove the dustbin from the vacuum cleaner and empty it in the trash. Unfortunately there's a massive problem with bagless vacuums, they leak. It's possible to sweep up a mess with your vacuum cleaner only to have a part of it spit back out of vacuum as it goes into the tank. Bagless vacuums are just not the best if you're cleaning up after your pet.
Bag Vacuums – don't leak and filter the air before it ever comes back out of the machine. Many of have sealed bodies which don't let the dander and dust come back out of the machine. The best sealed pet hair vacuum cleaners such as Miele vacuums and SEBO vacuums are great examples because they don't let pet dander or dust escape out of the machine. Replacing the bag is usually straightforward for a lot of machines, just like a bagless vacuum you should be careful not to spill the contents, but otherwise it's out of sight, out of mind.
Why are pet vacuum cleaners attachments important?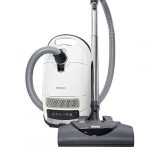 Pet vacuum cleaner attachments are really important part of any vacuum because they help you reach places that you can't get with the standard vacuum head on either a canister or upright vacuum. This can be simple as having a tiny brush that's great at picking up hair, or having an extra long hose that makes it great for getting in hard to reach places.
What is the best vacuum cleaner for pet hair and hardwood floors?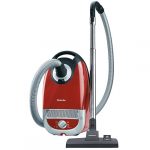 Canister vacuums are usually the best option for hardwood floors since they're lighter and better at picking up dust. Canister vacuums aren't as disruptive to the floor surfaces as an upright vacuum would be. If you are looking for a vacuum that is great to for pet hair and hardwood floors the Miele Complete C3 Cat & Dog Vacuum Cleaner is your best option.
A lower priced Miele canister vacuum for pet hair and dander removal would be the Miele Complete C2 Limited Edition vacuum cleaner.
If you prefer an upright pet hair vacuum, we recommend the SEBO Automatic X4 upright vacuum cleaner with excellent suction, lighter weight than most and plenty of useful tools for picking up pet hair from furniture or stairs.