The Best Steam Humidifier
|
The longer nights and colder months of winter can mean the air in your home is not only colder, but drier as well. Finding the best steam humidifier is important to deal with that growing dryness but it can be especially important if you're someone who's already troubled with seasonal allergies. But if you have a chronically chapped nose, and months of sniffles that never seem to end, I bet you're going to want some relief and find the best steam humidifier is your best bet.
Home Humidity
You know you need more humidity in your home's air — so maybe a humidifier's the way to go. But it's already so cold out anyway — the idea of adding cold dampness to the existing chill to your home is probably isn't desirable. With the best steam humidifiers, you can infuse your air with much-needed humidity that's also warm and in some cases hot enough to kill many of the cold weather germs and viruses  that get you sick this time of year in the first place.
At Allergy Buyers Club, our best steam humidifier is the Boneco S450 steam humidifier.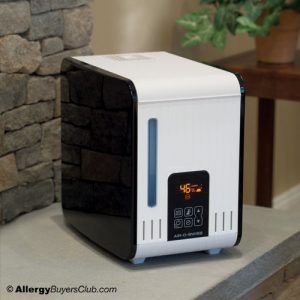 Warm vapor humidification

Built-in digital hygrostat for controlled humidification

Soft-touch control panel

LCD digital display with automatic dimmer

Desired humidity level settings: 30% – 70%

Auto-Mode: Automatically presets relative humidity to 50%

Econ-mode: Automatically presets relative humidity to 45%

3 output levels: Low, Medium or High

Self-cleaning Decalcification Mode for easy maintenance and cleaning

On and Off timers 

Automatic shut-off with tank empty indicator

Cleaning indicator

Removable 2 gallon water tank with handle for easy refills
What makes the Boneco S450 the best steam humidifier?
The Boneco S450 Steam Humidifier is different from a regular humidifier, it contains a heating element that's capable of boiling water, and then disperse that hot steam into a room. One of things that makes it our best steam humidifier is its vapor technology that is actually bacteria free due to the hot water (up to 212 degrees Fahrenheit) temperatures on the inside . The chances of the unit building up mold or mildew are much less likely, since cold weather germs and bacteria are vaporized in the process of steaming.
One of the major advantages of the Boneco Steam Humidifier is that the mist emitted has a very cleansing effect. When the hot steam passes over an internal ultraviolet light it gives an added bacteria and germ protection factor. Steam humidifiers provide a source of clean, warm air that can better help people who suffer with breathing difficulties. And when the weather turns colder, it can also act as a secondary source of heat in smaller rooms.
It's also a lot quieter than most regular humidifier units. People in northern climates particularly appreciate the warm humidification inside their home. The Boneco is also convenient, as you can use regular tap water in the unit, since it comes with two anti-mineral pads to help decrease calcification in the steam basin, as well as a packet of EZCal formula to assist with normal cleaning.
One word of caution about using any steam humidifier: not recommended for homes with babies, children, or pets due to the risk of accidental bumping, causing Boiling Water to spill and possibly cause burns. This unit should be operated by and in adult-only households. There are a variety of other options safer for children available at AllergyBuyersClub.