The Benefits of a Robotic Vacuum Cleaner
|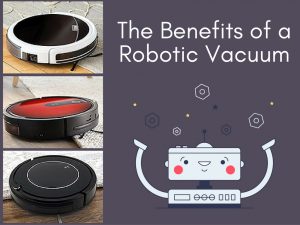 There was a time when the idea that a vacuum cleaner could operate all on its own — without you having to lift a finger — seemed as improbable and futuristic as a flying car. But the last decade not only introduced us to automatic (also known as robotic) vacuums, it gave us different brands with varied features. So now the question is not is it possible, but rather, which robotic vacuum is the best fit for my home? They're not just a possibility, but a great bet, with legions of fans who attest: to their cool factor, their ability to do a fantastic job cleaning the floors, and the simple ease of not having vacuum.
Some of the best things about robotic vacuums are pretty obvious, like their ability to save a homeowner time. Automated vacuums literally can save you hours worth of work every week, by being programmed to complete a household task without the necessity of a person to carry out said task.
Additionally, these particular vacuums are also designed to be less noisy than their human-operated counterparts (dogs and cats everywhere rejoice!) and in general, they require less maintenance. You'll need to empty the dirt receptacle and clean the roller brushes on a regular basis, but that's true for any vacuum cleaner. Most robotic vacuums return to their docking station, which also charges the battery inside the unit. A rechargeable battery is great because it cuts down on the cost of replacing an entire battery pack, which is both financially and environmentally sound.
Robotic vacuums also are much more compact than canister or upright units, which is great news for people who are low on storage space. They take up little room and are out of sight for most homeowners. Not only that, but for elderly homeowners or people who have physical limitations, not having to maneuver a bulky or heavy vacuum cleaner can be a huge selling point.
Even if the flooring of your home varies from room to room — carpeted bedrooms, ceramic tiled kitchens, hardwood in the living area and linoleum in the bathrooms — robotic vacuums can adjust to each flooring surface. The vacuum's built-in sensors allow you to get a customized clean for your home, regardless of your flooring.
At Allergy Buyers Club, we offer a variety of robotic vacuums.

The Veridian X310 is our favorite economical robot vacuum cleaner for cleaning hard surface floors, area rugs and wall to wall carpeting. Simple and easy to use, the X310 offers smart sensors to avoid both collisions and falls.
Cleans up to 100 minutes per session

Dual edge brushes ensure clean floors and rugs

Utilizes a HEPA filter for removal of fine dust particles

3 Cleaning Modes:

Auto cleaning

Spot cleaning

Edge cleaning

Compact and flat low profile design

Includes charging station and power adapter


You will really appreciate how well the Veridian X410 robot vacuum cleaner cleans hard surfaces, area rugs and wall to wall carpet. The X410 robot quietly navigates over most floor types using smart sensor technology with over 13 different sensors that prevent bumping into furniture and falling off of stairs or balconies.
Cleans up to 200 minutes per session

Primary cleaning brush provides full contact with surfaces

Dual edge brushes improve cleaning efficiency

Utilizes a HEPA filter for removal of fine dust particles

4 Cleaning Modes:

Auto cleaning

Spot cleaning

Edge cleaning

Mini-room cleaning

Smart navigation

10 sets of internal obstacle sensors

3 pairs of internal cliff sensors


Come home to a clean house every day! The Miele Scout RX1 robot vacuum cleans your floors for you even when you're not is home. Simply set the timer for exactly when you want your robot to clean for you and enjoy clean floors every day.
Improved Triple Cleaning System with 34% improved dust pick-up

Cleans about 1,600 square ft. per session

4 Cleaning Modes

Chevron style brush roll

Side brush dust-strippers

Smart navigation

Timer lets you decide when the Scout cleans your floors

Manual Navigation

Auto, spot, corner, and turbo mode