SEBO Vacuum Cleaner Review
|
SEBO vacuum cleaner review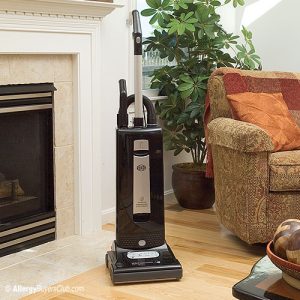 SEBO Vacuum – X4 Upright Automatic
Rating: Excellent
Category winner for upright vacuum cleaners
SEBO X4 Vacuum Pluses:
We found the SEBO x4 upright vacuum cleaner a delight to use. It moves effortlessly.
The SEBO is a moderately quiet vacuum cleaner compared to other upright vacuums, and certainly would not be considered noisy.
The SEBO will shut off if the roller is jammed. This is not only a safety feature, but it eliminates the potential of destroying the vacuum belt and motor.
We found it very easy to clean the roller.
The handle on the SEBO X4 can be lowered to the ground to allow for vacuum cleaning under beds, dressers, etc. This feature was appreciated by all of our testers.
The SEBO has excellent suction, surprisingly so for an upright lightweight vacuum cleaner. Our testers reported that you never have to go over an area twice.
It is easy to change over to the different vacuum attachments and use them, which we have found unusual for an upright vacuum cleaner.
The hose can be removed as you go to do your dusting and get under the heating system without having to stop and retrieve other attachments. One of our testers was delighted with "on the fly", close quarter vacuuming and dusting.
For an upright vacuum cleaner, we found the SEBO cleans the bare floors very effectively, which is one of the most often heard criticisms of upright vacuums.
The SEBO vacuum has a large vacuum cleaner bag (1.4 gallon).
SEBO X4 Vacuum Minuses:
This SEBO vacuum is a little bulky and heavy to carry upstairs compared to canister vacuums, but not to most other upright vacuum cleaners. It is the lightest upright vacuum we have tested.
The noise is moderate but not overbearing. You are able to hear the phone ring.
Summary
Everyone who has tested the SEBO X4 Upright vacuum cleaner has given it rave reviews. All our testers have voted it as their hands down favorite upright vacuum cleaner. We have sold the SEBO X4 for over two years with zero complaints and zero returns. That is a pretty impressive track record. It is a powerful, HEPA upright vacuum cleaner and built to last for 15 to 20 years. In our book they cannot get much better.
See all the Vacuum Cleaners at Allergybuyersclub.com