The Best Commercial Vacuums
|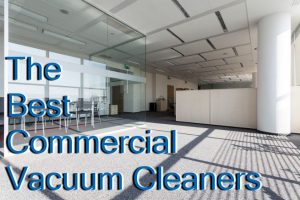 Vacuums are an essential staple for any home or business, and the kind you choose should depend a lot on how the vacuum will be used, how many square feet you'll need to cover, and what substances will most likely be picked up by your vacuum. Commercial use requires commercial vacuum cleaner.  Similarly most normal-sized home (maybe 2000 square feet, a few kids who love playing outside and 2 adorable cats), a residential vacuum should work fine. Of course, you'll want to choose a high-quality, durable unit that has the attachments and features you're looking for.
Commercial Vacuum Cleaners
Store and business owners with double or triple the amount of space to cover, a vacuum meant for residential use might not work, and a commercial vacuum can be a great investment. Commercial vacuum cleaners are built to withstand years of tough use, long duration use, and simply big cleaning tasks; many hotel rooms, schools, restaurants and office buildings. Therefore, with a commercial vacuum, you'll notice the machine itself is designed with a more durable construction compared to residential vacuum cleaners. According to EnergyStar.gov, "Commercial vacuums are generally used by professional cleaning companies or professional cleaning staff, and operate for a greater number of hours than products in residential environments. Industry sources suggest typical usage from 60 to 2,028 hours per year…..[with an assumed] average commercial usage of [about] 700 hours per year…."
Commercial Vacuum Cleaner vs Residential Vacuum Cleaner
Power, is the biggest difference you'll likely notice in a commercial vacuum compared to a home vacuum. This is a big plus in many commercial environments where the carpet is likely to be shorter, stronger and meant to withstand heavy foot traffic. Carpeting in homes is typically softer and more delicate, and the suction of a commercial vacuum could even be damaging to carpets and rugs in a home.
Suction in commercial vacuums, the motor is often designed to last longer. FlooreCare.com reports that "Commercial vacuum motors are manufactured for more cycles and continuous run time. If you're like most people, stopping your home vac every 3 minutes is the norm….. Commercial vacuum motors are meant to run for extended periods of time [in] large spaces. Some are even equipped with dual motors: one for the vacuuming, the other for the agitator brush. This lessens the workload for one motor in an effort to give an even longer life of use."
Capacity is a commercial vacuum is also likely to be much greater than a residential vacuum. Not that anyone likes to spend time vacuuming, but the whole point of a commercial vacuum is to vacuum up the most dirt and debris in the quickest amount of time. Having a larger capacity filter bag allows you to vacuum a bigger space and for a longer time without having to empty the dirt collected in the bag or canister.
Filtration is huge benefit with most features of commercial vacuums. With more square space — and a greater number of people in and out of the building — particulate, odor, and allergens are usually a bigger problem in a bigger area. As with residential vacuums, it's important that whatever is extracted from the carpet or floor is not blown back into the air because the vacuum doesn't have the proper filtering capabilities. Commercial vacuums with HEPA filters are a great bet, since HEPA filtration can captures over 99% of particles like dust, pollen and mold.
Durability is the feature you'll also likely to notice the difference in on a commercial vacuum cleaner. They're sometimes bulkier than a traditional residential unit. Cords are longer and thicker, and they're designed to take much more of a physical beating than a residential vacuum. Because of this, most commercial vacuums are noticeably heavier, which can present an issue in portability. Residential vacuums are designed to be lighter so that going up and down stairs, and vacuuming under and around furniture, is easier on the homeowner.
At AllergyBuyersClub, we offer a wide selection of commercial vacuums. Some of our favorites are: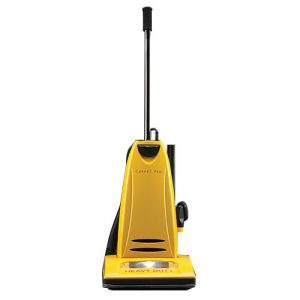 The Carpet Pro CPU1  vacuum cleaner is great for both home and commercial settings. Built with heavy-duty, durable construction, this vacuum features a metal handle, a metal brushroll and a metal base plate, ensuring years of impressive cleaning performance.
Durable, all-metal construction:

Metal handle with a soft grip

Metal bottom plate

Metal 12-inch brushroll

4-stage electrostatic filtration

Soft furniture guard

Headlight on front of vacuum

30-foot power cord

1,050-watt motor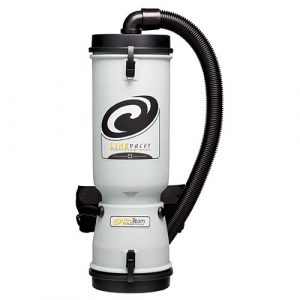 The ProTeam® LineVacer® HEPA/ULPA backpack vacuum is the clear choice for environments where clean air is critical, like medical facilities and laboratories. The LineVacer features a four-level filtration system that utilizes True HEPA or ULPA filtration.
True HEPA flter: captures 99.97% of particles down to 0.3 microns with a 2,283 sq. in. filtration area

ULPA (ultra-low-penetration air) filter: captures 99.999+% of particles down to 0.12 microns with a 3,232 sq. in. filtration area (this filter is optional and sold separately)

1 1/2″ static-dissipating vacuum hose

2 Intercept Micro® filter bags

50-foot extension cord

2-piece aluminum wand with button lock

5-inch upholstery tool

3-inch dust brush

14-inch carpet tool with scallops

36-inch one-bend bulk pick-up tool

Adjustable shoulder and sternum straps

Adjustable waist belt with holders for accessory tools

Decibels: 64 dBA

Capacity: 10 quarts

124 CFM airflow

744-watt motor

Weight: 13 lbs.