The Benefits of Steam Cleaning
|
Cleaning a home – with the intention of getting it not only sparkling clean, but also killing harmful contaminants like bacteria, viruses and germs – often requires a multi-pronged approach. Most Americans rely on common household cleaning products, though the vast majority of those contain harsh chemicals that emit fumes and can set off allergic and asthmatic reactions.
The Institute of Inspection Cleaning and Restoration Certification (IICRC) notes that the chemicals often utilized to brighten up all surfaces can negatively impact people and pets, especially those with allergies and other sensitivities. "A key benefit to steam cleaning…is the minimization of chemicals present during the process. In addition, there is less chance of harmful residues contaminating the indoor environment. The air can remain healthy and clean for those within the space."[1]
So investing in a steam cleaner is a great idea for families who want to reduce or eliminate the amount of chemicals they use, but also want to deep-clean the surfaces of their home. Chris Baskind, in an article for Mother Nature Network, said that when you invest in your own steam cleaning unit, "you'll have peace of mind knowing only natural cleaners are keeping your home fresh, clean and healthy."[2] That can be of utmost important for parents of kids who have breathing sensitivies or difficulties, since natural, chemical-free methods are much less likely create irritants that can hasten an asthma or allergy attack.
The process of steam cleaning is actually relatively simple:
Water is heated past the boiling point and forced out of a nozzle or brush as pressurized steam. The resulting vapor loosens dirt and kills dust mites, mold, staph, and other harmful bacteria.
Steam cleaning has long been used in environments where killing bacteria was not only desirable, but necessary. In 2011, the Center for Disease Control (CDC) issued their guidelines for the prevention and control of Norovirus outbreaks in healthcare settings. One of their recommendations for environmental cleaning was to "consider steam cleaning of upholstered furniture in patient rooms upon discharge."[3]
Many surfaces throughout a typical home are ideal for using steam to clean: any hard, non-porous surface, like countertops and bathroom fixtures; floors made of vinyl, laminate, polyurethaned wood, tile or cement; sink basins and bathtubs; some children's toys; and even certain upholstered surfaces like curtains and mattresses can be cleaned with steam.
It's important to note, however, that there are some surfaces that should not be exposed to the high heat or vapor of steam, like painted walls, unsealed floors (including cork, unglazed tile, and hardwoods) and cool glass surfaces (which could break when they come into contact with the high temperatures of steam).[4]
In a report about steam cleaners, Consumer Digest steam that reaches 212 degrees "is hot enough to kill germs and bacteria for most cleaning jobs," said Jay Garland, who is in charge of microbiological research at Environmental Protection Agency.
In the same article, Consumer Digest reported that in June 2011, a team of researchers from University of Arizona studied the results of a portable steam-cleaning device that was used to clean various surfaces—including floors—at a hospital. Jonathan Sexton, a researcher who took noted that
part in the study, says, "Five seconds of direct contact killed everything that was on the surface."[5]
So if you think a steam cleaner could be a great tool to use in cleaning your home, Allergy Buyers Club is the right place to find one! We have an extensive range of makes and models to choose from, at price points that appeal to every budget.
Some of our favorites are the Sienna Luna Plus Steam Cleaner and Mop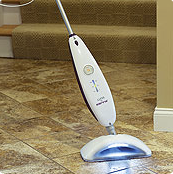 , which quickly and easily converts from steam floor mop to a handheld steam cleaner perfect for cleaning windows, countertops, bathrooms and the kitchen.
The WhiteWing Breeze steam cleaner is Allergy Buyers Club's top selling steam cleaner.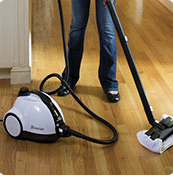 One customer said, ""I found that steam cleaning was actually quite simple to do and it seemed more reliable and healthier than simply spraying on a disinfectant spray. I was truly surprised at how much easier this was….This steam cleaner has been a Godsend to have for cleaning up the inevitable messes that happen in our home. Honestly, I cannot even begin to imagine what we would have done if we had not bought this cleaner."
Or take a look at other steam cleaners based on your cleaning needs and size of your home or business to ensure a healthy, germ-free environment.
Sources:
[1] http://www.iicrc.org/why-steam-cleaning-carpet-more-sanitary-a-150.html
[2] http://www.mnn.com/your-home/at-home/stories/how-to-green-your-carpet-cleaning#ixzz3gkzZLpU2
[3] http://www.cdc.gov/hicpac/norovirus/005_norovirus-summaryOrecs.html
[4] http://www.thisoldhouse.com/toh/photos/0,,20629384_21212829,00.html
[5] https://www.consumersdigest.com/appliances/article/steam-cleaners-whats-hot-whats-not