Air Purifiers in Every Price Range
|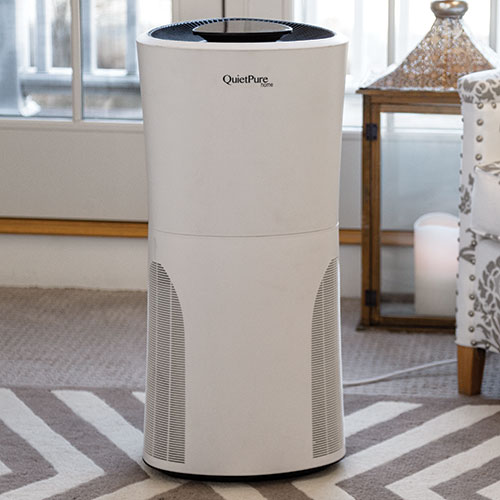 Air purifiers are great for people concerned about allergies, toxins in the air, and even smells. Selecting the right air purifier for your needs depends not only on what air quality issues you have, but also what your budget is. Air purifiers can range in price from $50 for a small, portable one to $1000 or more. We've broken out some of the best air purifiers by price range to make finding the right one easier.
Under $1000 Air Purifiers
AllergyGuard Plus- Made by Blueair, the AllergyGuard Plus air purifier is exclusive to Allergy Buyers Club. It's great for rooms up to 775 sq. ft. and is designed specifically with allergy sufferers in mind. Capable of cleaning a room 2-3 times faster than other air purifiers, the HEPASilent technology uses electrostatic and mechanical filtration to eliminate up to 99.97% of allergy and asthma triggers down to 0.1 micron in size.
Shop the Post
Under $500 Air Purifiers
QuietPure Whole House Bundle- This is a great option for anyone that needs multiple air purifiers in their home. It includes 1 QuietPure Home and 2 QuietPure Whisper air purifiers. The QuietPure Home can clean the air in spaces up to 1278 sq. ft. while the Whisper units clean up to 350 sq. ft. Both sizes are designed to remove allergens, dust, bacteria, pet dander, and more from the air.
Ecosphere Air Cleaner- This is one of the most powerful air purifiers for large spaces up to 3000 sq. ft. It's ideal for offices or homes with open floor plans and eliminates smoke, VOCs, odors, and airborne pollutants from the air.
Aerus PowerPure AP03 HEPA Air Purifier and Ultrasonic Humidifier- A combination of an air purifier and humidifier, the AP03 features a carbon filter to remove household odors and chemicals. It can clean and humidify the air in spaces up to 400 sq. ft.
The Pure Company Large Air Purifier- Inspired by the need for air purifiers that had both function and beauty, the Large Air Purifier comes with a carbon pre-filter and HEPA filter to trap odors, pet hair, and allergens floating through the air. It's great for rooms up to 750 sq. ft.
Under $100 Air Purifiers
The Pure Company Portable Air Purifier- Perfect for someone who travels often or likes to take air purification from room to room, the Portable Air Purifier can clean smaller spaces like hotel rooms and bathrooms. It also has an optional aromatherapy element that diffuses essential oils while purifying the air.
QuietPure Auto HEPA Car Air Purifier- Specifically made for cars, this auto air purifier plugs into your AC adapter and sits in your cup holder. It removes particles in the air through its HEPA filtration system to provide a healthier environment while you're on the road.
Ask an Expert
If you aren't sure which air purifier might be best for you, talk with one of Allergy Buyers Club's experts. Based on the information you provide, they'll be able to help you select a product that works for you and your space.