Why is it necessary to purify water?
|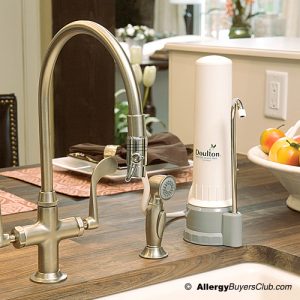 In the United States there are more than 150,000 landfills, over 116,000 industrial waste sites and at least 100,000 ruptured underground gasoline storage tanks; and where do you think all this toxic waste is going? It is leaching right into our water supply. E Coli, bacteria, chlorine and other elements have made our water unsafe.
Bacteria such as cryptosporidium and E Coli can often be found in our water supply. Typically water is treated with chlorine to kill these bacteria. The amounts of chlorine added varies by the season. It is quite effective; however other elements can also be found from fertilizers, herbicides and pesticides used to treat surrounding land and plant life. Several studies indicate a link between consuming chlorinated water and developing cancer.
Choosing a Water Filter
So, what can be done to remedy this situation? There are several ways you can "purify" your water such as filtration, reverse osmosis, ionization, distillation, and ultra violet radiation. Water filters utilizing carbon adsorption are, by far, among the most effective and economical of choices. Before selecting a water filter there are several things you should consider:
How many people are in your household?
What are your local water conditions?
Is your water supplied by municipal sources or by well?
What amount of space can you dedicate to a water filter?
What is the average rate of water consumption for your household?
Are there any children or senior citizens?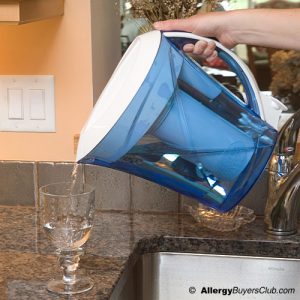 Pitcher filters are a moderately good starting point in water filtration. They are relatively inexpensive yet somewhat effective. Many pitcher filters can prove to be helpful in less than desirable water conditions. The pitcher filters will remove a vast amount of particulates. For instance, the Zero Water Filter Pitcher will filter approximately 25 gallons before requiring a filter change. This pitcher utilizes a 5 stage filtration system; it is light weight and requires only a small space in your refrigerator and will remove some of the more common contaminants from tap water.
Others may find they would like a more continuous supply of water and less frequent filter changes. In these instances, a carbon/ceramic filter may be the best solution. These filters are available in both over the counter and under the counter models to suit your needs. For instance, Doulton UltraCarb filters achieve the highest efficiency rating in reducing harmful parasites such as cryptosporidium as well as soluble lead, iron and other contaminates (99.99%) as well as particulates as small as .3 microns.
The four stage filtration system utilizes effectively removes or reduces microbiological cysts, chlorine, lead, arsenic, iron, and other metals commonly found in today's water supply. Additionally, activated carbon improves the taste and odor of the water as well as eliminates organic contaminants. The countertop water filters are easy to install and highly efficient.
With proper maintenance, it is possible to avoid filter changes for up to one year. A diverter valve attaches to your faucet allowing you to toggle between filtered and unfiltered water. As particulates build up you may notice a reduction in water flow. Simply unscrew the housing unit and clean the ceramic filter with an abrasive pad (no detergent) ie: Scotch Brite, to remove the buildup and restore water flow. The spigot may be cleaned with a pipe cleaner or small aquarium brush. The result will be clean water for you and your family and restoration of flow rate.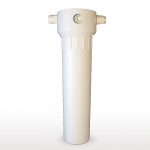 Households with children and senior citizens, may consider an under sink water filter the best option. Under sink units connect directly to your cold water line making it very user friendly. One rule of thumb is that you cannot run hot water through a water filter. Carbon is a very porous element which is why it is so effective in water filtration. The particulates will get trapped in the gaps of the carbon. However, running hot water through a carbon based filter will cause the carbon to soften and degrade making the filter ineffective. As children and seniors may forget to switch the diverter valve on an over the counter filter, the under the counter seems to be the sensible choice, however does require customer installation.
The number of people in your household and average rate of consumption are definitely two of the most important factors. Obviously a large household will consume more water than a smaller one. Sometimes smaller households may consume larger amounts of water. In either case, a water filter pitcher would be the least desirable as it would require frequent refills and filter changes and the least practical for cooking, cleaning vegetables or things of that nature . For larger households, or those that may need complete water filtration, a whole house filtration system may be the best approach. Also, we are able to customer design the system for your specific conditions.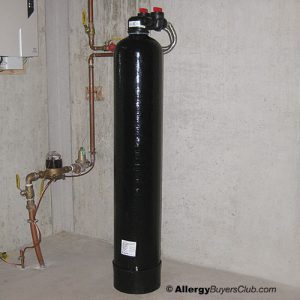 Whole house water filters will clean your drinking water as well as filter the water used for bathing, laundry, dishes, etc. These units are great for larger households or for homes with a large square footage. There are several different models available that will cover homes with up to 4-8 bathrooms and/or 6,000 square feet! AquaCera has an excellent multi stage whole house filtration system which provides excellent quality tap water. This system is great for those who are looking for a high capacity filtration system that will not lose water pressure and requires virtually no maintenance. These units require a limited amount of space; require no backwashing and installation is simple. We do suggest a point of use system for the area that you use the largest amount of potable water such as the kitchen sink.
No matter what your situation, everyone needs clean water. Luckily there are many options and there is sure to be a system that will work for everyone. Whether it be a simple water filter pitcher or a whole house system; you will find that you water will be more refreshing, better tasting and, quite simply, the healthy choice for you and your family.
Water Filter Use Chart
Pitcher Filters
Countertop

Under Sink

Whole House
Small Household

X

X

X

X

Low Consumption

X

X

X

Limited Counter Space

X

X

High Consumption

X

X

X

Drinking Water Only

X

X

X

Large household

X

X

X

Children/Seniors in Household

X

X

X

All Uses (drinking, cooking, bathing, washing)

X

Instructions: The left of this water filter chart lists common levels of use and considerations. To the right are columns, 1 column for each type of water filter. An "X" within a column is a recommendation for the water filter type above the "X" to be used for the use type listed to the left. Where there is no "X" and the space is blank, it is not recommended.