What's the Difference: Air Purifier vs. Dehumidifier?
|
Certain factors can make your home seem less hospitable than you'd like — maybe there's stale smell in the air every time you walk in. Or maybe it smells like the shrimp scampi you cooked for dinner…three days ago. Or maybe the air feels heavy and damp, or every time you walk through the door, you notice your eyes start watering and you're sneezing uncontrollably. Any of these experiences could mean that your indoor air quality has been compromised.
High environmental humidity, recent flooding, tobacco smoke, cooking odors, poor ventilation and living with a furry, four-legged friend can turn a normal home into an allergy and asthma trigger trap. Luckily, the latest in purification and moisture-controlling technology is here to make your life a whole lot easier — and your home a whole lot fresher!
What's an Air Purifier?
Generally speaking, an air purifier is designed to remove contaminants from an indoor space. According to the EPA,
[Air Purifiers] are designed to remove pollutants from indoor air. They can be installed in the ductwork of most home heating, ventilating, and air-conditioning (HVAC) systems to clean the air in the entire house, or the same technology can be used in portable air cleaners that clean the air in single rooms or specific areas. Most air-cleaning devices are designed to remove particles or gases, but some destroy contaminants that pass through them.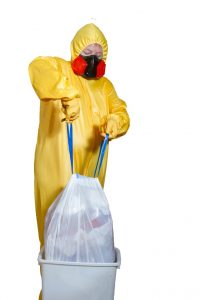 If you don't like the way the air in your home smells, but you don't have the telltale musty smell of mold, then an air purifier might be ideal for your situation. Whether the stinky odors in your house are caused from cooking odors, smokers, pets or environmental factors, getting a high-quality air purifier can eliminate those odors.
Likewise, if you or someone in your family suffers from allergies or asthma, certain air purifiers are designed to help combat the very allergens that are floating in the air, exacerbating the unpleasant symptoms that are associated with breathing sensitivities.
What's a Dehumidifier?
If you suspect that the odor in your home comes from an abundance of moisture in the air, then a dehumidifier is probably right for you. Mold has a particular smell most of us have experienced before — so you most likely will know if you have it in your home.
The first key to reducing and eliminating it is to cut it off at the source. If a water leak, roof leaks or burst pipe is allowing water into your home, it's time to fix it and seal up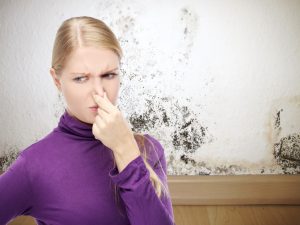 the problem. After that, a dehumidifier can help dry out a particular space (like basements) or your entire home. If you live in a humid climate, or where flooding happens commonly at certain times of the year, having a device that removes moisture from their air goes a long way toward improving your indoor air quality.
Once you control and then inhibit the mold growth by cutting off its source of moisture, the smell usually goes with it — as do the mold spores that can become airborne and trigger those allergy and asthma attacks.
Air Purifier vs Dehumidifier Or Air Purifier and Dehumidifier?
If you live along a coast or a naturally humid environment, but also have pets, allergies, asthma or are in proximity to a smoker or garlic-loving chef, you might consider adding both an air purifier and dehumidifier to your home for the most effective results.
For example, if you have a basement where you notice a musty odor or that has flooded, adding a dehumidifier to that space and air purifiers to the upper levels of your home could be a great solution. Models work really well together  Luckily, recent technology has brought about a dual unit that functions as both a dehumidifier and an air purifier in one!
Our Picks
If you're just in the market for an air purifier or dehumidifier, then Allergy Buyers Club has some great options for you, depending on your home's size and your particular needs.
If you're in the market for an air purifier and dehumidifier in one, look no further! Below are several popular products that can help rid your home of humidity and purify the air you breathe!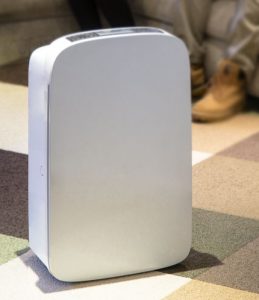 The only  HEPA air purifier and dehumidifier and all in one! The Pure & Dry is our best dehumidifier air purifier combo — it reduces excess moisture in the air and removes microscopic particles from the air such as mold and mildew.
America's first 2-in-1 dehumidifier and HEPA air purifier in one

Low temperature operation down to 41°F

Quiet operation 3 water drainage options

Unit automatically shuts down when bucket is full

Auto defrost system prevents ice build-up on coils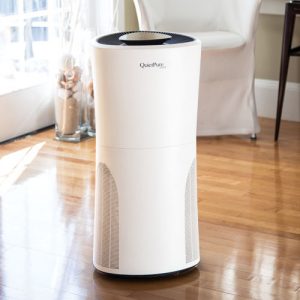 The QuietPure HEPA air purifier is quieter, cleans more air and is easier to use than other leading brands. Intelligently monitors actual particle count, VOC levels, relative humidity and even temperature.
Dries areas up to 1400 sq. feet 

America's first 2-in-1 dehumidifier and HEPA air purifier in one

Features a sealed HEPA filter

Adjustable humidity setting between 30% and 85% in 5% increments

Auto defrost system prevents ice build-up on coils

Removable, cleanable pre-filter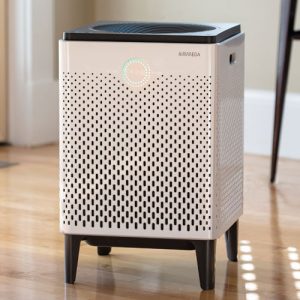 Airmega by Coway is a new, contemporary compact air purifier that features top-of-the-line HEPA filtration as well as the latest technology for smart living. Airmega offers many Smart Mode features to save you time, money, and energy, as well as offering the option of WiFi connectivity with the 400S model.
Green True HEPA removes up to 99.97% of pollutants down to 0.3 microns from the air

Activated carbon removes up to 99% of VOCs and odor

Multi-stage filtration system includes washable pre-filter and 2 Green True HEPA filters with activated carbon

Cleans large areas up to 1560 square feet

Air quality sensor tells you the quality of the air in the room in real time

Smart Mode allows Airmega to automatically adjust its fan speed based on the room's air quality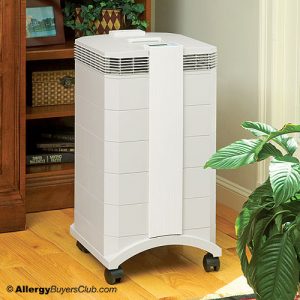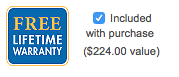 The new editions of the IQAir HEPA air purifiers are now 32% quieter, deliver 25% more clean air and have 38% longer filter life. While most HEPA air purifiers claim to be effective at capturing particles down to 0.3 microns, IQAir's revolutionary HyperHEPA filtration system is proven to capture particles 100 times smaller, down to 0.003 microns.
PreMax™ large capacity pre-filter, 99.5% efficient at 5 microns (55% at 0.3 microns and larger)

V-5 Cell™ chemical & odor filter contains 5 lbs of coal-based activated


carbon and potassium permanganate impregnated alumina

Triple seal design prevents air leakage

6 fan speeds

Intelligent filter life monitor bases on actual use, speed setting and air
quality conditions

Covers between 1125 -1238 square feet (depending on model)
If you're looking for a great dehumidifier, a super choice is our category winner, the FRAL FDK54 Dehumidifier.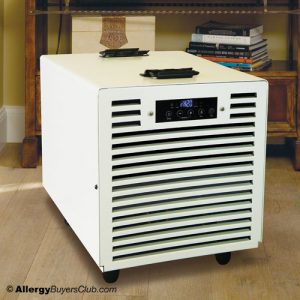 The Fral FDK54 basement dehumidifier is designed for damp, cool spaces, and it's exclusively available at AllergyBuyersClub.com! If you're frustrated by having to frequently replace broken dehumidifiers, this commercial-strength dehumidifier is designed to stand the test of time.
Maintains relative humidity in basements and crawlspaces up to 1600 square feet

Functioning relative humidity range from 35% – 99% relative humidity

Powerful 350 CFM motor for faster air circulation

Offers 30% more coil surface area than competing brands

Low energy consumption of just 510 watts
The Friedrich D70BP 70 Pint dehumidifier is also extremely efficient in extracting moisture out of damp and musty environments. This versatile basement dehumidifier offers a variety of drainage options including the ever-so-handy internal condensate pump for automatic water removal.
Automatic defrost cycle

Displays current relative humidity and temperature

3 water removal options

Programmable timer from 1 – 24 hours

Auto shut off and indicator when bucket is full