Bathroom Renovation – Dust Removal Cleaning Tips
|
Bathroom Renovation Survival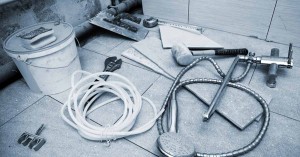 The first thing I have to say to say to any allergy sufferer who is contemplating home renovations are – you have to be out of your mind. Avoid it at all costs and move out of the house if you have to. That being said, for those of you in denial or who are gluttons for punishment, read on.
Not being content with having survived a six-month long kitchen renovation in 2004 where my dishes were on my living room floor for several months, I somewhat foolishly believed our contractor, who promised faithfully to renovate our bathrooms while we were away on vacation.
I was driving back from the airport last week extolling to my husband the anticipated delights of his new bathroom which we thought we would see when we entered the house, only to be greeted with a house which looked like a construction site, complete with drop cloths, dust and debris several inches thick. The piece de resistance was the toilet in the middle of the master bedroom floor. Where was the cleaning lady in all of this I wondered, only to find that my normally conscientious, cleaning help had abandoned my house in despair and overwhelm. After two nights of splitting headaches, I resigned myself to cleaning up sufficiently over the weekend, so that my cleaning lady would return!
Dust Removal Cleaning Tips
The first thing I discovered was my Blueair air purifiers had completely full filters, so a change of filters as soon as possible was in order. I found to my horror that the contractor had neatly removed the filter from the Blueair in the bedroom and I had been diligently blowing dust around from a machine with no filter. No wonder I felt so ill at night, I was sleeping in a dust storm! Only my IQAir HealthPro air cleaner with its massive prefilter, in our family room was managing to survive. Next, I inveigled my husband to change our furnace filter. We are installing a new BoAir furnace filter as it has the least effect on air pressure.
So far the clean up was pretty simple. Now came the hard part. Everywhere I looked or put my hand on there was thick white dust. Even the cats coats felt dusty! The way to handle thick dust is to use a hepa vacuum cleaner with a good number of attachments. The good thing about these kind of high quality vacuums, is that they do not increase the dust in the room while you are vacuuming, but actually reduce airborne particulates.
While the nice soft floor brush on my Sebo C3 canister vacuum dealt with the wide open spaces really well, it took the attachments such as the dusting brush and crevice tool to really get into the nasty corners and crevices of the each room and under the furniture, window sills and picture rails. I completed some of these niche areas by damp wiping with a micro fiber cloth, which does wonders on all glass surfaces. This was definitely a task for an obsessive-compulsive clean freak. Simple wet mopping of my floors to further remove dust was disappointingly ineffective. My hardwood floors looked like an old lady with a thousand wrinkles who had aged 20 years over night. Time for the big guns.
While I do not use a vapor steam cleaner every week, I find that when I need it under times of duress, it is the answer to the most vexing cleaning challenges. First of all, for a prolonged floor cleaning job, I prefer to use a continuous fill steam cleaning machine like the Ladybug so I can keep on like the bunny – going and going.
The best way I knew to restore my poor hardwood floors after vacuuming was to drop a little Murphys Natural Oil Soap (from your local supermarket) on the floor to intensify the cleaning effectiveness of steaming and then go over the floor with a steam cleaner floor brush with towel attached. Even sealed floors are porous, and mine, which are past their prime, have numerous scratches on them for dust to penetrate into the wood fibers. Little dusty wrinkles were everywhere on my floor and other dusty splotches of goodness knows what. Steam cleaning is a very satisfying experience because it works, and works well. Just a few minutes of that amazing steam and I could see a new floor coming into view with no more embedded dust and blotches. I personally use a non toxic water based cleaner such as Bona (available from high end hardware stores) to put back a bit of a shine on the floor after steaming as the shine is removed with using Murphys Oil Soap.
Then I looked around the kitchen. Some thoughtful unnamed folks had left encrusted jam (my husband denied responsibility) and god knows what else on the new granite counter top in the kitchen. No amount of hot water and elbow grease seemed really effective. I had just found out that granite counter tops are porous even when they are seemingly sealed. Given that my counter top has brown and black flecks on it, I have found it is now an invitation for my dear husband to leave a trail of food debris on the counter tops because crumbs no longer visually leap out at him. But for clean nuts like myself who run their hands over countertops to do clean checks, we were falling behind, especially with the temporary abdication of my cleaning lady. The triangle brush on a steam cleaner with a towel was the way to go and I wondered why I had not just brought it out sooner. I was also looking at dirty grout in a tile floor that was only a few weeks old. The Ladybug whipped those grout lines into place in a jiffy with the use of a little stiff bristle brush.
My bathrooms are not finished, but the worst of the dust making construction is over and my cleaning lady graciously returns tomorrow. I can sleep better at night, my home smells great after steam cleaning it and I have uncovered my humidifier for keeping my husbands snoring under control. And yes, the toilet is no longer in the middle of the master bedroom.