9 Tips For Finding the Best Allergy Pillows
|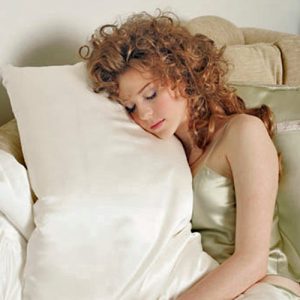 Pillows, You would think that talking about best allergy pillows would be easy enough, but when I train our staff on the subject of pillows, it is a big yawn! Our predominately male technical staff, feel uncomfortable with pillow talk!
Pillows, it would seem are perceived as something for women only. Yet try telling that to my husband who has worked his way systematically through more pillows than I care to name on his way to the perfect one! We have tried allergy pillows made out of hypoallergenic down, Primaloft, wool, alpaca, latex and cotton. We have tried them out in firm, medium and soft. But here is the bottom line about pillows. Your pillow choice is a very personal one. All we try to do is give you sufficient selection among the many that we have reviewed and tried out. What we have done is weeded out in our testing of pillows that have odors to them, attract mold, or in some way are poor manufacturing quality. We also have culled through dozens of pillows to find those, which we think, are the most friendly to allergy sufferers.
Here are the main 9 things what I tell our customers about allergy pillows.
1. If you like a soft pillow there is no substitute for down, and most people prefer a soft to medium down pillow. Hypodown is expensive but it lasts a great deal longer than the cheaper grade down pillows. The Syriaca in Hypodown pillows, which binds to the down plumes, actually helps the longevity of the pillow as well as making it "allergy free".
2. Many people have allergies to down pillows, which has mainly to do with dirt left on the feather quills. If the down is put through a number of extra washes, this removes the dirt and hence the allergens for the vast majority of people. A Hypodown pillow receives the highest industry grade [turbidity] for cleanliness and with the Syriaca it gets an extra boost to be hypoallergenic.
3. If you want to stay on the safe side and the price of Hypodown is too high, then Primaloft Pillows come close to giving the feeling of down at a reasonable price. My only caveat is Primaloft pillows do not last long. We seem to replace our Primaloft pillows almost on an annual basis, but they are wonderful if you want to scrunch something underneath your head.
4. Pillow "scrunchers" should always buy a "soft" pillow.
5. Primaloft pillows are a lot softer than other pillow fills but for someone with severe allergies or multiple chemical sensitivities they are a healthy choice.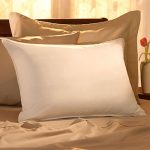 6. Wool or cotton pillows are both naturally hypoallergenic and very healthy fibers as they allow for "breathing" fibers and natural wicking away from the body. Wool and cotton pillows are naturally inhospitable to dust mites as they dry out very quickly from moisture created by our bodies.
7. Cotton pillows are softer than most wool pillows but are best for people who prefer a pretty flat pillow as they compress fairly quickly. For people with multiple chemical sensitivities this is the pillow of choice.
8. If you are someone who is allergic to wool and wool pillows are covered with a tightly woven ticking. A wool pillow will serve you faithfully for years. If given a choice in pillow fill, I would recommend the softest available since I have come across some which to me seem rock hard. Alpaca, when it is mixed with wool, provides a softer wool pillow. These wool pillows are far softer than the average wool pillow.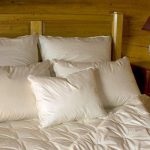 9. Latex pillows are the firmest of all and are often contoured for neck support.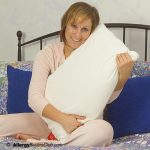 They remain in perfect shape for years but the pillow-scrunching brigade would hate them.
Natural latex is inhospitable to dust mites and mold. For more information on pillows refer to the following: Pillow Comparison Chart, How to Test Whether your Pillow needs Replacing, or just go shopping for pillows at our online Store.