How to choose a HEPA vacuum cleaner?
|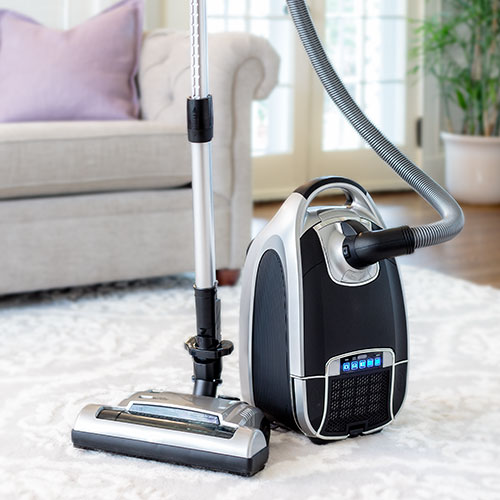 The first thing to consider when buying HEPA vacuum cleaner is the size of your home. While we have a preference for at least a mid size vacuum cleaner which will effectively handle most people's needs most of the time, a full size canister vacuum might be more appropriate for a large house. Conversely, the student with a dorm room or an elderly person with a studio apartment needs a smaller sized vacuum cleaner to get the job done.
What kind of flooring do you have in your home?
While we hope as an allergy or asthma sufferer you have limited the use of carpeting in your house; nevertheless we know many of you might still have substantial carpeting. If that's the case, you may want to also include a high end upright vacuum cleaner like  Miele vacuum cleaners since the suction power on these machines provides excellent value for the money. If you have a mix of carpeting and wooden floors, you will definitely need a canister vacuum which can go from carpeting to bare floors seamlessly. We recommend the new Veridian DeepClean HEPA canister vacuum which is HEPA sealed, meaning no allergens escape, and is our best value high performance canister vacuum.
Some people have a clear preference for one or the other, and in reality either type can be made to work well for you. If you have never had the experience to compare the two types, try both types out and you might be surprised at the innovations in the marketplace.
Advantages of upright vacuum cleaners
Uprights are easier and more compact to store in a closet. They often provide more suction power at a lower price than a canister vacuum if carpet vacuuming [for instance, for dog hair] is your main concern.
Disadvantages of upright vacuum cleaners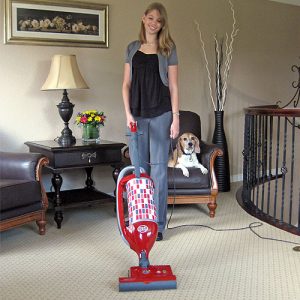 Most are quite heavy to move around; however an exception to this is SEBO upright vacuum cleaners. Most uprights do not have a fully sealed or post-motor HEPA system and are not designed for easy efficient use of onboard tools. The SEBO Automatic X4 and X5 vacuum cleaners are a notable exception in both respects.
Advantages of canister vacuum cleaners
The biggest advantages in our minds are the following: canister vacuum cleaners allow for an easy transition from bare floors to carpets. Once positioned in the middle of a room, they are much lighter to push around. Canister vacuums have on-board tools, which are essential if you're going to do a thorough cleaning. We use ours for dusting furniture, vacuuming bathroom and kitchen tile floors, upholstery and car cleaning, and computer equipment.
Disadvantages of canister vacuum cleaners
Some people are used to an upright vacuum cleaner and see it as more convenient to store than a canister. Also, until you buy a full size canister, the power and effectiveness for basic carpet vacuuming tends to be less. If you just have carpets you may be happier with a top-of-the-line upright vacuum.
How is a HEPA vacuum cleaner a useful tool for allergy and asthma sufferers?
The word "HEPA" stands for high efficiency particulate air and in order for a filter to be rated as HEPA it must retain all particles .3 microns in size or larger at an efficiency level of 99.97%. The most common airborne particles are about 2.4 microns, but the average vacuum cleaner only vacuums up particles from 30 to 50 microns in size, blowing the rest of the allergens back into the air. The most harmful sized particulates are about .3 microns in size.
HEPA air cleaners will only do part of the job needed for an allergy sufferer in order to keep their environment clean. A HEPA air cleaner tends to draw towards its filter those allergens which are already airborne. On the other hand, a HEPA vacuum cleaner will clean up those allergens and dust which have settled on furniture floors and carpets. These "settled" allergens keep getting stirred up (and subsequently inhaled) by human movement in a room.
Would a built-in central vacuum cleaner system be the best solution for an allergy sufferer?
With a built-in vacuum cleaner, there's no possibility that allergens can be exhausted back into the room, so it is the vacuum cleaning solution of choice for an allergy sufferer. Since they're stationary, central vacs often have more powerful motors than portable vacuum cleaners. Dirt is either collected in a container (usually located in a garage or basement), or exhausted directly outside the house. The connection hoses for central vacuums have become lighter and easier to manipulate in recent years. However, the biggest disadvantage of central vacuums is they do not have any onboard tools and you need to carry them separately, as their hoses stay in the closet. They're also more costly initially to install, requiring at least a half day of professional installer time. In addition, despite design improvements, many people find a 30 foot hose awkward to carry around. As with all product choices, there are tradeoffs to be considered.
Features to check out before you purchase a HEPA Filter vacuum cleaner
The HEPA filter needs to be positioned post motor as to ensure the exhaust is emitting allergen-free air. This post motor feature is currently only available in canister vacuums.
Completely sealed HEPA system
The bag and motor components need to be completely sealed by rubber gaskets so that there's no leakage of dust-filled air. Dust and allergens need to kept in the machine where they belong.
Two-fan suction motor
A two-fan motor can pull in significantly more dirt and allergens than a single fan motor. The power of a vacuum is usually measured in air flow – cubic feet per minute. For instance a Sebo Airbelt K3 Canister Vacuum is rated at 120 cubic feet per minute, making them one of the most powerful machines available for residential use.
On-board tool caddy
As mentioned before on-board tools are essential in our opinion. The key to good on-board tools is how easily they can be changed on the fly. You should be able to change from the floor tools to upholstery or dusting with one quick pull and unscrew motion. In this regard, we think Miele have created the most consumer friendly vacuum.
Rotating Power Nozzle (canisters)
These are better for cleaning carpets.
On board hose storage (uprights)
Storing on-board tools tends to be awkward at best in an upright vacuum cleaner. In our opinion, the Sebo Automatic X4 ExtraUpright vacuum cleaners tends to do the best job of any vacuum in storing tools on-board.
On/off rotating brush (uprights)
Ability to switch from the carpet to bare floor at the touch of a switch.
Easy to use controls and on/off switch
All these controls should easily used.
Long flexible hose
Some hoses can twist and kink
Adjustable telescopic wand (canisters)
Very important in assisting your ability to seamlessly adjust the optimal distance in reaching high places, furniture or floors. The telescopic wand should adjust easily without having to fiddle with it.
Carpet height adjustment
Vacuuming different carpets — from deep pile Chinese carpets to a cotton rug — needs the ability to adjust the controls at the touch of a switch or dial.
Easy maneuverability
Good quality, large size caster wheels increase maneuverability. When using an upright, self-propelled models such as the Miele self- propelled, vacuuming can become easier.
Swivel 360° for hose and wheels (canisters)
In order for machines to be easily maneuverable they need to have the capability of swiveling 360° without moving the vacuum.
Attachments
At a minimum, a vacuum cleaner should have a dusting brush with soft bristles, upholstery, bare floor and crevice tools as the basics.
Long retractable cord (canisters)
Good canisters have automatic retractable cords which make for neater storage. 25 feet is a good minimum length.
Dust bag change indicator
We like to be reminded and a machine does not work effectively with an overfull bag and can burn out.
Lightweight
No vacuum cleaner or other appliance will be used if it's too heavy. We have found most people are comfortable up to about 15 lbs. Over that weight, it will feel too heavy for a number of people, especially if you have to carry it up and downstairs.
Suction control switch
Suction control switches need to be available at finger tip control or by floor press controls, since vacuuming drapes requires less suction than carpets. This is where canister vacuums excel.
Fan position
It is better design for the dirt to be vacuumed into the dust bag first before it hits the blower fan. This way, exhausting allergens into the room is minimized. By no means are all machines are built this way; very often manufacturers have taken an existing design and just added a HEPA filter, but not positioning it in the optimal position.
Blower
It's useful to be able to attach the hose to blow away dirt in hard-to-reach places. Allergy sufferers should only use this feature in emergencies, as it stirs up dirt and allergens into the air.
Quiet
If you like to vacuum late at night or after the children are in bed, noise level becomes important. We have found Miele vacuum cleaners are exceptionally quiet.
Bag savers and bag-less vacuum cleaners
On the whole, we don't recommend them for allergy sufferers, since you have to empty an unsealed container full of dirt and allergens. People like them because they save on the cost of vacuum cleaner bags and easy to empty. The problem is most of them leak, both while "sucking up" dirt and emptying. If you insist on buying a vacuum with this feature, get someone who does not suffer from allergies to empty it out for you.
Hygienic dust bags
Built-in dust flaps that automatically close when you change a bag to prevent dust from escaping.
Warranty
Check the manufacturer's warranty period. You should be able to get a 5 year warranty on the motor and one year on other
parts.
Robot
If you don't like to vacuum at all we have HEPA Robot Vacuums that will automatically vacuum for you like the Veridian X310 HEPA Robot Vacuum.
For a complete, broad selection of HEPA vacuum cleaners, visit AllergyBuyersClub.com to talk or call 1-888-236-7231 to chat with product specialists about cleaning needs.