Car and Travel Air Purifiers Prevent Exposure Air Pollution
|
City living brings its own set of highs and lows. On one hand, museums, shows, restaurants and airports are just minutes away. On the other hand, you're also closer to traffic, smog and round-the-clock noise. As it turns out, that proximity to air pollution can have a negative impact on everything from sleep to learning abilities, to peace of mind and even your actual lifespan. And one of the times you're most vulnerable to pollution is inside your car. With more people comes more cars and large trucks on the roads, and a longer commute time, the more likely you are to be exposed to a host of chemicals and fumes that can affect your health, something a car air purifier can help with. In fact, the pollution level inside city vehicles is often much more polluted than the air right along the roadway.
The Pollution Outside
In a December 2016 issue of Berkeley Wellness, the leading online resource for evidence-based wellness information (in collaboration with the University of California, Berkeley, School of Public Health), found that "pollutant levels are often higher inside [vehicles] because cars take in emissions from surrounding vehicles and recirculate them. Studies have found that as much as half of the pollutants inside test cars come from the vehicles immediately ahead, especially if those vehicles are highly polluting, such as heavy-duty diesel trucks. Levels of some pollutants and toxic compounds can be as much as 10 times higher inside vehicles than alongside the road."
The pollutants they're talking about are mostly due to gasoline and diesel exhaust fumes, which pump particulate matter (both coarse and fine particles) and volatile organic compounds (VOCs) into the air. Some of the most common VOCs are
benzene
toluene
formaldehyde
carbon monoxide
nitrogen oxides
These chemicals and particles are especially problematic for people with a susceptibility toward or preexisting issue with respiratory or breathing issues, like asthma or COPD. The fine particulate can also, in some cases, trigger heart attacks or strokes in people with cardiac issues. The Berkeley Wellness articles goes on to say that "even in healthy people these [VOCs and particulate] can affect heart rate and rhythm and other cardiovascular functions…. Particulate matter can cause congestion, sinus and throat irritation, and chest discomfort; it can aggravate asthma. Some pollutants, such as carbon monoxide, benzene, and toluene, can also cause drowsiness, dizziness, nausea, and headaches."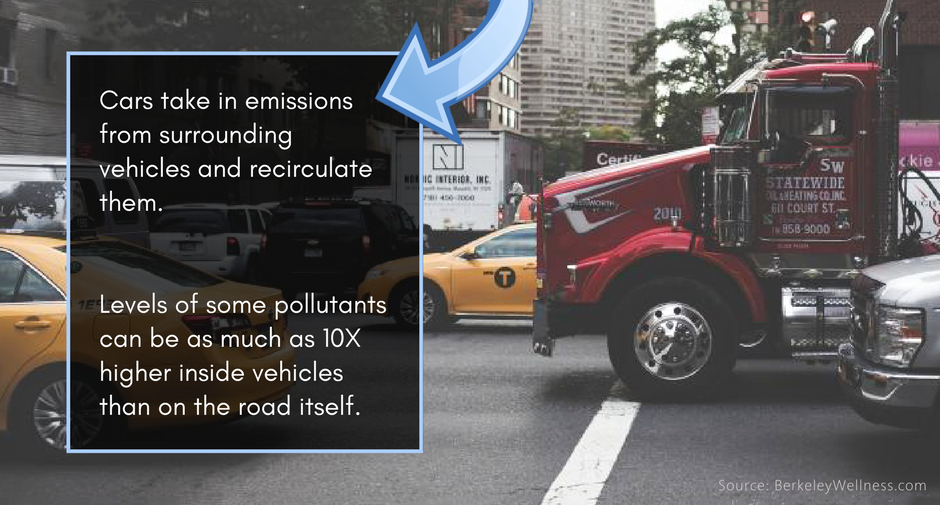 In January of 2017, the LA Times reported that for older women, "breathing air that is heavily polluted by vehicle exhaust and other sources of fine particulates nearly doubles the likelihood of developing dementia." The article cited a study that found women who carry a genetic variant, known as APOE-e4, are more at higher risk for developing Alzheimer's disease. "Among carriers of that gene, older women exposed to heavy air pollution were close to four times likelier than those who breathed mostly clean air to develop 'global cognitive decline' — a measurable loss of memory and reasoning skills short of dementia," the study found.
Berkeley Wellness also quotes a 2016 study in Environmental Science: Processes and Impacts, where researchers found that "pollution inside cars stuck in heavy traffic is as much as 40% higher than when traffic is moving." Additionally, the level of pollution was "seven times higher inside cars that were stuck in traffic [with] the windows were open, compared to the exposure of pedestrians standing at major intersections."
Steps for Prevention of and Reduction to Exposure
If you can't do anything to curb your commute, Berkeley Wellness suggests steps you can take to minimize the pollution you're exposed to.
When driving in traffic, especially diesel trucks or obviously polluting cars, keep a safe distance behind them
If possible, drive in the carpool lane, since they tend to have less traffic…meaning there's less air pollution
Keep in mind that in-car air filtration systems aren't necessarily providing protection; while add-on charcoal (carbon) filters may help reduce allergy symptoms from pollens, they aren't effective in removing fine particulates, VOCs, carbon monoxide, or other pollutants
When cleaning the inside of your vehicle, don't use chemical cleaners; instead, use a damp micro-fiber rag to keep the interior clean
Innovation on the Horizon
In Brazil, air pollution kills nearly 49,000 every year. The World Health Organization (WHO) recently announced that air pollution represents the single biggest environmental risk to health, as only one in ten people around the globe breathes air that is considered "clean" by the organization's air quality guidelines.
Since many consumer's aren't aware of car air purifiers, the issue of protecting drivers from outdoor air pollution is coming to the attention of car manufacturers and technology innovators alike. Mitsubishi Motors of Brazil recently announced plans to outfit its Pajero Full 2017 SUV with AutoPure, a technology developed and owned by Aerus, LLC, formerly Electrolux USA. AutoPure technology is the result of three years of work, testing, and collaboration between Aerus and Mitsubishi to design a purification system for installation in Mitsubishi's cars that could address Brazilian driving conditions. The problem is acute, as testing demonstrates that the air in vehicles in Brazilian cities is contaminated with dangerous levels of poisonous gases.
Together, Mitsubishi Motors of Brazil and Aerus hope to address the issue of air pollution for Brazilian drivers who spend time in their cars every day by protecting them from air pollution and other threatening contaminants with AutoPure car air purifiers.
Our Recommendations
AllergyBuyersClub is delighted to bring you other mobile air purification technology from Aerus. These car purifiers are designed to create and maintain pristine living environments inside cars or anywhere else, even while on the go.

The QuietPure Mobile by Aerus portable air purifier is perfect for the office, RV, hotel room, or car air purifier. This device is as easy to transport as your cell phone, yet will clean the air in areas up to 350 square feet. The QuietPure Mobile boasts its highly effective proprietary Certified Space Technology ActivePure®, which combines high intensity UVC lighting with a state-of-the-art process that destroys over 99% of airborne and surface contaminants.
Destroys over 99% of airborne and surface contaminates

Kills germs, bacteria, viruses, molds, yeasts, and odors

ActivePure® Certified Space Technology

High intensity UVC lighting

3 fan speeds

Convenient mounting base with adjustable stand

Includes car adapter and AC adapter with interchangeable plugs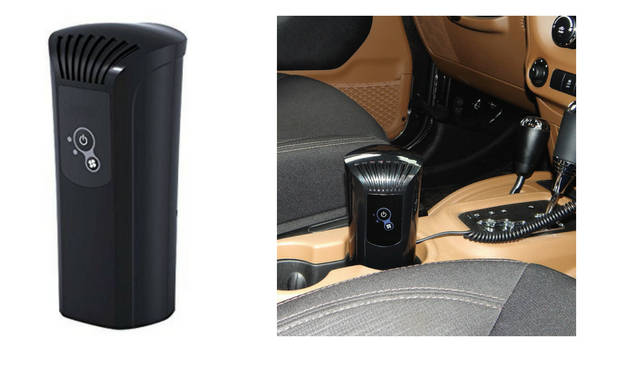 This QuietPure Auto by Aerus G6 HEPA car air purifier eliminates microscopic particles, allergens and airborne germs from your car. The coffee cup-sized air purifier is lightweight and conveniently sits in any one of your car's cup holders. The G6 not only removes particles with its true HEPA filtration system, it also features negative ions that attach to viruses, bacteria, and mold and move them to positively charged surfaces like a floor and away from breathing passages.
Utilizes true HEPA filtration, carbon filtration, and a negative ionizer for optimal air cleaning

Removes microscopic airborne particles such as allergens, dust and bacteria

Destroys common airborne viruses

Offers near silent operation

Compact, lightweight design fits into car cup holder and plugs into auto cigarette port

Comes with two additional free HEPA filters for 1 year's worth of HEPA filtration

Handsome black gloss finish looks good in any car interior