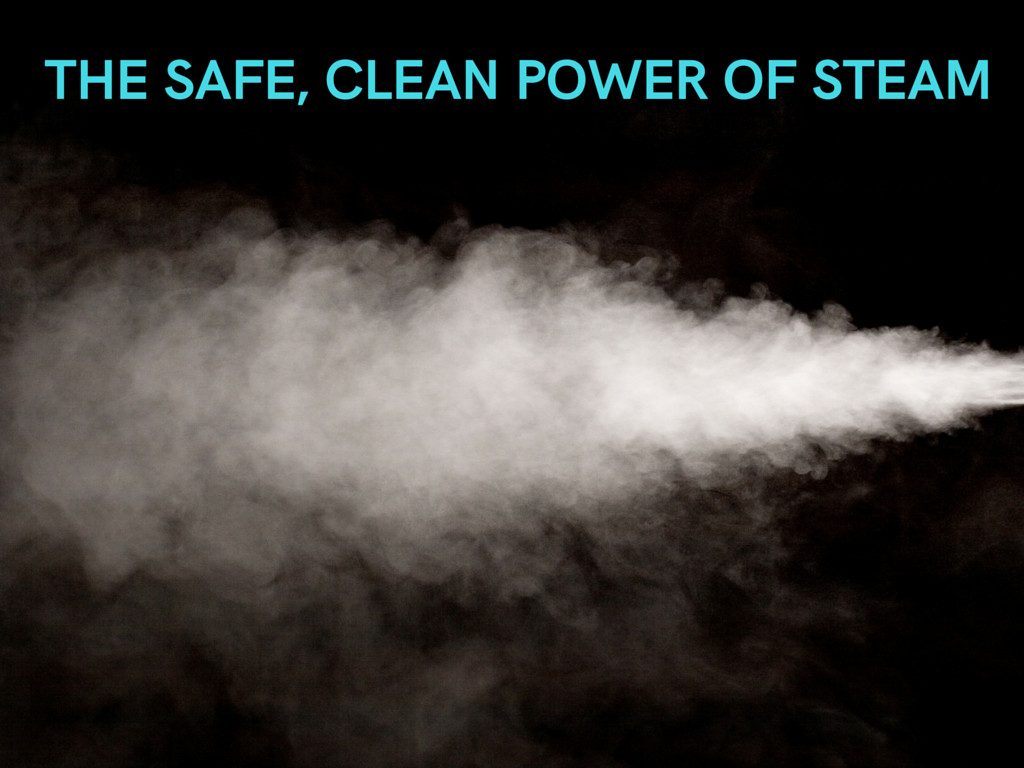 Most people assume that in order to achieve a clean home, you're going to need a lot of products: cleansers,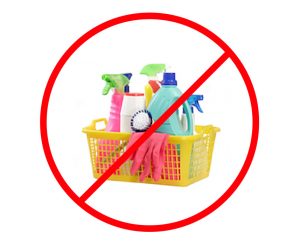 disinfectants, scrubbing agents, bleach and other harsh chemicals to get the job done. Trouble is, not only are those types of chemicals not particularly great for anyone's health, they're especially troublesome for people with allergies, asthma or chemical sensitivities. Enter the steam cleaner! The best steam cleaners heat water until it creates a steam or vapor, which is usually hot enough to kill bacteria, viruses, mold and fungi on surfaces. It's also great for removing stuck on bits of food or grime from kitchens, bathrooms — really anywhere in the home (or garage)!
The best steam cleaners can clean, sanitize, kill pests and disinfect surfaces, using only ordinary tap water. These steam cleaners create steam that's hot enough to clean virtually any surface.  Here at Allergy Buyers Club, we've become advocates of the benefits we've seen from regular steam cleaning — and we've found that steam cleaning can even improve your home's air quality, further safeguarding your family's health. We think you'll simply amazed at how easy, fast and effective it is to steam clean. The best steam cleaners are safe, cost-effective way to clean your home without the added expense or health side-effects that come from using chemical cleansers.
The best steam cleaners can come in a variety of forms. Steam mops are great for beginners, and are ideal for those who want an inexpensive way to clean hard floors. Most people use them for routine kitchen and bathroom floor upkeep. Home steam cleaners are a popular choice, because they do pretty much everything you might want. These types of steam cleaners will kill mold, dust mites and other pests like bed bugs. Garment steam cleaners are specifically designed for use on clothes, allowing you to steam away wrinkles, kill dust mites, and eliminate dry cleaning odors with them. Steam cleaner vacuums combine steam cleaning with vacuuming — actually steam cleaning and vacuuming your carpets all in one pass. Handheld steam cleaners or steamers, can do a superb job of cleaning for chores at waist- or counter-height level. Commercial steam cleaners are designed to run 8 hours a day, 7 days a week without breaking down. They're bigger, heavier and come with a cart that carries the unit itself and acts as storage for the attachments. Generally, the steam does run hotter on commercial units.
Steam cleaners are good for a variety of surfaces, such as:
glass
tile
vinyl
sealed hardwood floors
grout
stovetops
stained carpeting
upholstered fabrics
Steam is great for:
mold
mildew
bacteria
dust mites
bed bugs
dirt
grime
Our Picks
First-time steam cleaner buyers: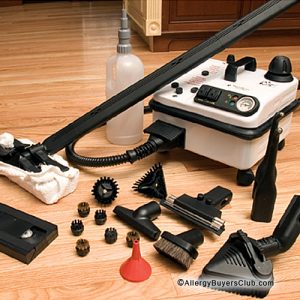 The US Steam White Tail US600 Vapor Steam Cleaner is surprisingly affordable and offers unrivaled value for your money. This workhorse handles tough cleaning tasks such as grout, tile floors, counter tops, upholstery, carpet stains and much more.
Mid-range residential steam cleaner

Pressure gauge for maintaining the ideal steam level

Includes high-grade accessory set for multiple uses

Reservoir-based steam cleaner with durable aluminum boiler

Low water indicator light with automatic shut-off
For Larger Homes: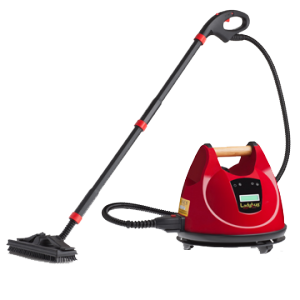 Ladybug Tekno 2350 continuous refill vapor steam cleaners review and comparison. Steam cleaners with TANCS are great for hospital, office or home steam cleaning and kill germs, bacteria, mold, mildew and dust mites.
Lightweight, commercial grade vapor steam cleaner with self-monitoring "dry" steam generator

Continuous fill, non-pressurized water reservoir

Equipped with TANCS (Thermal Accelerated Nano Crystal Sanitation)

Pressure gauge for maximum efficiency

Flexible hose with volume control at the handle 

Digital pressure and temperature status panel 

Low water light plus audible signal
For use in a business or commercial setting, try: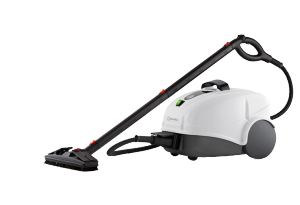 The Reliable Brio Pro 1000CC steam cleaner is perfect for easy, safe, chemical-free cleaning in your home and office. Powerful vapor steam kills mold, mildew, viruses, bacteria and provides chemical-free cleaning.
CSS™ Continuous Steam System

Comes standard with commercial grade 17-piece accessory set

Includes sturdy trolley cart

6 bar steam pressure

Pressure gauge indicates when steam is ready for use

EMC² prevents sediment build up and scaling in the boiler

Adjustable steam and hot water flush

Electronic control panel displays: steam ready light, low water control light, steam regulation lights and hot water injection light
Hand-held steam cleaner, or steamer, unit: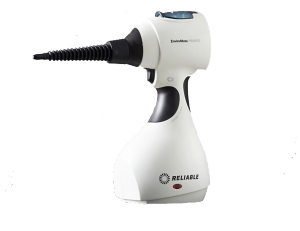 This superior quality handheld steam cleaner knocks the socks off every handheld in the industry, with no exceptions! The portable, powerful and efficient Reliable EnviroMate PRONTO 100CH Steam Cleaner uses high temperature continuous steam of 248°F and includes everything you need to destroy dirt, germs and bacteria in a safe, environmentally-friendly way.
Powerful 1200 Watt heating element 

4 bar pressure for maximum cleaning power

Constant high volume steam flow – 35g/min

Patented Comfort Safety System: safely refill without a safety cap

Includes 15 piece accessory set 

Action radius of 8 meters

15 minutes continuous steam
Our favorite steam mop combo: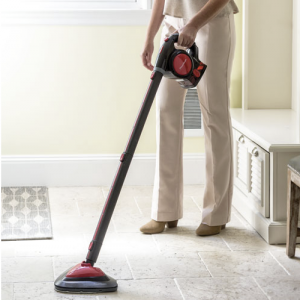 The ultimate germ destroying steam mop from PowerSteam; the XR500 heats up faster and provides more consistent steam for cleaning virtually any surface. This 2-in-1 steam mop uses powerful steam to pull dirt and grime up and away from the pours of hard surfaces such as hardwood floors, tile, marble and grout.
2-in-1 steamer: converts from a steam mop to a handheld steam cleaner

Lightweight, ergonomic design

Adjustable steam control 

Low profile cleaning head with 180 degree swivel action

12 inch wide cleaning path

Removable water tank

Up to 20 minutes run time per fill

30 second heat-up time