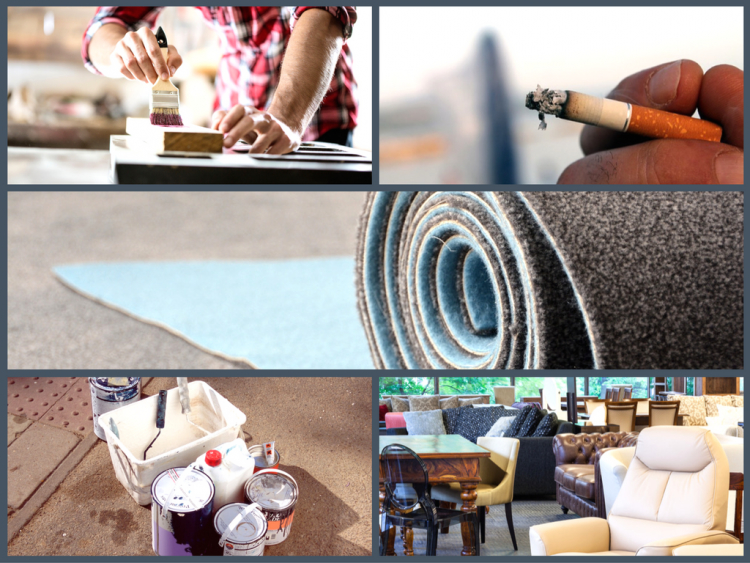 Have you ever walked into a department store and noticed that your nose begins to run and your eyes are watering after a few minutes?
Does repainting your kid's bedroom give you a headache that lasts for hours? Do you feel slightly nauseated after new cabinetry or carpeting has been installed in your home? If so, you might have VOC chemical sensitivity. Researchers are uncovering more evidence of what items can emit these harmful chemicals and who, exactly, is most susceptible to their negative effects.
What is VOC?
VOC stands for Volatile Organic Compounds, which the EPA defines VOCs as gases emitted from certain solids or liquids, like paints, cleaning supplies, pesticides, building materials, furnishings, adhesives, permanent markers and more. Categorically, a VOC can encompass a medley of chemicals, and some of those have varying degrees of both short- and long-term adverse health effects. Due to an indoor environment's natural lack of natural ventilation, levels of many VOCs are usually higher in buildings and home (up to 10 time higher) than outdoor environments.
Outside, a VOC can dissipate rather quickly; indoors, it disperses much slower, meaning anyone subjected to that indoor space is inhaling concentrated chemicals. Modern homes are being built to be more efficient, and are often designed to improve the efficacy of heating and cooling systems. This unintended negative side effect of this is that VOCs then have a harder time escaping through window cracks or poorly-insulated attics. The VOCs will then stay trapped longer in a home or office building, which increases the likelihood of human exposure.
Bob Vila — a name synonymous with home improvement and repair — notes that a phenomenon known as "off-gassing" is particularly problematic when it comes to VOCs. Off gassing (sometimes called outgassing) is the release of chemicals from various substances under normal conditions of temperature and pressure. Vila explains that as VOCs break down, they release gas into the air — and these gases can cause headaches, nausea, watery eyes, sore throats and more. A VOC may or may have detectable odors — so simply being able to smell the chemical is not the best indicator of potential health risks.
What produces VOCs?
Buildings.com, a community of facility managers and building owners responsible for the operation of commercial and public buildings, notes that "finishes and paints have numerous chemicals that are toxic, many of which are simply for keeping it liquid while it's in the can….Furniture is a [another] common culprit because so many materials, from coatings and glues to particle board and upholstery, can contain VOCs."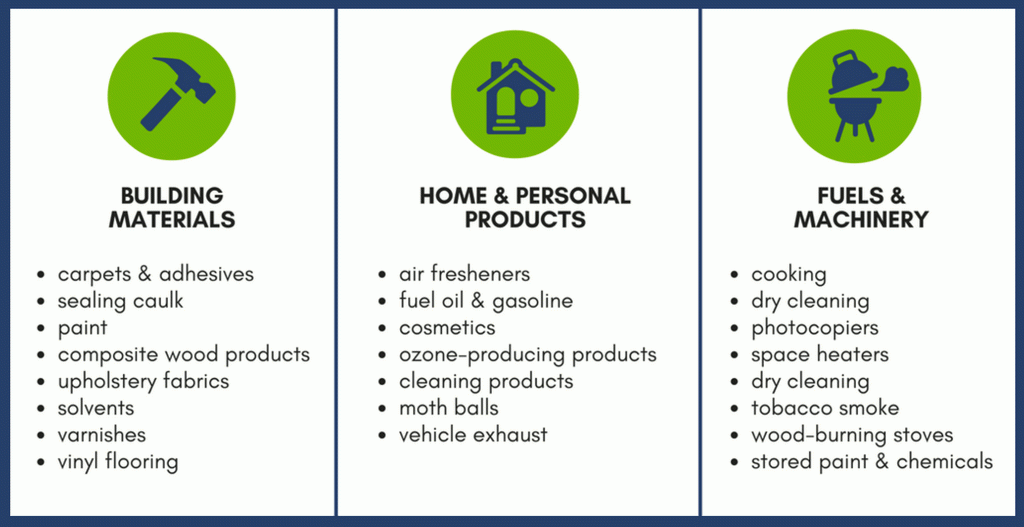 How to minimize off-gassing and VOC exposure?
One of the main ways to reduce the effects of off-gassing and VOC exposure, according to home expert Vila, is to "…[ventilate] a newly furnished room for at least a week after installation and always [buy] no- or low-VOC products when possible."
If fresh air won't aggravate your allergy or asthma symptoms, and the weather is permitting, opening doors and windows can allow an air exchange to occur, which can allow built-up fumes, odors and chemicals to escape. But with this method, just as harmful contaminants can exit your home, other irritants can enter at the same time. Pollen, wood smoke, mold spores, and other pollutants can waft in through open doors and windows, too.
For many people, a smarter option is to equip their home or office with the right air purifier. With technology advancing at such a fast rate, new options for air purification are rapidly entering the marketplace and into the hands of consumers with specific respiratory needs.
Our Picks
Allergy Buyers Club specializes in offering customers the best selection of air purifiers to suit their home and business. Depending on the size of your home, your particular area of concern, and your price point, we have the right air purifier to help you dramatically improve your indoor air quality.
The Airpura R600 is a great all purpose air purifier that's capable or removing VOCs from the air. It features a cleanable pre-filter, true HEPA filtration and a powerful motor to quickly and quietly clean the air in a room up to 1650 square feet, achieving 2 air changes per hour.
Removes chemicals, odors, gaseous contaminants and harmful particles from the indoor air

Traps carbon dust and particles 1 micron and greater

Absorbs airborne chemicals, noxious gases and odors

Features 2 anti-microbial filters

All Airpura Air Purifiers have a sealed design, felt gaskets and all metal housing to prevent off-gassing and are safe for MCS sufferers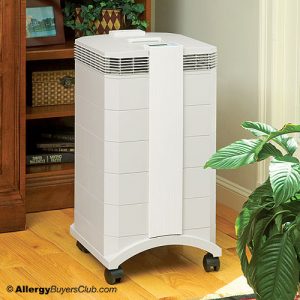 The IQAir GC Multigas Air Purifier is a top choice for VOC removal of gaseous and chemical contaminants. It's equipped with with a high-efficiency HEPA pre-filter and four large gas filter cartridges.
Reduces wide-range of specific gaseous chemicals and odors

Covers upto 1125 sq. ft. (2 air changes/hr) 

Ideal in both residential or commercial environments

GC HEPA pre-filter captures coarse and ultra-fine particles, with 99% efficiency at 0.3 microns and larger (EN1822 class 11)

GC MultiGas™ Gas & Odor filter cartridge set: 12 lbs. granular activated carbon & impregnated alumina

GC Post-filter sleeve set to capture carbon dust from gas & odor filters

Triple seal design prevents air leakage

6 fan speeds
Read the reviews for the IQAir GC Multigas Air Purifier here! 

The Blueair PRO M is designed for quiet, high efficiency pollutant removal, like VOCs in bedrooms, nurseries, and offices. Its small stature, contemporary appearance and whisper quiet operation guarantee an uninterrupted, healthy nights sleep.
For high-efficiency particle removal and odor control

Room coverage: 937 sq. ft (2 air changes/hr) 

Optional Air Intelligence Module for auto mode

Captures 99.97% of all particles down to 0.1 microns

Internal ionizer – zero ozone emission

Optional carbon-based filter kits allow for easy customization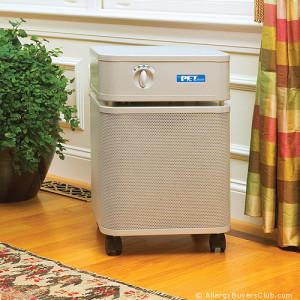 The Austin Air HealthMate is a preferred air cleaner for general airborne allergens and household odor, gaseous VOCs and chemical control. And it's a fantastic value for those on a budget!
Removes airborne particles, micro-organisms, chemicals, gaseous contaminants and odors

Covers up to 938 sq. ft. (2 air changes/hr)

Features a medical grade HEPA filter for allergen removal

High grade carbon for odor, chemical and gaseous contaminants reduction

Removes 99.97% of all particles larger than 0.3 microns

Made in the USA
Read the reviews for the Austin Air Healthmate Air Purifier here!