Why do I need cooling bedding?
|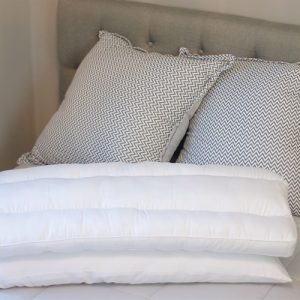 Do you toss and turn throughout the night because your hot? Does it stop you from getting a restful night's sleep?
If so, then our line of cooling bedding is the perfect choice for you. Cooling bedding and cooling sheets help regulate your body temperature, keeping you cool, comfortable, and restful all night long for your best night's sleep! Our assortment of cooling bedding is a great choice for those that suffer from night sweats, menopause or those that tend to run hot while they're sleeping. We offer a variety of cooling mattress pads, pillows, sheet sets, and comforters that are cool to the touch and will stay cool all night long.
How does Cooling Bedding prevent night sweats and overheating when sleeping?
Cooling bedding such as cooling sheets, cooling pillows and cooling comforters can help regulate your body temperature when sleeping at night, keeping you cool to ensure a good night's rest.  Cooling sheets can help with night sweats that can be caused by menopause or anyone who's body heats up irregularly.
Special cooling sheet sets that include a Tencel-blend fabric that is more absorbent than cotton and cooler than linen.  Tencel-blend features a moisture-wicking material that helps keep you cool and dry during the night.
Besides cooling sheets, this special fabric is used in pillows, comforters and even mattress pads to provide the same level of cooling that the sheet sets offer.
AllergyBuyersClub offers a full line of cooling bedding under the Hotel Plush Cooling bedding brand that includes cooling pillows, sheet sets, comforters and mattress pads.
Save 10% off on all AllergyBuyersClub cooling bedding items for limited time only with the promo code BEDDING10.