5 Reasons to Keep Low Home Humidity Levels
|
One of the smartest things you can do for your home is maintain the proper humidity levels. Not only will you feel more comfortable, but having a living space that isn't too dry and isn't too damp can carry benefits across the board, from maintaining overall health to keeping your home in better operating condition. At Allergy Buyers Club, we love the idea of having a dehumidifier; in fact, we could probably come up with an infinite list of all the benefits we think one can bring to your life. But if we had to narrow it down to our top 5 reasons, we think it'd have to be:
Because dust mites are the bane of everyone's existence.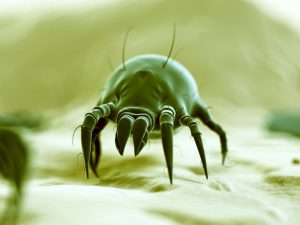 Admit it: even the idea of a dust mite gives you the creeps. Maybe you're not even positive you know what one is…but whatever it is (or isn't) all you know is you don't want them in your home. Unfortunately, dust mites are ubiquitous little critters. They live on a diet of organic cast-offs, like flakes of human skin, and thrive in (you guessed it) damp environments. Even worse? Their feces is highly allergic, and is a common cause of asthma and allergic symptoms. They're not only irritating, they're gross.
One sure-fire way to give dust mites the heave-ho is to keep low humidity levels in your home as much as possible. If you live in a notoriously damp region or have had an unusually wet season, a dehumidifier can be one of your best tools when it comes to reducing the presence of dust mites.
Our pick:

The Frigidaire FFAD7033R1 70-Pint dehumidifier is loaded with easy-to-use features for effortless operation. Its quietness, efficient use of energy and portable design make it a great choice for home or basement use.
Protects your home from mold and mildew

Low temperature operation down to 41°F

Effortless™ humidity control: settings from 35% to 85%

Touch-button controls

Digital readout of actual room humidity

3 water removal options
2. Because you notice your house has a certain…smell.
And not a particularly pleasant one. Whether you'd describe it as musty or stale, you know the kind we're talking about: no amount of air freshener or scented candle seems to make a difference.
Turns out, what's probably causing that smell is mildew and mold, both of which multiply in spaces teeming with high humidity levels. To stop mold in its tracks, you need to do two things: if there's a source (like a leak), you need to fix it; and after that, you need to work on drying out your environment. A great way to do that is with a dehumidifier!
Our pick: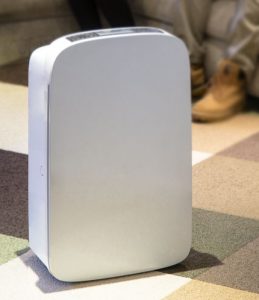 The only HEPA air purifier and dehumidifier all in one — get a machine that does both!  The Pure & Dry is our best dehumidifier air purifier combo. It dries areas up to 1400 sq. feet PLUS removes microscopic particles from the air like mold and mildew.
America's first 2-in-1 dehumidifier and HEPA air purifier in one

Low temperature operation down to 41°F

Quiet operation

3 water drainage options

Adjustable humidity setting between 30% and 85% in 5% increments
3. Because someone you love has allergies. Or asthma.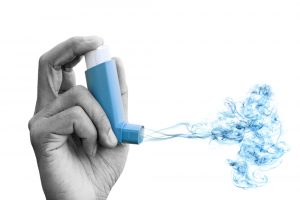 Mold and dust mites (which love moisture, in case we haven't mentioned it) are major triggers for people with respiratory issues like asthma and allergies. People with these sorts of health challenges generally do better in drier, more arid environments, since those conditions are less hospitable for some of the very allergens that trigger their distress in the first place.
Our pick: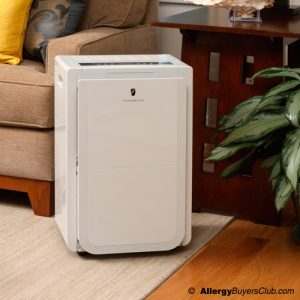 The Friedrich D70BP 70 Pint dehumidifier is extremely efficient in extracting moisture out of damp and musty environments. This versatile basement dehumidifier offers a variety of drainage options including the handy internal condensate pump for automatic water removal.
Low temperature operation down to 41°F

3 water removal options

Adjustable humidity control from 30% to 90% in 5% increments

Displays current relative humidity and temperature

Automatic defrost cycle
4. Because it's better for your home.
In addition to having health benefits, maintaining lower humidity levels inside your home can help extend the life of your home…and the things in it! Excess humidity can cause premature rotting which can lead to structural damage.
It can also take a toll on appliances, wiring and the overall efficiency of your home. Condensation on windows can be caused from too much moisture in the air. And too high humidity levels can lead to damage of other materials, especially wood. An abundance of humidity causes wood (including the wood in your furniture and flooring) to expand; after enough time, this expansion/shrinking can do irreparable damage to wood items, causing them to warp, crack or even split.
A dehumidifier can help protect the decor inside your home — everything from furniture to fixtures to bedspreads to walls coverings to books.
Our pick: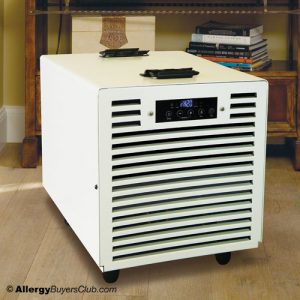 Fral dehumidifiers, Europe's top rated dehumidifier, is now available in the United States, exclusively available at AllergyBuyersClub.com. An easy-to-use digital control panel allows you to closely maintain your desired relative humidity level in 1% increments.
Maintains relative humidity in basements and crawlspaces up to 3000 square feet

Functioning relative humidity range from 35% – 99% relative humidity

Amazing 520 CFM motor for faster air circulation

Offers 30% more coil surface area than competing brands

Low energy consumption of just 980 watts

Quiet operation rated at 50 db(A)
5. If you choose the right one, humidity levels you won't even know it's there…until something unexpectedly wonderful happens.
Like your clothes dry faster. Or your bread and cereal stays fresher longer.  Or you don't see signs of rust or corrosion on your electronics, appliances or tools. Yeah — those sorts of awesome side effects. But there's a good chance you'll practically forget you have a dehumidifier, because unlike in the early days of dehumidification, modern dehumidifiers are quiet, designed with smart safety features and meant to operate seamlessly into your busy schedule.
Our pick: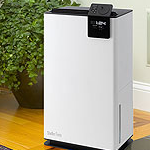 The Stadler Form Albert dehumidifier is one of the best looking dehumidifiers we've seen, but beyond its handsome looks the Albert is also our quietest dehumidifier, offering ultra-quiet, money-saving operation.
Dehumidifies areas up to 650 square feet

Low temperature operation down to 41°F

Two water removal options

Included hose for continuous drainage

Adjustable humidity control from 30% to 80%

Displays current relative humidity and temperature