Pillowtop Mattress Pad Review and Giveaway
|
2014 is a New Year! It is a time to start over and take actions to accomplish some of the promises you have made to yourself.  Recently in the news, 2014 was dubbed the year of Health. Though this was pertaining to the changes in healthcare, we at AllergyBuyersClub would like to think of it as the year to make yourself and living environment healthier. We know you all have been talking about it, or at least thinking about it, so what better time than now to step into action?
AllergyBuyersClub was founded by Mercia Tapping as a way to help those suffering from asthma, allergies or other issues caused by indoor irritants, find a way to cope without the use of medication. AllergyBuyersClub's goal is to provide solutions. We seek out the best products to help purify, filter, clean, sanitize and create a comfortable home.  Whether your problem is with air, water, chemicals or old bedding, our friendly product experts can assist you with finding the perfect product or suite of products to solve your problem and improve your lifestyle.
Today we are highlighting one of our new and exclusive mattress pads from the White Mountain Textiles Bedding Collection. This pillowtop mattress pad is an affordable way to add extra comfort to your bed and achieve a more peaceful night's sleep. The White Mountain Textiles Pillowtop Mattress Pad is hypoallergenic and machine washable to keep allergens at bay and maintain good hygiene. Please take a moment to read this review by one of our blogging partners, IHeart-Motherhood.
Bonus! At the end of the review you can enter the giveaway to win this pillowtop mattress pad in the size of your choice! This giveaway is open the US only, ages 18 & up. Ends on 2/17/14 at 11:59 PM EST. Retail value $129.95 – $179.95.
"My bed is only a few years old but it just isn't as comfortable as it was when I first bought it. Most nights I spend tossing, turning & I just have a hard time getting comfortable. I'm not ready to purchase a new bed but thanks to AllergyBuyersClub I now have a new mattress pad to help me finally get a good night's rest. The White Mountain Textiles Pillowtop Mattress Pad is ultra durable & is able to withstand multiple washes without becoming lumpy, flat or falling apart! I've been sleeping on my new pillowtop mattress pad for a few nights now & wow what a difference; not only have I been sleeping better but my bed is so comfortable I don't ever want to leave it! After a long day, climbing into my bed & relaxing on my new pillowtop is exactly what I need."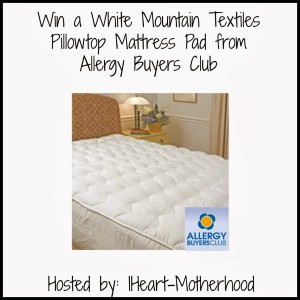 Read the Full Review and Enter the Giveaway Here!