Dyson DC50 Vacuum Cleaner Review
|
Dyson is a brand that doesn't need an introduction as they have made their brand known through their unique designs and extensive advertising.
Who Are Dyson Vacuums Recommended For?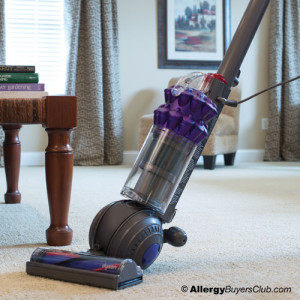 Everyone! Dyson vacuums have become very popular among households all over the USA regardless of  the type or size of home and flooring. Dyson's upright ball vacuums are the most popular models. They preform excellent on most all carpet types and do a surprisingly good job on hard floors. Their strong suction penetrates deep down into carpets and cracks to remove dust and dirt you didn't even know was there!  You'll be impressed by the dust, dirt and hair a Dyson vacuum will extract from your home time and time again.  Best of all, you can see it working as the clear dust bin fills up. Plus, since they are bagless and use lifetime filters, you never need to worry about purchasing vacuum bags and filters, saving you time and money.
I Want a Small Upright Vacuum That is Easy to Use and Store Away.
No problem! The Dyson DC50 is Dyson's smallest upright vacuum cleaner weighing just 11 lbs. It's light to carry and the handle compresses down allowing it to be stored in small spaces. The Dyson DC50 may be small in size but it performs like a full-size vacuum cleaner. The technology inside the vacuum has not simply been 'shrunk' (like most smaller vacuums) but concentrated – every angle and dimension is re-engineered.
Dyson DC50 Vacuum Cleaner Review Video
 What Are People Saying About The Dyson DC50 Upright Vacuum?
Allergy Buyers Club, a trusted source for Allergy-friendly HEPA vacuum cleaners rated the Dyson DC50 as 4 stars out of 5!  Their testing team provided the following Dyson DC50 Vacuum Cleaner Review Summary:
"The stand out feature of the Dyson DC50 Animal is its lightweight, small size with retractable handle for compact storage.  We must admit the tangle free turbine tool is pretty remarkable for removing hair from upholstery and stairs with its brush bar-less design. The DC50 is the perfect fit for a small home where a full-sized upright can seem bulky and cumbersome. The downfall to the vacuum's smaller size is a shorter power cord, smaller capacity dust bin and smaller cleaning path/reach. The vacuum's filtration is up to par and does not exhaust particles into the air as you vacuum. Our bottom line recommendation: this is a great upright vacuum choice for someone who wants a small upright that performs very well on hard floors and carpets, offers an extra tool for removing pet hair, and requires no replacement bags or filters. "
Popular mommy blogger Ashley, a mother with asthma who's children suffers from allergies (and owner of the blog My Little Space For Everything) has been using the Dyson DC50 vacuum in her home. She has shared with us her Dyson DC50 Vacuum Cleaner Review. Below is a summary from her review:
"Honestly, before getting my new DC50, I don't know how I ever lived without it. It has drastically improved my son's allergies. This year has been the first year that he has not had to go to the doctor for an allergy shot, I can't say 100% if the vacuum had something to do with that, but I'd like to think so, since our home is cleaner than before. It is absolutely amazing what this vacuum is capable of, and who knew we had that much dust in our home! Vacuums make the difference, and choosing a cheap vacuum is not an option for us anymore." – See Entire Dyson DC50 Review
Want a Chance to Win a Dyson DC50 Upright Vacuum?
For a limited time, Ashley is hosting a Dyson DC50 Giveaway Contest sponsored by AllergyBuyersClub!  If you are interested in owning a Dyson or just need a new vacuum, this is your chance.  That's some serious savings for the winner.